The warmth and sunlight of summer draws you outdoors and makes you want to celebrate with family and friends. So, take your party menu to the next level with these delicious and refreshing summer party recipes. From vegetable and fruit infused water to summer salads featuring fresh tropical fruit that can feed a crowd, this selection of doable recipes will help you entertain in style.
Summer Party Appetizer Recipes
Planning delicious appetizers for your summer party gives the guests the opportunity to mingle while enjoying a drink or two. Consider these easy appetizer recipes for your next get-together.
Fig Crostini With Creamy Goat Cheese
Whether you are looking for a snack or appetizer idea for a summer get-together, these fig crostini with goat cheese and pistachios will fit the bill. Makes 20.
Ingredients
1 thin French baguette, cut into 20 slices
Olive oil
1¼ cup spreadable goat cheese
4-5 large fresh figs, cut into 20 slices
⅓ cup pistachios, chopped
Salt and pepper to taste
Honey for drizzling (optional)
Directions
Preheat oven to 375°F.
Arrange baguette slices on a large baking sheet. Brush slices with olive oil. Bake in preheated oven for 7 minutes or until crispy.
Remove baguette slices from the oven. Allow to cool completely.
Arrange toasted baguette slices on a large serving platter. Spread about 1 tablespoon of goat cheese onto each crostini.
Top each slice with one slice of fresh fig. Sprinkle with salt and pepper to taste.
Sprinkle slices with chopped pistachios
Drizzle with honey if desired.
Strawberry, Salami, and Fresh Mozzarella Skewers
These strawberry, salami, and fresh mozzarella skewers can be done in no time using ready-to-use ingredients. Arrange them on a beautiful platter, and you have the ultimate appetizer for your summer party. Makes 12 skewers.
Ingredients
24 small strawberries, hulled and rinsed
2 (8-ounce) tubs Marinated fresh mozzarella
24 thick salami slices
Fresh parsley for garnish
Balsamic vinegar (optional)
Bamboo skewers
Directions
Soak bamboo skewers in water for 20-30 minutes.
Thread strawberries, fresh mozzarella and salami onto bamboo skewers. Alternating between the three.
Drizzle with balsamic vinegar if desired.
Garnish with fresh parsley. Serve immediately.
Peppered Bacon Pineapple Bites
It's no secret, bacon makes everything better, and your guests probably agree. In less than 30 minutes, you can whip up these pineapple wrapped in bacon bites. Arrange them on a platter and just wait for your guests to rave about them.
Ingredients
12 slices thick peppered bacon
24 fresh pineapple chunks
24 toothpicks, soaked in cold water for two hours
Directions
Preheat oven to 400° F.
Cut bacon slices in half.
Wrap pineapple chunks with bacon and secure them with a toothpick.
Arrange pineapple bites on a baking sheet lined with parchment paper. Bake for about 25 minutes.
Spicy Guacamole
There is nothing like a dip on a hot summer day and guacamole fits the bill. Pair it with your favorite tortilla chips or top your tacos for a delightful combination of flavors. Yield: 8 servings.
Ingredients
4 ripe avocados
1 red onion, diced
2 medium tomatoes, seeded and chopped
2 tablespoons of lemon juice
¼ bunch of cilantro, chopped
2 jalapeño peppers seeded and ribs removed, chopped fine
Salt and fresh ground pepper to taste
Instructions
Cut the avocados in half and remove the seeds.
Scoop the avocado out of the skin using a spoon.
Mash the avocado in a bowl. For a chunkier guacamole save one half of an avocado, cut into small cubes and mix it in last.
Add the onion, tomato and lemon juice.
Add part of the chopped jalapeño and taste for heat. You may not need to add the whole chili.
Taste for salt and pepper and add some if needed.
Smoked Salmon Canapes
If you are looking for an easy appetizer idea to impress your guests, give these smoked salmon canapes a try. They are perfect to serve before an al fresco dinner in the summertime. Makes 24 canapes.
Ingredients
1 cup garlic & herb goat cheese
1-2 tablespoons milk or cream
6 slices rye bread, cut into triangles
12 ounces smoked salmon
½ medium cucumber, cut into 24 thin slices
1 (3.5-ounce) jar capers, drained
Directions
In a small bowl, whip herbed goat cheese with milk or cream until desired consistency.
Spread whipped goat cheese on triangles. Top with cucumber slices, smoked salmon, and capers. Serve immediately.
Beet Hummus
Beet hummus is a wonderful choice if you are looking for a more vibrant dip to go with your favorite pita chips. Simply place all ingredients in a blender or food processor and you have a beautiful dip in no time for your next summer gathering. Yield: 8 Servings.
Ingredients
2 small pickled beets, chopped
1 (15-ounce) can of chickpeas, drained with liquid reserved
2 tablespoons fresh lemon juice
2 tablespoons tahini
1 clove garlic, minced
¼ teaspoon cumin
Kosher salt to taste
Fresh parsley for garnish, chopped
Directions
In a blender or food processor, add beets, chickpeas, lemon juice, tahini, garlic, and cumin. Blend until smooth.
Add salt to taste and chickpea liquid slowly. Blend until desired consistency.
Transfer beet hummus to a small serving bowl. Garnish with chopped parsley and a few chickpeas if desired. Serve with pita chips or pita bread.
Easy Breezy Summer Salad Recipes
There's nothing like a fresh summery salad to complement your lunch or dinner. If you are feeding a couple, simply double the recipe and have to-go kraft boxes if guests would like to take leftovers home.
Citrus Salad
A citrus salad is like having a sunshine in a bowl. Make it colorful for your summer gathering by incorporating a mix of oranges, such as mandarins and blood oranges. Serve them on a bed of arugula tossed with your favorite salad dressing. Yield: 6 servings.
Ingredients
3 oranges, peeled, sliced
1 (7-ounce) bag of arugula
¼ cup walnuts, chopped
¼ cup prepared vinaigrette of your choice
Directions
In a large bowl, toss arugula with salad dressing.
Top with orange slices and walnuts. Serve immediately.
Heirloom Tomato Salad
This fresh and vibrant salad requires little to no ingredients and it can be done in less than 10 minutes. Serves 8-10.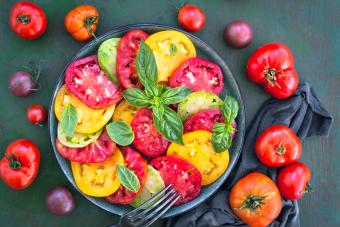 Ingredients
8 heirloom tomatoes, sliced
2 tablespoons olive oil
2 tablespoons red wine vinegar
Sea salt and pepper to taste
Fresh basil leaves for garnish (optional)
Directions
Arrange tomato slices on a serving platter.
In a small bowl, whisk olive oil and vinegar. Drizzle the tomato slices and add salt, pepper to taste.
Garnish with fresh basil leaves. Serve immediately.
Picnic Salad in a Jar
Summer means outdoor picnics on repeat. Use mason jars to create portable salads that you can easily pack for a stress-free picnic with minimum clean up. Servings depend on what size of jar you use. When ready to serve, pour 1-2 tablespoons of salad dressing into the mason jar. Shake well. Pour salad out of the jar and onto a disposable plate. Enjoy!
Ingredients:
Romaine lettuce, chopped
Julienne carrots
Fusilli pasta, cooked
Grilled chicken, diced
Grape tomatoes, cut lengthwise
Roasted cashews
Peas
Bell pepper, diced
Selection of salad dressings
Directions
Layer ingredients according to your preference and to fit the size of your jar.
Fill up mini jars (or mini cups with lids) with salad dressings.
Attach a disposable spoon to each jar using baker's twine.
Recipes for a Summer Brunch or Lunch
Nothing like celebrating summer with fun gatherings and great food. These easy and delicious dinner ideas are perfect for a get-together or weekly night meals when you are busy trying to entertaining the kids during the summer.
Margherita Flatbread Pizza
Keep your summer pizza nights simple and easy with a Margherita Flatbread Pizza that only takes 15 minutes to make from start to finish. The secret? Use store bought Naan bread for a quick way to feed a crowd a hot and delicious dinner.
Vegan Avocado Burger
If you are on a vegan diet, this avocado burger is the perfect choice for a much lighter burger version. Yield: 10 avocado burgers.
Ingredients
10 avocados, cut in half, pitted, peeled
Vegan mayo
Cucumber, shaved into strips
10 thick tomato slices
10 slices purple onion
Bag of mixed greens
Toasted sesame seeds to garnish (optional)
Directions
Spread mayo on avocado halves.
Place five halves (cut side up) on a platter. Top with some mixed greens, tomato slices, cucumber strips, and purple onion slices.
Add the other five halves to close the burger. Garnish with toasted sesame seeds if desired.
Piña Colada Chia Pudding
Chia pudding requires some preparation in advance before assembling the dessert cups. Make your pudding a day ahead and assemble your desserts a 2-3 hours before your guests arrive to make sure they are nice and firm. You can customize your chia pudding with any fresh fruit, puree, and toppings you would like. This piña colada chia pudding sounds like a unique and delicious idea if you are planning a Luau party.
Watermelon With Goat Cheese
Watermelon and goat cheese are a combination made in heaven and it makes the perfect refreshing snack on those hot summer days. Makes 16 small wedges.
Ingredients
2 large round watermelon slices, cut into wedges
1 cup spreadable goat cheese
salt and pepper to taste
basil leaves for garnish
lollipop sticks
Directions
Insert lollipops into watermelon wedges, then place them on a large serving tray.
Top watermelon wedges with about 1 tablespoon of goat cheese.
Sprinkle wedges with salt and pepper to taste.
Garnish with basil leaves if desired.
Grilled Peaches
There's nothing like fresh, juicy peaches grilled to perfection. Dice them to create the perfect summer salad. Makes 16 grilled peach halves.
Ingredients
Olive oil
8 fresh peaches, cut in half, pitted
Directions
Heat grill to medium.
Brush peaches with olive oil.
Place peaches on the grill (cut sides facing down)
Grill for about 5 minutes or until you see the grill marks.
Brush tops with olive, turn them over, and grill for another 5 minutes.
Remove peaches from the grill and place them on a serving platter.
Gourmet Hot Dogs
Add a fun spin to your usual hot dog for your next summer barbecue with delicious topping combinations. These mouth-watering bacon wrapped hot dogs are topped with avocado, onions, and tomatoes, making them the perfect dinner or lunch idea.
Simple Summer Dinner Party Recipes
These easy summer dinner recipes look and taste better when prepared the day of the party to ensure freshness.
Spicy Shrimp Tacos
Summer is the perfect excuse to plan a taco night. For your summer party, treat your guests to a self-service taco bar complete with refreshing margaritas. Make your shrimp a few minutes before the guests arrive, set out all the fixings in separate bowls, and invite them to build their ultimate spicy shrimp tacos with garlic cilantro lime slaw.
Avocado Zucchini Noodle Pasta With Grilled Shrimp
If you are hosting a summer dinner and looking for a lighter pasta dish idea that is easy, delicious, and also appealing to the eyes, consider a creamy avocado zucchini noodle pasta with grilled sShrimp loaded with delicious flavors from fresh limes and roasted tomatillos. Yield: 4 servings.
Ingredients
2 pounds medium shrimp
4 tablespoons taco seasoning
½ cup lime juice
3 tablespoons olive oil
2 pounds grape tomatoes
Zucchini noodles from 6 medium zucchinis
2 large avocados
1 tablespoon lime juice
2 tablespoons cilantro
¼ cup sour cream
Salt and pepper to taste
Directions
In a large storage bag, add shrimp, taco seasoning, lime juice, and 2 tablespoons olive oil. Seal and shake to mix. Place bag in the fridge to marinate for 30 minutes.
Remove the shrimp from the marinade and pat it dry with a paper towel. Cook shrimp on the grill for about three minutes each side. Set aside.
Add avocados, lime juice, cilantro, sour cream, salt, and pepper to taste to a blender. Puree until creamy.
In a skillet over medium-high heat, roast grape tomatoes until charred and tender. Set tomatoes aside on a platter tented with foil to keep warm and wipe out the skillet with a paper towel.
Heat 1 tablespoon of olive oil in the same skillet over medium heat until it shimmers. Add the zucchni noodles and cook until tender, 3-5 minutes, stirring occasionally.
Add shrimp, avocado sauce, and tomatoes. Gently toss until well combined. Add more salt if desired. Serve immediately.
Pan-Seared Cod
A pan-seared cod with fresh tomatoes and olives is a light dinner option that is simple to make and definitely will take your summer gathering to the next level. Pair your dish with a glass of dry white wine, such as sauvignon blanc to enhance the flavor of your fish.
Tuna Poke Bowl
If the idea of serving a deconstruct sushi to your guests appeals to you, a poke bowl is the answer. You can turn a summer night into a fun and interactive poke bowl night for friends and family. Everybody can personalize their own tuna poke bowls using fresh ingredients. You can have salmon sashimi, cooked eel, and even shrimp tempura for more variety.
Roasted Beef Kabobs With Vegetables
No summer gathering is complete without firing up the grill. Visit your nearest butcher to purchase high-quality meat if making beef kabobs with vegetables sounds like a great option for a summer dinner you are planning to host.
Summer Party Desserts & Drinks
Whether you are planning a birthday party or get-together to celebrate the warm summer days among family and friends, these summer dessert ideas will help you take your event to the next level and celebrate in style.
Watermelon Ice Cream Pie
Using store bought sorbet and ice cream in different flavors, you can create an impressive watermelon ice cream pie. Yield: 8 servings.
Ingredients
1 quart lime sherbet, softened
2 cups coconut ice cream, softened
1 quart watermelon sherbet, softened
¼ cup mini chocolate chips
Directions
Line a springform pan with parchment paper.
Add lime sherbet forming a 1"x2" ring (the "rind") on the outside of springform pan. Place pan in the freezer to harden completely.
Add coconut ice cream, forming a ½" ring. Place pan in the freezer once again to harden completely.
In a bowl, add watermelon sherbet. Mix in chocolate chips.
Add watermelon sherbet mixture to the center of the springform pan. Place in the freezer to harden completely.
Remove pan from the freezer. Run a large knife under the bottom of the pan to loosen the ice cream cake before opening the latch to release the pan.
Cut the ice cream cake in wedges. Serve immediately.
Strawberry Mojito Popsicles
Fruit popsicles make the perfect tart and sweet frozen treats for any summer gathering. Whether you are hosting a birthday party or a summer celebration to welcome the season, these strawberry mojito popsicles are delicious and refreshing. For a kid-friendly version, just skip the alcohol.
Key Lime Pie
When the dessert filling is condensed milk based, you know are going in for a treat. A sweet and tangy key lime pie is one of the most delicious summer desserts hands down. You can make the pie a day ahead to save yourself time, but the whipped cream and other toppings should be added right before you serve.
Cucumber Lime Infused Water
Skip the soda and try this cucumber lime infused water for the ultimate refreshment on a hot summer day. Yield: 20 to 24 8oz cups.
Ingredients
1 medium cucumber, sliced
4 sprigs fresh mint, rinsed
1 lime, sliced (optional)
6 quarts cold water
Directions
Add cucumber, mint, and lime to a large pitcher.
Add water to the pitcher and refrigerate for at least 8 hours.
Serve chilled.
Lemon Meringue Cupcakes
Cupcake is always a winner and when it tastes like a pie in cupcake form like these lemon meringue cupcakes, you know you are opting for an impressive dessert that's worth all the preparation and time involved to bring these delicious mini cakes to life.
S'mores Pie
S'mores desserts mean sitting around a warm campfire with people you love to enjoy the long summer nights. A toasty s'mores pie makes the perfect idea for a camping themed party, whether it's a birthday or just another great excuse to spend time with family and friends.
Watermelon Mint Infused Water
This watermelon infused water is incredibly refreshing and it can be the perfect summer detox drink option. Yield: 2 pitchers
Ingredients
4 cups fresh watermelon, cut into cubes
2 sprigs mint
4 quarts cold water
Directions
Add fruit and mint to a large pitcher.
Add water to the pitcher. Refrigerate for at least 2 hours.
Serve chilled.
Mango Popsicles
Making delicious snacks using seasonal fruit is always exciting. You can find mango all summer long at fresh markets and grocery stories, so why not taking advantage of the season to create refreshing summer snacks, such as these naturally vegan, gluten-free mango popsicles?
Ice Cream Donut Sandwiches
These donut ice cream sandwiches will bring all the kids (and adults) to your yard. You can make them ahead and keep them in the freezer until it's time to serve. It's a donut and ice cream all in one. What's not to love?
Ingredients
6 iced donuts, cut in half cross-wise
1 tub vanilla ice cream, softened
Directions
Spread ice cream, about 2" thick, onto a 9x13 baking pan. Place baking pan in the freezer. Allow ice cream to harden completely.
Remove pan from the freezer. Use a round cookie cutter to make ice cream rounds to fit your donuts.
Place an ice cream round onto donut bottom, then place donut top on the top of the ice cream round. Press gently.
Arrange ice cream donut sandwiches on a serving platter. Keep sandwiches in the freezer until it's time to serve.
Panna Cotta With Tangerine Jelly
Panna cotta is the perfect option if you are looking for a dessert that is elegant yet easy to make with just a few ingredients. A panna cotta with tangerine jelly can be a unique option to serve. You can swap the tangerine for other tropical flavors to match your summer theme and create a beautiful crowd-pleaser dessert.
Entertaining in Style
Entertaining during the summer is all about good food and refreshing drinks, like a Miami Vice drink, to complement your dishes. If you would like to add more pizzazz to your summer party, decide on a fun theme and invest some time into planning your party decoration and entertainment to keep the party going.