Whether you want to grab some candid shots of the kids hunting for eggs or you need some photos for your Instagram feed to show off the adorable outfits everyone is wearing, taking your own Easter family pictures is totally doable and even a lot of fun. There are so many ways to incorporate outfit colors, pretty backgrounds, and holiday-related to props to create pictures you'll love sharing and will treasure for years to come.
Get Great Photos of Dying Easter Eggs
If your family dyes eggs before Easter, include some shots of this fun event in your photos. You can even take this as a self portrait so you can get in the frame too (remember, these are the pictures kids will look back on). Set up a phone or camera at a low angle that shows the faces of people looking down at the eggs they are dying. Set the self timer and just have fun getting some great pictures.
Find the Best Light for Indoor Easter Photos
Sometimes the weather isn't picture perfect on Easter, but that doesn't have to stop your family photos. Find the best light in your house and set up some shots there. Look for a window that isn't getting really bright sun through it. Pose the person or people near it and add in some fun Easter photo props like eggs or carrots or an Easter basket.
Quick Tip
If you're not sure what to wear for Easter family photos, just dress in pastel shades. It's okay if they don't match, as long as they have a spring feel.
Catch Some Candid Easter Action
Kids rarely hold still for pictures, especially when there's a ton of excitement (and more than a little sugar). One way to get some great Easter photos of cousins or siblings on Easter is to just let them be kids.
Line them up with their Easter baskets and let them just be silly. You can even put on some music or see who can yell the loudest. You'll end up with some silly shots that really capture the fun of the day.
Capture the Moment of Discovery
A wonderful candid Easter family photo idea is to capture the moment of a child discovering an Easter egg. To get this shot, position yourself near where the egg is hidden and wait. Shoot from a low angle, since the child will probably be looking down at the egg.
Choose a Pretty Location for Your Easter Egg Hunt Pictures
If you have some choices about where to hold your Easter egg hunt, pick some place gorgeous you can also use as a background for your photos. Great options include gardens, open fields, orchards, and anything that has a natural spring look. You don't need to pose kids for your photos here; just take lots and lots of images as they look for eggs among the pretty flowers or trees.
Hold an Easter Photoshoot by Your Front Door
Don't have access to an outdoor location or weather that lets you shoot some great Easter pictures? No problem. You can make your own cute background by your front door. Shoot pictures on the front porch from the outside of the house, or use the foyer and leave the door open to let in lots of light. Hang some Easter decorations to give your photos a festive feeling.
Take Easter Family Photos at the Beach
If you live somewhere that's warm on Easter, the beach can be the perfect location for your family photoshoot. The neutral colors and pastels in this background make it great for showing off special Easter outfits, and you can add bunny ears to make your photos even cuter.
Use Grass as the Perfect Easter Background
A great Easter family photo idea is to pose together sitting on a grassy lawn and have someone take the picture from above. This lets the grass become a simple background for your picture. Add an Easter basket as a prop and just have some fun showing off your outfits.
Go to a Local Garden for Great Easter Backgrounds
A local garden or arboretum makes a wonderful backdrop for your Easter pictures. You can pose kids or the whole family on a pretty path. Look for a spot with a little shade so the light is flattering.
Set Up an Easter Tea Party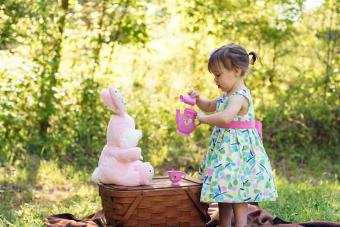 If you want to get some great pictures of a toddler or preschooler on Easter, set up a mini tea party with a big stuffed bunny. You can include multiple kids in this Easter photoshoot or just do it with one. Either way, get down on their level and take a lot of pictures. You'll end up with some great ones.
Break Out the Bubbles
Kids can be super tricky to photograph, especially if they're little ones set on exploring the world (and way too busy to sit for your camera in their Easter outfits). You can get some wonderful candid photos of them in their adorable suits and dresses if you give them something to do at the same time, and bubbles are the perfect choice. You'll get giant smiles while they pop the bubbles. Just make sure you're shooting a lot of photos.
Include an Easter Stuffed Animal in Your Photos
Easter tends to come with plenty of stuffies, and these can make your photos even cuter. Shoot some pictures of little ones enjoying their new Easter chicks, bunnies, lambs, and other stuffed animals. You can get them running toward the camera with their new furry friends.
Scatter Some Eggs for Your Pictures
Even if the egg hunt is already done, you can scatter the empty eggs on the grass and get some totally cute Easter-themed photos of kids. Just have them sit on the grass with their baskets and surround them with the colorful eggs.
Give Somebunny a Carrot to Hold
Need to photograph a baby for Easter? Don't stress! Just clean a carrot really well and then let them hold it while you shoot some pictures. It's the perfect Easter prop and totally entertaining for little ones who want to explore their world. Keep an eye out to make sure they don't take any bits, though.
Bring in a Bouquet of Flowers
You can make your Easter pictures feel even more spring-like by adding a bouquet of flowers. It also gives little ones something to hold in family pictures, which can help keep them from getting fussy. Pair it with pastel colors for the perfect look.
Get Multiple Generations in the Photos
Easter is a time for celebrating with family, and you can bring all the generations into the photos too. Get pictures of kids and grandparents together on this special day. They don't have to be super posed or perfect - just some nice shots that show how important this connection is.
Take Easter Family Pictures You'll Treasure for Years
Taking Easter family pictures can be such a fun way to mark this celebration. You don't have to have a bunch of props or backgrounds on hand either. You can keep it simple and just get together and take some pictures. Everyone will love the results.