Easter is a joyous time to celebrate in the company of family and friends with fun Easter activities. If you are planning to host a get-together, these Easter ideas will inspire you to host a memorable celebration while creating new family traditions.
Easter Ideas for the Family That Cooks and Bakes
The family that bakes together has a heck of a lot of fun. So try these fantastic family cooking, baking, and decorating ideas for great family together time.
Make Easter Bread Together
If you have a special family bread recipe, consider adding a creative spin to it by making an Easter wreath bread. For a touch of sweetness, you can top it with mini chocolate covered eggs, but if your family prefers savory, you can boil and dye eggs using natural ingredients, such as beets, carrots or turmeric, for instance.
Have an Easter Cookie Decorating Session
Easter cookie decorating is for all ages and makes it the perfect activity for any celebration. You can bake the cookies ahead of time or purchase them at your plain sugar cookies at your local supermarket. Set out icing in different colors and mini bowls filled with sprinkles, colorful candies, and other fun sugar decorations to create a special cookie decorating station.
Bake a Bundt Cake
Bundt cake screams Easter celebrations. Invite your family members to bake and decorate one together. You can make a large or mini bundt cakes and get creative with edible seasonal decorations and colorful icing. For a special presentation, display your bundt cake on a pretty pedestal.
Take an Easter Baking Class
If you and family have been meaning to take a baking class for a long time, Easter is a great time to sign up for a group baking class. Whether you are interested in learning how to make pastries or bake delicious cookies, do some research online to find out if there are any fun classes being offered near you in the springtime.
Prepare the Easter Ham Together
Preparing and baking the ham for a family Easter dinner can be a huge responsibility. If you don't feel confident in preparing the ham on your own, invite your immediate family to join in on the fun of baking a delicious ham for the whole family. The good news? You might start a new Easter tradition.
Make Chocolate Nests
Using coconut flakes and chocolate chips you can create these adorable Easter treats. Makes 8-10 nests.
Ingredients
1½ cups coconut flakes
¾ cup chocolate chips
Mini chocolate eggs or jelly beans
Instructions
Melt the chocolate chips according to packaging instructions. Pour melted chocolate over coconut flakes. Stir well to combine.
Spoon the chocolate coconut flakes into cupcake liners. Create a nest shape by pressing the center with the back of a teaspoon.
Decorate nests with mini chocolate eggs or jelly beans. Place nests in the fridge to chill for at least 2 hours.
Make Chocolate Eggs
Making chocolate eggs with a group of friends and family members can definitely be a wonderful way to kick off the Easter celebrations. Each person can make and decorate a large chocolate to give to someone they love. Be sure to make a list of materials you will need, such as molds, chocolate, brushes, and candies to fill up the eggs. Clear treat bags, boxes and foil sheets come handy so everyone can travel with their Easter chocolate eggs safely.
Crafty Easter Activities
Calling all crafters! If your family enjoys creative pursuits, these Easter crafting activities are a great way to celebrate together.
Create DIY Eggshell Planters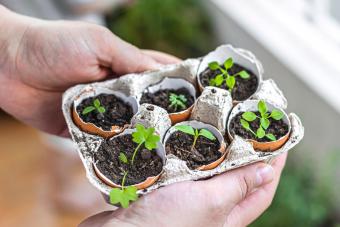 Upcycle egg cartons and eggshells to create an indoor garden for your space. This activity is perfect for both adults and children. Simply poke a small drainage hole at the bottom of your egg shells after washing, drying, and filling up your eggshells with planting mix. Add a few seeds and cover them with a light soil layer. Remember to water lightly and keep them in a sunny spot. This lovely activity requires some planning ahead to ensure you will have enough eggshells and egg cartons for everyone.
Decorate Easter Baskets
If you and family enjoy decorating and putting Easter baskets together for family and friends, you can get a head start by devoting one day to complete this task and cross it off your to-do list. Make it an event for your family by planning a few snacks and drinks to keep everybody happy and motivated.
Make Easter Origamis
If your family has always been interested in learning the art of Japanese paper folding, plan an origami activity for Easter. You can invest in an origami kit and if you and family members consider yourselves beginners in the art of origami, plan Easter origami ideas with basic folds, such as origami bunnies, baskets, egg cups, and chicks.
Organize an Easter Craft Sale
If you and family are craftholic at heart and organizing a craft sale in your neighborhood has been on your list, Easter can be a great excuse to make this idea a reality. For the craft sale to be successful, you and family need to create a variety of handmade products that will appeal to different types of customers. From Easter ornaments to jewelry, opt for a great variety of creative eye-catching products.
Get the House Ready for Easter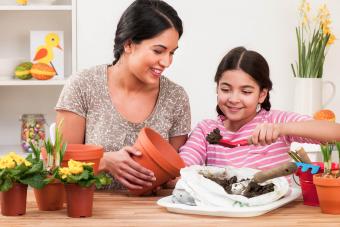 If you are ready to add some spring color to your house in preparation for Easter, invite your family to plant some spring flowers--daffodil, hyacinths, and primrose are spring-blooming flowers that will brighten up your space with their vibrant colors.
Create Bunny Napkins for Your Tablescape
Add a special touch to your Easter tablescape by turning a simple fabric napkin into something extraordinary that will add charm and creativity to your set up.
Materials
Fabric napkins
Twine or ribbon
Instructions
Lay the fabric napkin flat.
Starting at one corner, roll up the napkin from corner to corner.
Fold the roll in half. Bring the two ends up together.
Nestle a hard boiled egg and tie the two sides of the napkin together just above the top of the egg.
Plan a Decorate-Your-Own Wreath Craft
Gather all your craft supplies for a fun Easter wreath decorating activity--plastic eggs, wires, artificial flowers, grapevine, foam or wire wreaths. Everybody can let their creative juices flow to create their own decorating piece for Easter.
Make Handmade Cards
If you are feeling extra crafty, you and your immediate family can get together to create Easter handmade cards. When you craft your own card, you add your own personal touch a loved one will appreciate. If you have a friend who loves cats, you can draw and paint a cat for the purrrrfect Easter card. Or if you would like to create a special for someone who is a chocoholic at heart, design a chocolate egg to make a creative pop-up card. Use personalized Easter card sayings to wish happy Easter to your friends, family, and loved ones.
Decorate a Tree for Easter
Encourage each family member to bring an Easter egg ornament to decorate a family tree. The eggs can be a handmade creation or a purchased item. Remind them to label their ornaments before starting to help decorate the tree. Assign a family member to collect all the Easter egg ornaments and place them in a box until next Easter.
Ideas for Easter Outings and Gatherings
Easter activities can be indoors or outdoors; after all, spring is in the air! So whether you want to plan an outing or gather friends and family, these ideas can help you find fun ways to celebrate Easter.
Plan a Family Easter Egg Hunt
If organizing an intimate annual Easter egg hunt is part of your family tradition, you can continue with the tradition and add a creative spin to it each year to keep the family guessing and looking forward to it. Try a fun scavenger hunt or another creative way to organize a hunt to remember.
Visit a Bunny Farm
To kick off the Easter celebrations, take the family for an exciting visit to a bunny farm. Everybody will have a blast petting, cuddling and feeding the bunnies while creating the sweetest memories with the whole family. Remember to have a camera at hand to register the special moments to create an Easter scrapbook to cherish.
Play an Easter Bingo
If you are looking for a friendly game idea to entertain a group of guests at your Easter party, a fun bingo is a great choice. You can simply print the bingo and calling cards on white cardstock, have mini chocolate eggs or jelly beans that can be used as chips and assign one adult to be the caller. The caller should grab a calling card at random and "read" it out loud. Have fun prizes for winners.
Host an Easter Chocolate Egg Exchange
Bring the Brazilian tradition of exchanging Easter chocolate eggs into your household. If you can't easily find chocolate eggs to purchase, you can encourage each family member to make their own chocolate eggs using a chocolate mold. An Easter chocolate egg exchange can be a fun spin on the Christmas gift exchange.
Host an Al Fresco Easter Dinner
Take Easter dinner outdoors to enjoy all the beauty that comes with the spring season. Whether you are planning a fancy or casual dinner, opt for a few traditional family Easter foods that everyone can fully enjoy. From baked ham to dishes and desserts that are a staple at every Easter dinner, each guest can bring a dish to share to take the stress away from the host.
Attend Easter Mass Together
Whether you are a religious person or not, attending an Easter Mass with your family can be a meaningful way to celebrate Easter and its true meaning. Make sure you check the church's calendar to obtain all necessary information for the Easter Mass. Typically, a church offers child care for the church members' convenience so they can attend Mass without interruptions.
Fill Eggs With Easter Prizes
If you are planning a few games for your Easter party, you will also need fun prizes. Download the PDF, print on white paper, cut them out, and fill up the plastic eggs with different prizes. Place eggs in a large basket, so winners can choose an egg randomly and crack them to reveal their prizes.
Have a Family Picnic
Springtime is the perfect excuse to spend time outdoors. Invite family and friends for an Easter picnic at the park, the beach or the countryside. Create a picnic food sign-up sheet online and send the link to everyone via text or email so everyone can pick an item they would like to bring. You can plan a few exciting outdoor Easter games, such as an egg & spoon race to keep the party going.
Play Easter Egg Exchange Dice Game
Tell guests to bring an Easter egg filled with candies or small presents.
Gather all players in a circle.
Give each player a dice game card.
Place all eggs in the center and have players randomly pick one.
Clockwise, one player from the circle rolls the dice and follow instructions on the card.
Players roll the dice until everyone has had a turn.
Hop to It With Fun Family Easter Ideas
If celebrating Easter with a big gathering is part of your family's traditions, add a new spin to popular ideas. Replace egg coloring or dyeing for papier-mâché painting or make homemade bath bombs as a fun alternatives to bring new fresh ideas to your celebration.