Every company should consider celebrating Thanksgiving in the workplace. Hosting a Thanksgiving celebration for your employees is a great way to infuse a bit of fun into the workplace while also letting team members know how much you appreciate them. Not only will they enjoy a Thanksgiving party or seasonal activities, but this type of event can also lead to team bonding and improved team cohesiveness. Are you convinced to host a Thanksgiving party for your team? Good! Now it's time to work out the details.
Thanksgiving Workplace Celebration Ideas
There are many fun ways to celebrate Thanksgiving at work. Before settling on a celebration, ask employees to share their ideas for how they'd like to celebrate. Form a Thanksgiving party committee and have them review the suggestions and make a decision. Since not everyone will enjoy the same activities, consider holding a few different types of office Thanksgiving events so there will be something that will appeal to everyone.
Thanksgiving Potluck
Family Thanksgiving gatherings are often potlucks, so why not do the same at the office? After all, most people enjoy eating and showing off their favorite Thanksgiving recipes. Give the event a cute name like "Team Trimmings" or "Company Sharesgiving" with the company providing turkey prepared in a few different ways (roasted, fried, smoked, etc.) and employees signing up to bring in their favorite casseroles, sides, salads, appetizers, and desserts.
Workplace Turkey Cookoff
Rather than buying pre-cooked turkeys for your potluck, invite employees to sign up for "Turkey Tournament" cookoff teams and incorporate a turkey cookoff into the big day. Allow for a set number of teams to sign up to show off their turkey prowess, with the company buying the turkey and certain cooking supplies for each team. Let them set up tents in the parking lot to work their magic and name it the Turkey Tailgate Festival. Have employees vote to select the winning turkey during the cookoff.
Thanksgiving Cookie Exchange
Consider hosting a Thanksgiving cookie exchange a few days before the Thanksgiving holiday. Each participating employee will make a big batch of one type of cookie, then bring them in and exchange cookies with their coworkers. Each person who participates will leave with approximately the same number that they contributed (unless they eat a lot of them), but they'll have a wide selection of cookie types rather than just one. You could call it the Team Sugar Thanksgiving Exchange.
Thanksgiving Theme Decor Challenge
Challenge each work unit to decorate their area in honor of Thanksgiving, and turn it into a decorating contest. Give each group a theme to work with and a budget they can use to order goodies from a party supply store. To make it super fun, rather than groups selecting their own theme, have each team pull a Thanksgiving word (corn, pumpkins, pie, leaves. etc.) from a hat that they are required to focus on. They'll have to flex their teamwork skills and will have a lot of fun in the process.
Scavenger Pilgrimage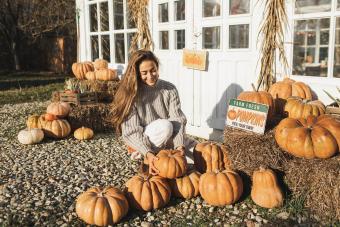 For employees who would prefer a more active Thanksgiving party than one that's centered around food, host a Thanksgiving-themed scavenger hunt, which you can name the Scavenger Pilgrimage. Adapt this Halloween scavenger hunt for Thanksgiving by changing the item list to include things like a cornucopia, an ear of corn, a pumpkin, fall leaves, a pie, etc. Turn this into a team-building activity for each workgroup by assigning everyday teammates to pilgrimage together.
Turkey Day Paint Party
Book a few sessions at a local DIY painting studio so that employees can sign up to go in with some of their coworkers to create their own unique Thanksgiving masterpiece. Or, if you have a room at the office that could be converted to a painting studio, then host an on-site team painting day before Thanksgiving. Bring in a local artist to set up easels and paying supplies, and lead groups of team members through the steps of bringing a seasonal work of art to life.
Group Community Service Day
Thanksgiving is a great time to encourage employees to give back to the community as a group. Work with a local charity to coordinate a group work day, then set aside a workday or a weekend day for the project and encourage employees to participate. If your goal is to ensure that your employees feel appreciated, consider the volunteer project as paid work time, at least up to a pre-set number of hours. Host a meal at a local restaurant for participating employees after the workday.
Thanksgiving Ideas for a Virtual Workplace
Your team doesn't have to be office-based in order to host some fun Thanksgiving events. It's not difficult to host a virtual Thanksgiving party or fun remote games. Virtual office Thanksgiving ideas require some creativity, of course. Ask remote employees to share ideas for how they'd like to celebrate Thanksgiving with their coworkers.
Virtual Thanksgiving Luncheon
Have a traditional Thanksgiving meal delivered to each employee at their remote location. Host a virtual open house during the meal break so employees can chat and socialize with each other while enjoying their meal. Hold everyone's attention by playing trivia games or doing random drawings to award prizes that will be shipped to the team members who win.
Compile a Company Thanksgiving Cookbook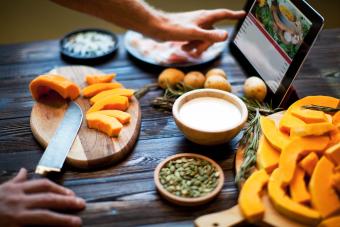 Invite each employee to submit their favorite Thanksgiving recipe along with a photo that will be compiled into a Thanksgiving cookbook. Set up a blank document on Google Drive or your company's intranet that all team members can access. Set up sections for different recipe categories and encourage each person to add their recipe in the correct spot. Assign someone (your PR team?) to go in and do any clean-up formatting that's needed, then convert it to an eBook for all to download.
Virtual Turkey Day Trivia
Trivia games are perfectly suited for remote teams, as employees can log in to the company's teleconferencing platform and play remotely. Assign one group to serve as trivia masters; their task will be to come up with Thanksgiving trivia questions to ask, along with the correct answers. Whether employees are playing for bragging rights or for fun prizes like company merch or restaurant gift cards, everyone is sure to have a gobblin' good time.
Virtual Thanksgiving Bingo
If your remote employees are in multiple countries, a Thanksgiving trivia game will be a bit skewed in favor of team members who work in the U.S. Level the playing field with a game that doesn't require knowledge about early American history, such as a Thanksgiving word bingo game. Assign one of the bosses to be the word caller, and award fun prizes to the winners of each round.
Thanksgiving Food Photography Contest
Encourage employees to share photos of their favorite Thanksgiving foods via Slack or whatever collaboration system the company uses. Encourage employees to vote on their favorites in a variety of categories, such as best-looking turkey, most creative corn dish, most unique vegetarian entree, sugariest vegetable, most decadent dessert, etc. Combine this activity with the office cookbook idea.
Local Community Service Volunteer Day
Want your employees to feel appreciated and see the company as socially responsible? Allow each employee to spend a paid workday (or a half day if a full day isn't feasible) doing volunteer work with the local charity of their choice the week before Thanksgiving. Post a list on the intranet that shows where each employee is volunteering and what they are doing. Encourage each team member to post a photo of their volunteer day for all to see. Recognize participants in the company newsletter.
Create a Virtual Cloud of Gratitude
Set up a shared document that team members can use to create a word cloud highlighting things about their coworkers that they're thankful for. Encourage participants to use autumn colors and to add royalty-free images that illustrate the gratitude concepts they are sharing. Convert the finished product to an image file that can be used as a virtual background or can be printed and framed. Weave this into your culture by doing a similar activity for several holidays each year.
Set Aside Some Work Time for Gratitude
Any day is a great day to let your employees know you appreciate them; it's especially important during the Thanksgiving season. Don't let the occasion go by without taking time out for some seasonal gratitude in the form of workplace team-building activities and fun Thanksgiving games or contests. After all, shared experiences with coworkers are seemingly "little" things that can have a huge impact by helping to transform a group of coworkers into a truly cohesive team.