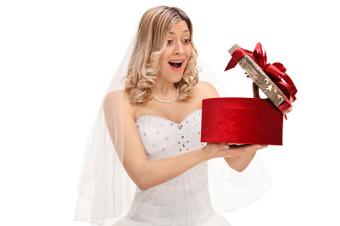 10 fabulous wedding gift ideas that cost under $50 will help you find the perfect bridal gift. From wedding showers to bachelor/bachelorette parties to bribing a friend to pretend to be your date, your loved ones' nuptials can make a serious dent in your bank account. You may be surprised how many great $50 gifts you can find.
1. A Gift Certificate That Actually Means Something
Gift certificates have a nasty habit of communicating how little you wanted to spend on the recipient -- in terms of both thought and money. There is a loophole, however. If you get the happy couple a certificate for a place that packs special meaning for them, the thought will be clear and no one will care about the price tag.
Where did they meet? Where did he propose? Did they frequent a bar or diner in their early dating days? A gift certificate to a place that holds sentimental value is a great way to tell your friends you've been listening to their stories and you want to help them keep the magic alive. Bonus points if the gift certificate had to be specially made... or at least couldn't be purchased in the impulse aisle of the grocery store.
Cost: Your Decision
2. Hometown Puzzle
If your newlyweds are also newly-roommates, this hometown puzzle could be a meaningful gift. Submit the couple's new address to order a map puzzle featuring their neighborhood. When they put it together, they'll find one house-shaped piece missing right where their home goes. It's a clever way to celebrate the new home they're creating together. Just make sure they're the puzzling type. You don't want your wedding gift to wind up buried in the back of a closet until the couple retires. By the time they put it together, they won't remember who to be grateful to.
Cost: $39.95
3. An Education
...just probably not in Calculus or A.P. Government. You'll want to pick something fun, like a swing dancing lesson. Anybody can buy a garlic press, but not everybody knows that this particular couple has been wanting to learn how to paddleboard or bonding over home brew fantasies. So review any insider information you may have about their favorite hobbies or secret interests. An entire series of classes can get pricey, but for less than fifty dollars, you can get them a one-off class that will make for a fun and memorable date night. Cost: $25 - $49
4. Super Easy DIY Dishes
If you have some artistic talent and good handwriting (or at least interesting handwriting), you can make a stylish and meaningful gift for as little as ten dollars. All you need is a Sharpie, an oven, and ceramic dishes, which you can get at most dollar stores.
Draw on the plate. Make caricatures, if the bride and groom are into that kind of thing, or decorate the dish with the words of the happy couple's special song. Make his and hers coffee mugs. Or his and his. Or hers and hers.
Be creative, use what you know about their passions and aesthetic, and then slide your masterpiece in the oven for forty minutes at 300 degrees. Whatever dishes you choose to make them, make four of each so they can have a complete set.
Cost: $0 - $49
5. A Way to Track Their Adventures
If your newlyweds are world travelers, this beautiful scratch-off map is a unique gift that will help them document the voyages they take as a married couple. Each time they visit a new country, they scratch off the foil covering that country, revealing the detailed map underneath. The phrase "scratch-off" may immediately bring to mind the less-than-elegant image of lottery tickets, but between the antique style and gold foil, this map manages to make "scratch-off" feel like an innovative design choice. And this gift offers more than beauty. It's a reminder to the happy couple that they have a whole lifetime of adventure awaiting them.
Cost: $39
6. Romantically Repurposed Literature
If you're attending the wedding of bookworms, you might consider giving them folded book art. Folded book art is when the pages of a book are folded to create a sort of sculpture when the book is fanned open. It makes for a charming piece of home decor, and if you have the patience to follow some online tutorials, you can even make it yourself, using a book that's special to the bride and groom. ArtFolds also sells a copy of Sense & Sensibility that comes with a pattern for folding the pages into the word "Love," or if you have a higher budget, you can find a few vendors on Etsy who will make hearts, initials, the wedding date, or the word "love" for less than fifty dollars.
Now, some book lovers consider simple dog-earing to be the eighth deadly sin, but even if your literary newlyweds are highly protective of the written word, don't let that deter you. If you take either the Etsy route or the homemade route, you can promise them you didn't destroy anything new; you gave a new life to a novel that was headed out to pasture.
Cost: $0 - $49
7. A Wax Seal
For an added touch of old world charm, use the gift to seal your wedding card in a handmade envelope. See if they notice. If there's anything to be learned from the fact that we're still making Jane Austen movies, it's that the appeal of old timey romance is evergreen. If your newlyweds are romantics, consider commemorating their wedding with a wax seal. You can even design a custom seal for well under $50, ensuring that your gift reflects their style and -- best of all -- represents their union. Back to Zero offers great options and has stellar reviews. You can go with joined initials ("R & J") or one single initial (just make sure the bride is definitely changing her name). Either way, you'll give them a romantic reminder that they're sealing as a team now.
Cost: $25 - $40
8. A Place to Store Their Wishes
Building a life together means sharing wishes, blending dreams, and remembering which toothbrush is yours. You can help the happy couple master two out of three by gifting them this unique wishing ball. It's a beautiful and unobtrusive decorative piece, and it comes with fifty-two strips of paper for its owners to write their wishes, dreams, and sentiments on. At one wish a week, the newlyweds can spend their whole first year of marriage filling the wishing ball with their hopes for the future and celebrating the marvelous life they're building together.
Cost: $32.00
9. Friendly Competition (i.e. Yard Games)
If the newlyweds love entertaining, barbecues, or challenging each other, a yard game is a great gift that will be delightfully unexpected. You have to keep in mind that this is a wedding gift, though, so quality and style are key. Buying toys for your newly married friends is like buying toys for a Montessori preschooler: wood is sacred; plastic is a mistake (unless it's on the registry or you know the couple is really casual). You can pull this off depending on which game you get. A quality corn hole set can get pretty pricey, but you can find smaller games within your budget, like this Bocce ball set from Home Depot.
If you're handy with tools, you can even make yard dominoes, yard Jenga, or yard dice yourself, which cuts down on cost and makes the gift even more personal.
Cost: $0 - $49.99
10. Their Own Love Story
Just about every wedding contains some tradition that captures and preserves well-wishes from the guests...whether it's by guestbook or through rambling testimony offered to the videographer after three glasses of champagne. These sentiments can be meaningful, but the vast majority of them tend to be generic wishes for a long and happy marriage.
You can offer the newlyweds something even better and more specific that they'll treasure for a lifetime. Give them their love story as told through the eyes of the people who witnessed it. This one takes some planning, but the price is right and the emotional payoff is huge.
Contact everyone close to them and ask them to share an anecdote about the couple. Once you have all the stories, organize them by the order in which they occurred (as far as you're able to guess) and compile them in a professionally bound book. This book will mean the world to the lovebirds because it not only documents the story of their relationship, but it tells the story through the eyes of those who know and love them best. Bonus tip: be sure to give them a digital file along with the hard copy, just in case the original becomes lost in a flood, set on fire, or swallowed by the earth.
Cost: $10 - $49, depending on book length and quality
Remember What the Day Is About
Whatever you do, don't let the stress of picking the perfect gift overshadow what the day is really about. With each passing year, weddings seem to become bigger, more spectacular occasions. Gone are the days when people got married in their backyards and followed it with a tasteful potluck. And now that the celebrations are becoming more expensive, it's hard not to feel like the gifts should follow suit.
Just remember, this day is about love. It's about two people deciding their lives are better together. The amount of money you spend on them will be (or at least should be) the last thing on their minds. The best way to wow the newlyweds you love is to give them a gift that truly tells them their joy is infectious and you wish them the very best.