Your wedding dress is likely the most beautiful gown you will ever wear, for one day only. After that, it sits in your closet collecting dust. We keep this item for nostalgia purposes, but did you know that there are better ways of keeping the memory of your big day alive and giving your wedding dress a second lease on life? 
There are an array of companies that repurpose wedding dresses so that you can get extended use out of this gorgeous piece of apparel. Get read to say 'I do want to upcycle my wedding dress' with these fun ideas!
13 Ways to Repurpose Wedding Dresses
Long gone are the days when a wedding dress is passed down from mother to daughter. Modern trends promote women finding a gown that is truly their own and shows off their unique style. This means that if you want to give your old dress another chance to shine, you have to get creative. Thankfully, we have compiled some unique and useful ways to repurpose wedding dresses. 
Turn Your Wedding Dress Into Formal Wear
If you have an array of formal events to attend every year, one fantastic way to upcycle your wedding dress is to transform it into a cocktail dress, an elegant skirt, or a chic top. This can give you the chance to wear your gown on multiple occasions.
Transform Your Gown Into a Get-Ready Robe
For those who want to enjoy their dress on a daily basis, another fantastic option is to reconstruct your dress into a robe. There are a multitude of companies that will take the fabric, lace trim, appliques, buttons, sequins, and other decorative accents and create a custom robe to wear on a regular basis. 
Helpful Hack
For those ladies looking to spice up their anniversary night, you can also contact a seamstress to see about turning parts of your wedding dress into lingerie. This can be a fun surprise for your spouse as you ring in another year together. 
Create a Custom Handbag
For those extra-special occasions, we all love having a beautiful clutch or handbag to finish off our ensemble. Why not give some pieces of your dress a chance to shine for years to come by creating a custom handbag? This is another way to repurpose wedding dresses that allows for constant use. Best of all, if you like having a selection, you have enough material to make a few bags for different events, and you can even dye the fabric to better match your style.
Have a Ring Pillow Made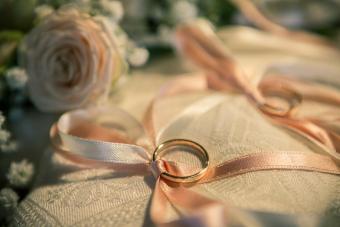 If you still have your wedding dress lying around and you have a son, daughter, or grandchild getting married in the near future, you also have the option of taking the fabric and decorative accents from your dress and turning them into a ring pillow for the ceremony. This can serve as a beautiful keepsake gift for the bride and groom that they can later pass on to their children. 
Design a Christening Gown
If you recently had a baby or plan to have one soon and hope to get them baptized, upcycling your wedding dress into a christening gown is another meaningful way to give your dress some additional use. It is also another way to ensure that your dress lives on for generations. Most devout families have a baptismal gown that they pass down, and this is can allow you to start the same tradition. 
Make Christmas Ornaments
When you repurpose wedding gowns, many times it requires your dress to be chopped into pieces. While this seems heartbreaking, it actually gives you the opportunity to use the fabric for a myriad of projects. If you are a Christmas fanatic like me, a fun way to honor your wedding day is by repurposing some of the fabric from your wedding dress to make Christmas ornaments.
Quick Tip
Always save your scraps! My husband's grandmother gave us the leftover fabric from her dress and veil, and I was able to use it on my wedding shoes as my something old. You can also use extra for bouquet wraps, pocket squares, and other wedding day accents.
Craft Meaningful Keepsakes
Many companies can also repurpose wedding dresses into cute keepsake items and gifts. These can include bears, table runners, blankets, jewelry, accessories, handkerchiefs, indoor wreaths, or anything the comes into your imagination. There are a ton of vendors on Etsy that offer these services, or you can head to a local seamstress to see what they're able to create.
Turn It Into Art
Yes, that's right, you can actually frame your wedding dress and display it in your home. This can be a sweet way to honor your big day. Most framers can also add in photographs, your wedding paper products, and any other keepsakes that you want to show off. This can make a bold centerpiece for a closet or guest bedroom.
Charitable Ways to Upcycle Wedding Dresses
If you aren't committed to any of the options above, you can also consider gifting your gown to someone in need. Here are some worthwhile causes to consider. 
Turn Your Dress Into an Angel Gown
This is one of my favorite recommendations for repurposing wedding dresses, because it helps a family who has suffered an unexpected loss. The Angel Gown Program was started in 2013 to help bereaved families in a time of great sorrow. They transform beautiful dresses into bereavement gowns for young children. Almost 20,000 infants die each year in the United States, and this small gesture is a meaningful way to affirm their life and give their parents a beautiful way to say goodbye.
Need to Know
The Angel Gown Program is one of many programs that creates gowns for angel babies. If they are not taking dresses at this time, consider reaching out to churches in your area to see if they partner with a local organization that offers the same service.
Give Someone a Magical Prom Night
Another option is to donate your dress to an organization like Operation Prom. This provides girls whose families cannot afford a dress for their big night with something beautiful to wear and a memory they will never forget!
Donate Your Dress to Brides for a Cause
Brides for a Cause is an organization that resells wedding dresses to raise money for different charities. On their website, they note that "through the monetary gifts given to our charitable partners, thousands of dollars are raised and dispersed to women's causes each year, reaching millions of women." 
Repurpose Your Wedding Dress in a Silly Way
Finally, for the girls who just want to have fun, there are a few unconventional ways to upcycle wedding dresses that give you one or two more uses.
Become a Corpse Bride
Halloween is a spooky time when all the ghouls and goblins come out to play. If you don't mind your gown getting a bit messy, a unique way to repurpose wedding dresses is to rip up the bottom, even splatter on some fake blood, go crazy with your makeup, and see how many people you can scare at your next holiday party.
Throw a "The One With the Wedding Dresses" Party
For the ladies with a lot of married friends, why not channel your inner Rachel, Monica, and Phoebe and throw a party where everyone dons their wedding day wear. This can be a fun theme party that everyone can get in on, even your single friends. After all, even Phoebe got a dress "from a store called It's Not Too Late!"
Upcycling Wedding Dresses Helps to Preserve Your Memories
When you repurpose your wedding dress, don't be afraid to think outside the box! Just because something hasn't been done before doesn't mean it won't turn out to be an exquisite product. Also, don't forget about your veil! This is another item that normally collects dust, but with the right eye, you can make it a part of your daily wear. Embellish jackets, craft headbands, and even fashion a decorative scarf out of the material.