Don't let being short on time stop you from having a great Halloween costume this year. Whether you choose a traditional outfit or something super creative, there are lots of great easy Halloween costume ideas to inspire you.
Dear Deer
Dress up on Halloween as a deer with a simple costume made from things you mostly already have on hand. Wear a brown or gold dress and pin a piece of white felt or fur to the front. Add an ear headband and glue on some sticks for antlers. You can draw a nose on your face with eyeliner.
Video Conference Dude (or Lady)
In the age of Zoom meetings and online conferences, there's something hilarious about seeing a person dressed professionally on the top half and wearing boxer shorts or pajama pants on the bottom. You can shop your closet for this costume. Simply choose your best suit or dressy top and pair it with something equally informal and unprofessional on the bottom. Carry a laptop or wear a headset to make your meaning clear.
Bubble Tea
If you love drinking bubble tea, you can make yourself a bubble tea costume in no time. You just need a white dress or outfit and a bunch of black pom-poms. Glue the pom-poms to the bottom section of your outfit. Then cover a paper towel tube in tan or striped paper and attach it to a headband as the straw.
All-Seeing Alien
You don't need a green mask to be an alien for Halloween. In fact, you can make your own eye mask that will make everyone laugh. All you have to do is glue tons of fake eyes to a regular plain eye mask from the craft store. Pair it with perfectly normal clothing, and it's a winner.
Pink Flamingo
Opt to be the ultimate in lawn kitsch by dressing up as a pink flamingo. This outfit works great for women, but it's just a little more amusing if you're a dude. Start with orange tights for the legs and add any kind of pastel or pink shorts or skirt. Then wear a pink hoodie or furry jacket, a beak, and maybe some sunglasses. This is a great last-minute option if you need something awesome in a hurry. Remember to stand on one leg!
Electrocution Victim
This is a funny costume you can make yourself, and it doesn't even require a trip to the store. Use hair gel or pomade to spike your hair up so it looks like you were electrocuted. Cut the end off an old extension cord (make sure you've unplugged it first). If you don't want to sacrifice an extension cord, just carry your toaster around.
Toy Doll
You don't need special makeup skills or a ton of expensive gear to create an awesome doll costume. Simply place your hair in two pigtails, add some bright makeup to your cheeks and eyes, and wear the most frou-frou clothing you can find. Think tutus, full skirts, and patterned dresses. Add a pair of Mary Janes and some tights, and you'll look the part.
Creative Vampire
When it comes to adult Halloween costume ideas, the classics are classic for a reason. Still, you can change things up a little for a creative take. You can always wear the classic vampire cape, but there's no reason to limit yourself to that. Instead, dress in clothing you already own, preferably black, silver, grey, or red. Then add some fangs and some dramatic makeup. You can even put on a wig for a really cool look.
Champion Bowler
Stop by your nearest thrift store and pick up an old bowling shirt (bonus points if it's personalized). Add some dorky pants and shoes, a bowling ball, and maybe even a trophy. Everyone will recognize that you're dressed as a bowler.
Woodland Fox
You can make a sexy and creative fox costume with a few simple accessories. If you have red or silver hair, you're already in luck. If not, pick up a wig or colored hairspray. Add some pointed ears and a faux fur jacket or cape. This costume is great with a little black dress and some creative makeup.
Enthusiatic Programmer
Dress as an enthusiastic computer programmer. This is a super easy costume to make from items you already have around your house. Find a broken electronic or some spare electrical supplies and salvage pieces of wire, computer chips, and bits of metal. Sew or staple these items to a black stocking cap. Dress in nerdy clothing.
Magical Unicorn
Become a unicorn the next time you need a costume! Little girls aren't the only ones who can enjoy this fantastic costume. You just need a rainbow wig, a horn, and a white hoodie. Add some sunglasses to make the look ultra cool.
Cute Kitty
If you're a cat lover or just need an easy Halloween costume for adults, pick up a pair of cat ears and an eyeliner pencil. Draw a nose and whiskers on your face and dress all in black. You can add a tail for bonus points.
Frida Kahlo
Artist Frida Kahlo was famous for her beauty and distinctive look as well as her life and art. You can dress as Frida without going to much trouble. Grab some fake flowers to create a simple headdress and put on a black vest or tank top and a floral skirt or pants. For an extra touch, use an eyebrow pencil to create Frida's famous unibrow.
Nerdy Tourist
Need a costume no one else will have? Dress up as an excited tourist! Pick up a loud Hawaiian shirt and a straw hat to start the look. Then add shorts and maybe some sandals with socks to make this costume fantastic.
Classic Cowboy
You can buy a cowboy costume, but it's just as easy to make one. Head over to the nearest thrift store and pick up some brown pants and a vest. Grab a pair of scissors to make some fringe and add a red bandana and a classic cowboy hat. Don't forget the boots and maybe a pair of spurs.
80s Aerobics Instructor
Call to mind the Jazzercise craze of the 1980s with a costume that's easy to assemble on short notice. Layer leggings under a leotard or one-piece swimming suit. Add a belt, especially a brightly colored plastic one. If you can find leggings and white tennis shoes, you get bonus points.
Simple Magician
You can turn yourself into a magician simply by putting on a tux and a top hat. Add accessories like a silk hankie, a toy rabbit, or a deck of cards for an even more impressive offering.
Traditional Ghost
There's a reason a ghost is a classic Halloween costume: it's one of the easiest outfits you can assemble at the last minute. All you need to do is grab a white sheet or a large piece of white fabric and cut two eye holes in it. You can get creative by ripping the edges of the sheet to make it trail behind you when you walk.
Easy DIY Mermaid
You don't need a realistic mermaid tail to give the suggestion of being a mermaid. Instead, pick up a thrift store prom dress that flares at the bottom. Cut it off to make a skirt, and if you're handy with the sewing machine, add an elastic waistband or draw string. If you want to make it even easier, just pick up a mermaid tail at the costume store. Then add a bikini and some wet-look hair gel to complete the look.
Primitive Hunter or Huntress
Unleash the power of the hunter or huntress! You'll need a prop bow and arrow, a fur cape, some earth-toned clothing, and a fearless expression. This is a fun look for any party.
Wicked Witch
For a simple and classic Halloween costume, become a witch. All you need is the traditional witch hat, and you can assemble the rest of your costume from things you already have. Wear all black and use silver accessories. If you want to take it to the next level, get creative with your witch makeup.
Funny Bunny
Easter isn't the only time you can dress as a bunny for laughs; this also makes a great Halloween costume for adults. You can pair bunny ears and a nose with any pink top or jacket. It's an adorable costume any time of the year.
Super Dude (or Dudette)
Sure, you can pick up a superhero costume, but you can also assemble your own for a more creative look. You just need a cape and a mask, which you can easily find at any Halloween store. Then add a funny t-shirt or dress, and you'll be everyone's hero.
Teacher's Pet
Show your charming and nerdy side by being the teacher's pet. Wear glasses with tape on them, a bow tie, a white button-down shirt, and anything else you can think of that looks a little geeky. Be sure to carry a pointer, an apple for the teacher, or a #1 student sign.
Rock Star
Remember when everyone dressed as rock stars for Halloween? You don't have to be a kid to rock this easy costume. In fact, it's even better if you're an adult. Dress in your craziest outfit or pick up something with lots of fringe or sequins at the thrift store. Add a cordless microphone and go wild with your hair and makeup.
Shakespearean Actor
Dress as a stage actor by wearing over-the-top period clothing and carrying dramatic props. Think a gilded skull, an ornate potion bottle, or a jewel-studded dagger. Add a booming voice and some classic lines from Shakespeare, and you'll end up with a costume everyone will remember.
Scary Scarecrow
You can be a truly terrifying scarecrow with a few basics and some good makeup. Just put on a plaid shirt and a straw hat or cowboy hat. Tuck straw into the cuffs and collar of your shirt, using tape to secure them if needed. Then go super creepy with the makeup.
Famous Artist
Grab a white shirt, a beret, and an artist's palette to create a super easy Halloween costume. You can splash a little paint on the shirt and carry a paintbrush too. If you want to get extra creative, add a fake moustache.
Rebellious Pirate
Show off your rebellious side with a simple pirate costume. All you need is a black hat, a white shirt, a vest, and a few accessories. Embellish your hat with a glue gun, adding lace, ribbon, and anything else that seems fun. Carry a sword to complete your look.
'20s Flapper
If you want a costume that practically shouts beauty and power, try a flapper. This is an easy DIY look. All you need is a great fringed dress as a starting point. If you can't find something you like, pick up a simple sheath dress at a thrift store and use fabric glue to add fringe. You can buy fringe trim from your fabric store by the yard. Throw on a few necklaces, a pair of fishnet stockings, and some great eye makeup, and you're done!
Charming Devil
Grab a headband with devil horns and dress in red to create an adorable and easy devil costume. You can add a tail if you want to and even get creative with your Halloween makeup. This can look especially great with a sophisticated dress or suit. Don't forget to add a devilish grin.
Fortune Teller
Get ready to be the hit of the party and hand out fortunes to your friends. This super easy costume is mostly about the accessories. Tie a scarf over your hair and put on lots of gold jewelry. Wear a brightly color top or dress. You can even carry a crystal ball if you want.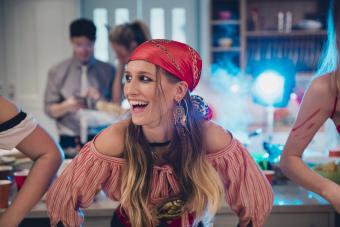 Horse Person
As soon as you put on a horse mask, you are guaranteed to get laughs from friends at any Halloween party. You can pick up a horse mask online or at any costume store. Pair it with a brown jacket or hoodie, and you have the funniest and easiest adult costume ever.
DIY Mummy
A mummy costume is a super easy option, especially if you have some light colored pants and a shirt. Pick up some cheap muslin fabric and cut or rip it into strips. Wrap the strips over your clothing and safety pin them in place, allowing some of the ends to dangle.
Party Guy (or Girl)
Dress as a party guy (or girl) in this simple costume you can make yourself. Tape a bunch of party hats together to frame your face and dress in your basic everyday clothing. You can add a noisemaker and even tape crepe paper streamers to your clothes.
Grumpy Granny
No matter what age you are, you can dress as a grumpy granny for a hilarious and super easy Halloween costume. Just put on a grey wig and curlers, throw on a bathrobe, and pick up your rolling pin.
Professional Chef
If you love to cook, you can create an easy chef costume for Halloween. Simply put on a white shirt and a chef's hat and carry real or fake vegetables around with you. If you want to get super silly, add a fake moustache.
Annoying Mime
A mime is an incredibly easy costume for adults. You can wear almost anything, but the classic choice is a striped shirt. Add white gloves and a black hat. Then paint your face white and exaggerate your eyes and lips with makeup. For bonus points, follow your friends around mimicking their actions.
Classic Hippie
Dress up as a flower child for Halloween. This classic costume is really easy to put together at the last minute. Simply wear layered clothing, especially anything tie-dyed. Wrap a scarf around your head and put on lots of necklaces. Carry or wear some flowers and a pair of tinted wire-rimmed glasses.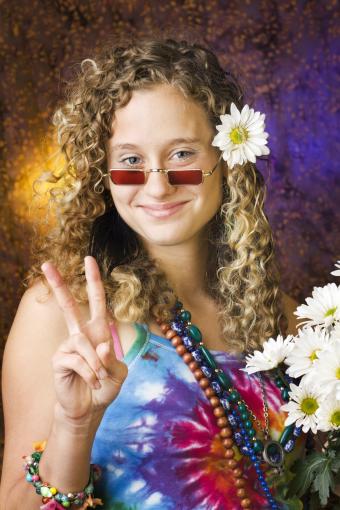 Clever Detective
One of the easiest costumes for adults in a detective. Think Sherlock Holmes and scour the thrift store for a hat with earflaps or a plaid cap. Wear a dark wool coat or sweater. Add a pipe and a magnifying glass, and you're all set.
Adults Can Have Fun on Halloween
While most people associate Halloween with kids, adults can get in on the Halloween fun too. Whether you're going to an adult Halloween party or simply want to dress up to pass out candy to trick-or-treaters, there are lots of ways to get involved in the fun at any age.
40+ Insanely Easy Halloween Costume Ideas for Adults