If you're a little busy this Halloween or don't want to go super nuts with a costume this year, you're definitely not alone. And you've also got plenty of great options for Halloween costumes with normal clothes that you can actually throw together in a matter of minutes. From classic movie characters to stereotypical tourist outfits, there are a lot of easy costumes that already exist in your closet.
Audrey Hepburn/Holly Golightly
Audrey Hepburn has a classic beauty everyone loves, and do you know why she's so classic? She wears classic clothing. Grab your LBD, a pair of sunglasses, and a string or two of pearls (fake is fine), and you've got that famous look from Breakfast at Tiffany's.
Barbie or Ken
With the Barbie movie super popular, this is an instantly recognizable and super easy costume anyone can pull off. Put your hair in a ponytail or other cute style and put on some heels if you have them. Barbie can wear almost anything from exercise clothes to a business suit; it just has to feel pretty. 
Quick Tip
If you're going for Ken, it's all about the preppy clothes. Pull out those polo shirts and khakis or even your tennis whites.
Dorky Tourist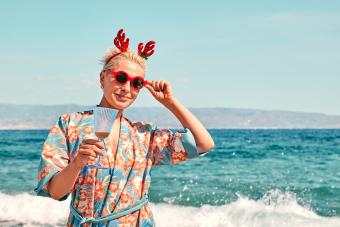 You know the type, and we guarantee you have some clothes that will work. You'll need a loud print shirt or sundress, some sandals, and some dark-colored socks to wear under them. Add a wide-brimmed hat if you have it, plus sunglasses and a camera.
Your Favorite Color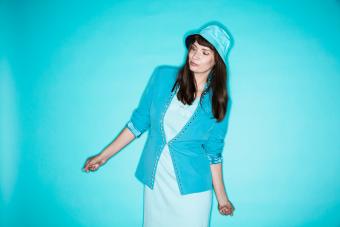 If you have a lot of your favorite color in your wardrobe, put it all together to create an entire outfit in that shade. We're talking purple joggers, sweater, shoes, all of it. Really go all out. Then, if you want bonus points, pick up some face paints in that color and paint your face, too.
Coastal Grandma
The coastal grandma trend charmed almost everyone, and it's great inspo for an easy Halloween costume with normal clothes. Grab your straw tote, boxy cardigan, and khakis or black pants. Add lots of gold jewelry and maybe a straw hat, and you're good to go.
Rosy the Riveter
That classic poster from WWII is an awesome inspiration for a super simple normal clothes Halloween costume. All you need is a denim or chambray shirt with the sleeves rolled up and a red scarf or bandana to tie around your hair. Don't forget to flex your bicep from time to time.
Cat Lady
Those of us who own a few cats might not like to admit it, but it's actually really easy to pull together a cat lady costume from stuff you have around (especially if you have kids with stuffed cats). Basically, just wear a bathrobe or PJs and pin a bunch of stuffed cats to your clothes.
Quick Tip
No stuffed cats? No problem. Just print out some cat pictures and pin those to your clothing.
Grumpy Old Man (or Woman)
Get ready to yell, "Get off my lawn!" This super easy costume just involves your normal clothes and some baby powder to make your hair grey. Layer up with lots of sweaters and maybe some mixed plaids. Remember to look grumpy.
Morning After a Wild Night
We've all had those nights where we just didn't get enough sleep (and maybe indulged too much). This normal clothes Halloween costume relies on mastering that disheveled look. Rumple up your clothing and back-comb your hair to make it all stand up. Then use makeup to add dark circles under your eyes.
Sugar Daddy (or Mama)
Have a baby carrier around? With that, a bag of sugar, and your normal clothes, you have everything you need for a hilarious Halloween costume. Wear whatever you want but slip on the baby carrier so it's on the front of you. Put the bag of sugar in it, and call your costume done.
Quick Tip
What if you don't have a baby carrier for this costume? No worries. Just wrap that bag of sugar in a blanket and carry it like a baby (make sure people can see that it's sugar, though).
Wednesday Addams
If you love Wednesday as much as we do, you know she's kind of the perfect no-costume costume. First off, we all remember in the movie when she said, "This is my costume. I'm a homicidal maniac. They look just like everyone else." Channel that dark humor by wearing a cute black dress, your hair in two braids, and maybe some knee socks and Mary Janes.
Remote Employee
Wear your normal clothes and be a remote employee for Halloween (even if you usually work in an office). Put on your pajama bottoms (or boxer shorts). Then add a button-down shirt, tie, suit jacket, or pretty shell on top. If you can carry a stuffed cat or small dog (or even your kid), that's a bonus.
Get Creative for a Halloween Costume Using Normal Clothes
You already have everything you need to rock one of these super easy Halloween costumes with normal clothes. It's all about combining what you have in new ways to create fun (or even funny) new looks. Get creative with what's in your closet for the perfect costume this year.