If you're planning a beach wedding reception, a few menu ideas that add a taste of the sea to your celebration are a must. Choose delicious and varied dishes to create a wonderful, memorable meal for your first one as a married couple.
Ideas for Beach Wedding Reception Menus
From the first sip of a cocktail to the last, sweet bite of dessert, there are many ways to bring a taste of the beach to your reception menu.
Cocktails
Whether you plan to have a cocktail hour prior to the reception or will simply offer a selection of drinks during the meal, the right cocktails can set the mood for your reception. Popular alcoholic and non-alcoholic choices for beach weddings include:
Margaritas, pina coladas, and other tropical mixed drinks
Flavored rums and vodkas, particularly with splashes of mango, coconut, or citrus extracts
Fresh fruit juices such as pineapple, mango, and tropical punch blends
Fresh fruit smoothies or ice blended drinks
Appetizers
Appetizers can be passed during the cocktail hour or they may be served prior to dinner. For a beach wedding, delicious appetizers include:
Sushi
Shrimp cocktail
Mini crab cakes
Fresh tropical fruit
Iced oysters
Crab or shrimp stuffed mushrooms
Coconut shrimp
Sun-dried tomato bread
Key lime popcorn chicken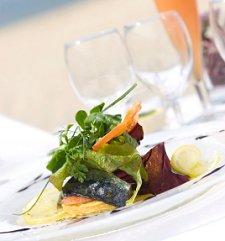 Salads
A fresh salad cleanses the palette before the main course and can be a delicious beginning to any wedding meal, particularly when choosing from these scrumptious beach wedding favorites:
Garden salad with baby greens
Caesar salad with shrimp
Mixed local greens
In addition to a light salad, opt for light, flavorful dressings that will not weigh down the tastebuds.
Soups
A soup may be offered as an alternative to salad or it could be an entrée selection. Tasty soups that are popular on beach wedding reception menus include:
Clam chowder
Shrimp or lobster bisque
Jamaican pepperpot soup
Gumbo
Entrees
The entrée is the key dish to any wedding reception menu. Many couples choose at least two entrees to give guests variety, and popular options include:
Jamaican jerk meats, such as chicken or pork
Grilled or broiled fish
Steak, including filet mignon, tenderloin, or prime rib
Lemon braised chicken
Chicken marsala
Surf and turf combinations
Barbequed chicken
Roast pork with lime
Side Dishes
The dishes that accompany an entrée should be just as delicious as the main course. Popular side dishes for many wedding menus include:
Rice pilaf, saffron rice, or wild rice
Roasted potatoes, potato wedges, or mashed potatoes
Pasta with various sauces
Grilled or sautéed vegetables
Desserts
Many couples forgo a dessert menu in favor of the wedding cake, but adding a simple dessert or two to your beach wedding menu will add extra sweetness to the meal. Furthermore, many guests may not enjoy cake, and adding desserts to the menu can help couples cut wedding cake costs.
Decadent beach wedding desserts include:
Key lime or other citrus tarts
Strawberry shortcake
Chocolate covered strawberries
Coconut macaroons
Lemon cookies
Coconut cream pie
Pineapple upside down cake
Wedding Cake
The wedding cake is the crowing glory of any reception menu. While couples have many delicious options for beach wedding cakes, popular choices include:
Vanilla or chocolate sponge cake with tropical fruit fillings
Lemon sponge cake with a vanilla or lime filling
Dark chocolate cakes with chocolate ganache
Vanilla cake with a toasted coconut filling
Many Options
Beach wedding reception menus can range from casual barbeque to elaborate regional fare, but if a couple chooses their menu carefully they will be able to enjoy a delicious meal to celebrate their very special day.