Plan your Cinderella theme wedding and make your fairytale a reality by using the following ideas to make your dreams come true. From the dress to the dinner, you can incorporate plenty of ideas worthy of the princess's tale.
Cinderella Wedding Attire
As many wedding planners or bridal experts will tell you, the wedding dress sets the theme for the entire wedding. This is no exception when planning a Cinderella (often referred to as a fairytale or "happily ever after" theme) wedding.
Bride's Attire
A ballgown is a must. Lots of flounce, bustle, and sparkle will make the dress fit for a princess. Rhinestones, crystals, beadwork, and sequins will make your dress stand out. If you find a dress that is perfect, but comes up short in the skirt, add a petticoat. A blue dress is a great option, as the famous Disney film portrays Cinderella in a blue gown at the ball with her prince.
Getting glass slippers may be difficult, but you take advantage of the new clear styles of wedding shoes that will give the same effect. Have a wedding hairstyle that involves an updo, preferably with a bun or large curls. Add a crystal or rhinestone bridal tiara to complete your fairytale look.
Groom's Tuxedo
Of course, the groom's attire is not to be ignored either. Choose a tuxedo with tails, in traditional black or white. Consider adding a braided gold accent around one of the sleeves to make him stand out.
Fairytale Accents
Accent your Cinderella theme wedding by incorporating fairytale details everywhere you can. Invitations, programs, and thank-you notes can all be purchased with either the Disney take on Cinderella or with a more generic fairytale theme.
Color
Blue with white is the traditional color scheme for a Cinderella themed wedding. This stays true to the Disney-inspired movie of the same name. However, you can pick other wedding colors that inspire royalty, like purple and gold, as well.
Ceremony Ideas
Make Cinderella's wedding a real-life fairytale with these ideas for the ceremony:
Hire a "footman" to open vehicle doors for guests as they arrive to the wedding ceremony.
Have matching themed unity candles, guest book, and toasting flutes.
Place the wedding rings in a glass slipper that is glued to a pillow for the ring bearer to carry down the aisle.
Place tall standing candelabras at the front of the ceremony for lighting.
Utilize a bridal arch, whether you're inside or outside, that's covered in blue and white fabric and flowers.
Have a blue aisle runner.
Reception Ideas
Decorate your reception to fit the Cinderella fairytale theme. If you're not hosting in a luxurious ballroom or actual castle, use tulle and fabric to help create a luxurious feel to the space.
Fall wedding centerpieces may include orange pumpkins while weddings in other season can utilize white painted pumpkins.
Give out keepsake favors, like candles or cookies, in the shape of castles or glass slippers.
Use candelabras throughout the reception for lighting.
Choose a variety of music from your favorite princess movies for the dance.
To add a little levity to the dance, have the groom place the "slipper" on the bride before the garter removal, to make sure she truly is "his Cinderella."
Place knights (either rent them or purchase cut-outs) in the corners and near doorways of the reception area.
Extravagant Extras
Depending on your budget and your location, you can choose to add some extravagant touches to your wedding to make it a fairytale.
Horse Drawn Carriage
Instead of a limousine service, hire a horse and carriage to transport the bride to the wedding ceremony. Then have the bride and groom leave for the reception in the carriage after the wedding. Of course, white horses are a must!
Castle Location
The reception site itself may be a castle. Castles in North America can be found in a variety of places from Texas to the California coastline, although some destination brides may like to go overseas to find the perfect site. An outdoor courtyard would lend itself well for those wishing to commune with nature, while ballrooms and large dining halls always make a grand impression. Some castles may not be available for rental or not have overnight accommodations near. In that case, have the wedding at a castle which has been converted into a hotel.
Orchestra Music
For a truly memorable reception, employ an orchestra instead of the typical disc jockey. Have them play period pieces by classical composers that you and your guests will enjoy throughout the dinner hour. Check with your local Chamber of Commerce, theatre, and college to find an appropriate orchestra.
Sculpted Cake and Display Table
While a traditional tiered cake with a Cinderella topper is thematic and budget-friendly, go all out for your fairytale wedding. A cake with tiers sculpted to resemble the carriage Cinderella takes will take everyone's breath away. Decorate the table with flowers, additional desserts, and luxurious touches like silver platters and mirrors.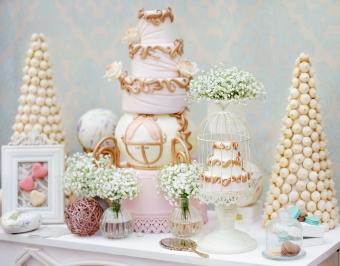 Honeymoon Destination
Finally, make your honeymoon destination fit into your Cinderella theme. Head off to Walt Disney World, visit Windsor Castle in London, or tour famous castles throughout Europe.
Live Happily Ever After
Regardless of how you choose to incorporate the various themed ideas, your wedding will be lovely. But the most important thing about your Cinderella theme wedding is that the prince and princess (also known as the groom and bride) will live happily ever after.