For centuries, poetry has been one of the most romantic, eloquent forms of expression, and carefully chosen words can create stunning imagery and evoke intense emotions. Included in a marriage proposal, a beautiful poem can reverberate throughout a couple's engagement and marriage long after the crucial question has been asked and answered.
Free Proposal Poems
It would be very romantic to recite one of these poems as you propose. If you're worried you'll become choked up with emotion or forget the words, you could also write one out on pretty paper, roll it up like a little scroll, and slip it inside the ring box. That way your intended would always have it as a keepsake.
Meant to Be
When I met you,
I met my destiny.
My one true love,
You'll always be.
If you feel the same,
And I truly hope you do,
There's something very important,
That I want to ask of you.
Instead of "you" and "I,"
Let's become "we."
I'm asking you to share my life,
Will you marry me?
Everything...
All that I am,
All that I do,
All that I have
Is wrapped up in you.
All of our future,
All we can be,
Rests on this precious moment...
Will you marry me?
Proposal Haiku
Our two hearts entwined,
A lifetime of love awaits...
Will you marry me?
Say "I Do"
You're the sun in my shine,
The spark in my plug,
The heart to my beat,
The day to my night,
The twinkle in my eye,
The hot to my spicy,
The yin to my yang,
The soul to my mate.
Need I say more?
Now all I want to hear from you,
Is to say, "I do."
It Has to Be You
People say I'd be lost without you,
And you know what? It's true.
I don't know how I ever got by
Until the day I met you.
As I look down the road of my future,
I know that one thing is true.
I need the perfect partner beside me,
And my darling, it has to be you.
So what do you say; are you ready?
Will you make a commitment to me?
Say yes, and I promise you from my heart,
You'll never regret marrying me.
Let's Settle
I get on your nerves, and you get on mine,
But we get along great the rest of the time.
Your parents don't like me; mine aren't crazy about you,
But both of us know it so that's nothing new.
I'm a bit of a slacker, and you're kind of a slouch.
Sometimes we're both over-inclined to grouch.
When you look at things this way, I'm sure you'll agree.
Who else would have us without a warranty?
In spite of these facts, you're still my honeybee.
So let's settle for each other; say you'll marry me.
Writing Your Own Poetic Proposal
If you have a talent for stringing words together, you may want to write your own marriage proposal poem. To write a lovely verse, remember these tips:
Keep the vocabulary simple and easy to pronounce.
Read the poem aloud and practice before the actual proposal.
Keep the length appropriate for an easy but meaningful proposal.
Use a thesaurus and other writing guides to find just the right words.
Study writing before penning a proposal to have an understanding of poetic rhyme and meter.
Be patient and take the time to write the best poem possible without rushing.
Online Sources
Poetry websites and wedding planning sites often feature proposal poems. The following sources offer poems you can print for free.
Inspirational Poets
While you're looking for a romantic poem, you may find it helpful to investigate poets known for their romantic works. Famous poets whose work you may want to read for inspiration include:
Choosing the Right Poem
The right poem for one couple may be less meaningful for another, so it's important to find the perfect verse to express a lifetime of commitment. When you're trying to choose a poem, think about:
Length: Very long poems can become tedious as the heart beats faster during a proposal, and if the poem is being recited, a long verse can be harder to remember when nerves begin to burn. Shorter poems can be more powerful than longer epics, and even a short verse can be personalized with endearing words and the classic "Will you marry me?"
Type: For some couples, the most romantic type of poetry is a highly structured sonnet, while other couples may appreciate less formal verse. Choose whatever feels most natural to you.
Imagery: Every word in a poem is meaningful and symbolic and choosing just the right imagery can be powerful for a marriage proposal. The imagery may be related to the proposal itself such as tropical images for a beach proposal, or it may be related to significant events and locations in the couple's courtship.
Source: Consider selecting a romantic verse or two from a favorite poet or poetry anthology book.
Proposing With a Poem
Once you have your poem, the next step is figuring out how you'll use it. There are many ways you can work the poem into the big moment, including the following suggestions.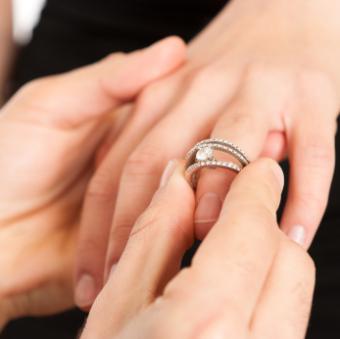 Declare love for your intended and then recite the poem before getting down on one knee and proposing.
Create a scrapbook of special photos of happy memories together. Write the poem that proposes marriage on the last page of the scrapbook. Another variation is to write a few lines of the poem on each page of the scrapbook and conclude with the big question on the last page.
Engrave a short line from a favorite poem in the engagement ring band. This only works if the band is wide enough for an engraving.
Burn a CD of special romantic songs and include a recitation of the poem. Listen to the CD together and surprise her with the proposal. After she listens to the proposal, get down on one knee and propose.
An Unforgettable Poem for a Special Moment
Anyone can pop the question, but it takes a special person to put so much care into a marriage proposal. If you choose the right poem, its delicate verses and eloquent words can become the perfect precursor to those all-important wedding vows.