Photos of Reception Décor
Wedding reception decorations viewed in photos inspire new and creative ideas. A visual gallery of specific reception themes can help you decide which style is the best fit for your wedding.
Decorations should be cohesive throughout the reception. The fabric used for the head table décor can also be swagged across the ceiling above the dance floor for a lovely effect. Add a disco ball and the dance floor is done.
Head Table Decorations
The head table is often the focal point of the wedding reception. Make sure yours stands out by having special decorations to signify its importance. Wedding backdrops and floral arches are two great ways to do so. A heart shaped arch that frames the bride and groom is a fun alternative to a traditional doorway or backdrop arch.
Beautiful Balloons
Budget conscious couples may want to add some pizzazz to their head table while keeping costs down. Instead of having floral archways and backdrops, consider using balloons. When tastefully done balloons can look just as splendid as pricier options. Consider adding them to doorway arches, near the cake table or to chairs for fun, festive and frugal decorations.
Colorful Fabric Decorations
The use of fabric throughout the wedding reception helps create a unified look in the reception area. Choose classic black and white if you can't decide on a color scheme. Add fabric to the following areas:
Tables, as covers, runners and cloth napkins
Chairs, as full chair covers or as a bow around a chair back
Head table backdrop, to cover whatever is behind the head table
Windows and doorways, to add ambiance in the form of curtains or to cover unsightly wallpapers
Aisle runners, to signify walkways throughout a large reception area
Table Decorations
The table decorations are an important part of your wedding reception. They are also a great place to include a little bit of color without overwhelming the room. Candles, flowers, and fresh greenery add a natural palette, while light colored place cards add a subtle touch of elegance.
Decorate the Wedding Cake Table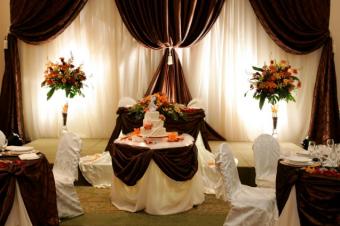 All eyes are on the wedding cake table when the bride and groom cut their first slice, so don't neglect to decorate this important area. Cover the table in fabrics that match the rest of the decorations and add small candles, flower petals or confetti to the table. Flank the table with small trees strung with lights, candelabras or with pillars topped by floral arrangements.
Dinner and Dessert Decorations
If you plan to serve your reception dinner buffet-style or have appetizer and dessert tables available before and after the meal, you should add a little elegance to them. Taller topiary arrangements that stand above the food add dimension to an otherwise lackluster table. Add some strategic spotlighting or back lighting below the tables to further highlight the food areas and allow guests to see what they are choosing in a darkened reception.
Ceiling Lights and Decor
Swags of fabric and lights are the typical ceiling decorations, but they aren't your only options. These ceiling decorations add a little extra pizzazz to your reception:
Paper lanterns
Lighted stars or hearts
Disco balls
Greenery or floral vines hanging vertically, to create a hanging garden effect
Reception Hall Wall Decorations
When you plan a reception in a room with plain walls, you will want to add a little something to them to create the right ambiance. Drapes hung near the ceiling can add instant color and texture to the space. A plaque featuring the couple's initials or pillars supporting candles or flowers help to add some more detail to the area.
Table Swags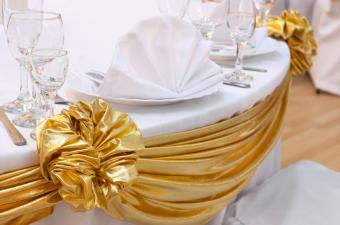 While many people opt to tie a large ribbon around the backs of a chair, the same technique can be used to decorate and enhance an otherwise plain table. Using a large cloth or ribbon swag around the table's perimeter adds subtle color and detail without overwhelming the space.
Table Centerpieces
If your tables are large or your linens white, consider placing an eye-catching centerpiece in the middle of each table. Flowers can coordinate with bouquets, while the shape of the vase can mimic or contrast the shape of the table to bring additional interest to the area.
Ceiling Bunting
If you're having an outdoor covered reception, or the reception walls are rather plain, consider running some bunting along the ceiling and allowing it to trail down the sides and walls. Pick up a single color and use a lightweight fabric to run it through the entire hall like this wedding decoration picture depicts.
Table Lights
If your reception is at night or in a dimly light room, consider adding a little extra color and light at once with a lit centerpiece. Fairy lights, fiber optics, and tiny LED lights all make great options that help illuminate the tables without brightening the entire room.
Finishing Details
Finally, it is important to remember the small details when planning out your wedding reception decorations. The photo at the left shows how just a few feathers tucked into the rolled napkin adds a festive element to the reception. Make a list of these things as you browse photos of wedding receptions in order to incorporate them into your own wedding.
From the centerpiece to the buffet, decorate your wedding reception in your style to ensure the perfect ending to your big day.