If you're having a wedding near the ocean, a reception on the beach, or you just want to summon a tropical vibe for the celebration, a seashell wedding cake is a wonderful choice. Cakes adorned with shells are a refreshing break from traditional flowery, ornate designs, and they're especially fun for guests to admire.
Shell-Theme Bridal Cake Ideas
Elements that go into your cake are similar to any other cake, from colors to design placement. However, keeping a few things in mind will really make your cake stand out.
Best Icing Color to Go With Shells
Most seashells are lightly colored and are mild shades of pink, gray, tan, cream, or white. That makes them pair especially well with traditional white or off-white wedding cakes because they provide a contrast in shape and texture but stay away from harsh color contrasts. Blues in shades of turquoise, baby blue, and bright blue, along with seafoam green, can also work on cakes without looking out of place, especially at a tropical wedding with a vibrant color scheme.
Complementary Ocean Elements
Choose the type of shells you want to appear on your wedding cake. Scallops are the most common and form very elegant-looking borders and embellishments, as are other ocean-themed wedding elements. If you want some diversity and more visual interest on your cake, you can also include:
Cowries
Sea stars or sand dollars
Starfish
Sandcastles and sand
Limpets
Turbans
Urchins
Abalones
Placing the Shells
Depending on how many shells you have on your cake, the design effect can look simple and sleek or very textured. Consider having shells on each level of a tiered cake, bordering only the bottom with one type of shell, or using a single large shell as a topper and keeping the rest of the cake plain.
Adding Edible Sand to the Cake
Some seashell wedding cakes include "sand," textured sugar or sweet cookies that are crumbled and made to resemble fine pebbles. If you like that look and want to have edible sand on your own cake, you can have a decorator place it on each level or tier, include a small scoop with individual cupcakes, or simply scatter a border of it at the bottom of your cake.
Designs to Fit Any Style
Seashells are a versatile decoration. They can go from fun to elegant to fitting in with any water theme without any fuss.
Shimmering Pastel Shells
Have your cake covered in shells that shine in pink, peach, lavender, and blues. These pastel shades add a light and airy touch to your cake, making it perfect for fun and casual beach wedding. Request your baker dust the shells with edible luster or shimmer. That way, they sparkle when the light hits them. Make sure your frosting base is simple so the shells stand out.
Elegant Cake Topper
A luxurious wedding by the sea means you want to keep your cake as classy as possible. Skip the sand and instead have a beautiful cake in white decorated with pearl dots and ribbons. Instead of a cake topper with a couple or monogram, have the cake topped with white fondant or gum paste shells and starfish. This brings in your theme while keeping your elegant style.
Nautical Theme With Shells
A cake featuring seashells isn't just for a beach or tropical island wedding cake. They can also be incorporated into a nautical sailing themed cake. Marine blue ribbon circles each tier of a cake while seashells adorn the sides. Nautical rope knots help break up the shells, and the cake is finished with a pearl initial for a hint of extravagance.
Classic Single Tier Shell Cake
Single tier cakes are popular when you have cupcakes or buffet tables, or want to display your cake on floating stands. Add large colorful chocolate shells around the edge to make the cake stand out. Then use buttercream icing to outline two shells that hold a double-ring topper. This adds a classic element to a themed dessert.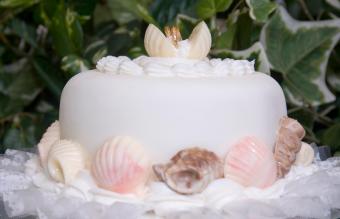 Seashells Help Create a Memorable Wedding Cake
No matter what seashell beach wedding cake design you decide upon, having a special wedding dessert that's decorated with beautiful seashells will make for lovely photographs and long-standing memories. This is your special day, so make sure your cake is everything you want it to be.