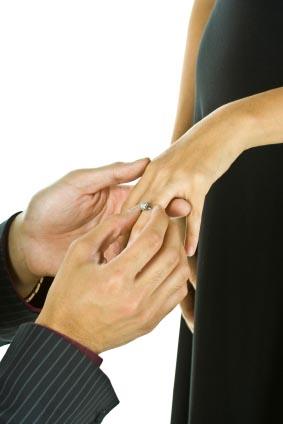 It is an exciting time when a couple contemplates marriage and begins the steps in getting engaged. Learning about the engagement process can help couples find ways to make the engagement extra special and help early wedding planning progress smoothly. Find out what every couple should know about getting engaged.
Planning an Engagement
When people fall in love and know that they've met the one, it is natural to start dreaming about a future together. Yet before couples get engaged, they should make sure that they are both ready for marriage and have compatible life goals. The right timing can make all the difference in planning a happy engagement. The following steps can help you make sure you have your bases covered.
1. Determine Readiness for Marriage
Before proposing, it is helpful to make sure each person is ready for marriage. Marriage readiness is about love, commitment and a decision to merge two lives together as one family. Once a person realizes that he has found the right person to start a family with, it is important to discuss marriage with his girlfriend to find out if they are both ready now. A couple can be very in love and committed to a life together but one person may prefer to get engaged at a later time. For example, some people prefer to graduate from college or spend a year or two working before getting engaged or married. Other people may want to get engaged to formalize the commitment even though they will not be ready to marry for years, such as after finishing graduate school.
2. Discuss Future Life and Family Goals
Couples who are considering a lifelong commitment should discuss their individual future goals and expectations of marriage. This information can help a man figure out if his girlfriend is ready to accept a marriage proposal. Married life discussions should cover issues such as desired number of children, parenting styles and lifestyle expectations. For example, if a woman wants only one child and a demanding career but her future husband envisions her as a housewife caring for four children, it is important to discuss these conflicting views before marriage so that the couple reach a compromise. Discussions about the expectations of married life can also help couples determine how to merge their individual goals into family goals.
3. Plan the Marriage Proposal
Once the time feels right for both people, the man traditionally begins planning a marriage proposal. Since this is a special event that both people will remember forever, it can be a little stressful to plan. If a man makes a woman feel special and takes the time to incorporate things that are significant to their relationship in the proposal, there is no way to go wrong.
Here are some proposal ideas:
Engagement Poems: Propose with poetry. Include a classic love poem or a modern engagement poem in the proposal or write an engagement poem especially for her.
Family Proposals: Ask for her hand in marriage during a family gathering as a way to welcome her into her future family. This can be a special way to propose if the bride-to-be is close to her future husband's family.
Holiday Proposals: Propose during a holiday such as Christmas, Valentine's Day or her birthday.
Creative Proposals: If many of the traditional proposal methods don't seem right, research creative proposals. There are many creative ways to propose that range from skywriting to spelling out the proposal in flower petals.
4. Talk to the Bride's Parents
Traditionally a man requests a woman's hand in marriage from her father before proposing. Today, this tradition is no longer required. However, it can add a romantic touch and many parents appreciate the respectful gesture. A modern twist on the tradition is to ask both parents for permission to marry their daughter.
5. Shop for a Ring
A man can choose to select an engagement ring prior to the proposal or wait to shop for a ring with his fiancée. Many woman prefer to receive an engagement ring during the proposal. However, some women have strong feelings about selecting their own ring. A way around this issue is to casually look at rings with a girlfriend before she suspects a serious proposal is on the way. A groom-to-be can also ask the advice of her friends or family about what type of ring his girlfriend would like.
6. Propose Marriage
One of the last steps in getting engaged is proposing marriage. When a proposal is accepted, the couple enters into an agreement to make a lifelong commitment to each other. Now that the happy couple is engaged, it is time to announce it to family, friends and the public.
7. Announce the Engagement
The final engagement step is announcing the engagement. Traditionally, the couple tells both sets of parents first, then grandparents, siblings, extended family and friends. If either person has children, the couple should tell the children before anyone else.
After verbally telling close friends and family about the engagement, couples can choose to announce the engagement to extended family and friends in a number of methods. Announcement methods include:
Announcing engagement at a party
Sending out formal announcements
Placing an announcement in the newspaper
Telling people by phone or email
Once the engagement is announced, it is socially recognized as an official engagement.
Old Traditions Are Still Helpful
Understanding the steps in getting engaged can help couples figure out how to plan an engagement. Even though modern couples can get engaged in any manner they choose, engagement traditions are still helpful guides. Learning the engagement steps can help a couple focus less on the tedious details and more on the joy of the occasion.