Summer dress styles for the mother of the groom can be very versatile. It's important to consider the type of wedding, how formal it is, and the venue when deciding on a dress.
Choosing a Summer Mother of the Groom Dress
According to tradition, the mother of the bride chooses her dress first, and then communicates what she is planning on wearing to the mother of the groom. This is considered the proper dress etiquette. When this is shared, the dress colors and styles can be communicated so everything is more cohesive. For a summer wedding, the venue or wedding might be more relaxed, so the mothers of both the bride and groom may be more casual. However, important considerations in choosing a dress include:
Formality of the Summer Wedding
How formal is the wedding or venue? Although summer opens up the opportunity for many outdoor venues and more casual wedding styles, make sure you know the level of formality, time, and venue of the wedding when choosing a dress style. The time of day will also come into play - afternoon weddings tend to be more casual than evening affairs, regardless of the venue.
Get Coordinated
Talk to the bride's mother: It's tradition that the mother of the bride chooses her dress first, but don't be shy about discussing it. If she's choosing a short floral number for a casual afternoon summer wedding, you can feel good choosing a similar look.
Choosing the Right Colors
Don't outshine the bride (or the bridesmaids): While neutral colors are popular for both the mothers of the bride and groom, wearing white won't be ok. You don't want to outshine the bride. Additionally, avoid choosing the same colors the bridesmaids are wearing. Excellent colors for summer are pinks, yellows, oranges, blues, greens, and more - the mother of the bride could easily wear navy to a summer wedding with burgundy bridesmaid dresses and yellow sunflower bouquets. Prints are also a good option for less formal weddings.
Seasonal Styles
Wear a seasonal dress. Try to make sure that the dress you choose is appropriate for the season. Some moms may want to wear a darker color like black because it's slimming, or choose long sleeves because they can conceal less-than-toned arms, but remember that this is her day. A light, bright, soft or neutral color dress that isn't overly heavy is a good option for a summer wedding that will look perfectly appropriate, so you can look and feel your best while putting the bride and groom at ease. If you have features you want to conceal, lightweight wraps or boleros and sheer fabrics are good choices.
Considerations for Mother of the Groom Summer Dresses
There are a number of factors that come into play when it comes to choosing a dress. When and where the wedding takes place is important aspect to consider.
Casual Weddings
If it's a morning, day, or afternoon wedding, or if the venue is located outdoors or is on the more casual side, there are plenty of perfectly appropriate options to choose that aren't on the ultra-formal side. Mothers of the groom can consider tea-length, mid-length, or cocktail length dresses, as well as looser long maxi dresses. Flowy styles, florals, light or patterned dresses are also appropriate for this type of wedding.
Formal Summer Weddings
If the summer wedding takes place in the evening, or at a more formal venue, an evening dress is the best option. Unless expressly asked to wear black by the bride, mothers should not wear black. You may want consult with the bride regarding the specific color, but an appropriate choice would be to go with a lighter or darker shade of the bridal party or wedding colors, or with a neutral hue such as navy, blush, burgundy, or others.
Beach Weddings
Beach weddings are popular summer options, and it may leave you wondering what is appropriate to wear. The formality of the wedding should still be considered. If wedding is formal or takes place in the evening, a lightweight evening gown would be appropriate. If it is planned as an informal wedding and/or takes place in the afternoon, an informal dress and shorter length would be acceptable. Avoid very casual sundresses and informal beach wear.
Summer Mother of the Groom Dress Styles
Consider different styles that complement you figure and work well for the season as the wedding approaches!
Candy Colored Knee-Length Lace
A dress in a pretty candy pastel, like this mint green, done in lace is a possible option for mothers of grooms. A knee-length look is appropriate for a casual or outdoor wedding, and a modest scoop neckline and sleeveless style make it seasonal but not overdone. The lace offers a soft look that goes well with the light, bright vibe of a summer wedding.
Neutral Dress With Lightweight Sweater
For a casual summer wedding in the evening, a simple long dress in a neutral color, such as the sheer grey shown is an option. If it has spaghetti straps of cap sleeves, pair it with a pretty lightweight wrap or sweater, like the openwork peach piece here, for a lovely look.
Long Print Dress
A bolder color like red can work for a summer wedding, as long as it doesn't clash with the wedding colors. This long red dress with black and grey print and long sleeves is a pretty choice for women who want sleeves and a longer length, Make sure the dress is made of a lightweight fabric so you'll stay cool during the ceremony and celebration. This looser style is also best suited to a more casual wedding.
Simple Neutral Sheath
A sheath dress is a great choice because it's flatter to most body types. A knee or tea length works well for summer, and a neutral color like slate will work with any wedding colors. To dress up the look of a simple sheath dress, consider accenting the look with a lace bolero and some pretty jewelry.
Blush Dress With Cap Sleeves
Blush (a nearly neutral pink) is a popular color when it comes to dresses for the mothers of the groom. This color is flattering for most skin tones, works well with most color families, and has a soft, light look ideal for summer. Choosing a flowing style with cap sleeves will keep the summer heat at bay and still look appropriate for many summer wedding types. If it's more formal, though, go with a longer dress length.
Sleeveless V-Neck Long Dress
The long length of a dress like this makes it slightly more formal. But the v-style neckline and sleeveless look make it summery. Choose a more formal material, such as taffeta, for a gorgeous look if it's not a casual affair. A medium brown tone is neutral enough to work with many summer wedding colors.
Full-Length Gown With Embellishment
A full-length gown is ideal for evening summer nuptials, and a beige to taupe colors works beautifully for mothers of grooms. A sleeveless style is great for summer, while the long length makes it more formal. The addition of embellishment, such as seen here along the neckline, also makes a dress more special.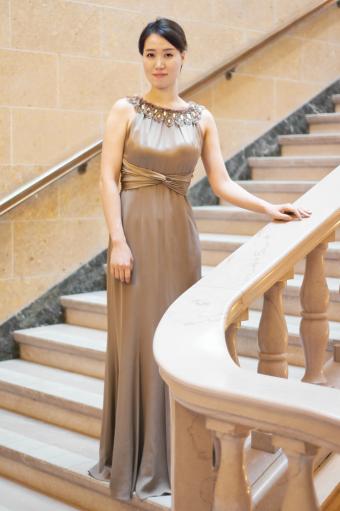 Illusion Dress
A sweet summery color, such as pale forest green, looks beautiful when paired with an illusion-style bodice. The rich embellishment on the bodice is best for a more formal wedding. The empire-waist skims over the hips, so a look like this is excellent for mothers wishing to conceal stomach or hip trouble areas.
Mermaid-Style Summer Gown
The high neckline of this gown offsets the alluring look from it's form-fitted mermaid design. Inset panels at each side of the waist help minimize the waistline, while the sleeveless, halter silhouette is ideal for summer.
Flowy Summer Dress With Pleats
summer dress that has a flow, tea-length skirt and cap sleeves, is another possible dress choice for mothers of the groom. Look for styles that make your body shape look its best, whether it's an empire waist (conceals waist and hips to apple and pear shapes) or a true waist (enhances a curvy hour-glass figure).
Off-the-Shoulder Mid-Length
A mid-length dress works for summer wedding when it has an off-the-shoulder style, making it both trendy and elegant. A look like this is perfect for more practical wedding, such as a wedding at the Justice-of-the-Peace or a small wedding with just a few friends and family. For long sleeves, be sure the wedding takes place in later afternoon or evening, or make sure it's a lightweight, breathable fabric.
Summer Dress Styles for the Special Day
Choosing the right dress for your son's wedding isn't difficult - take into account the timing, formality, and venue of the wedding, and don't forget to coordinate with the bride's mother. Beyond that, it's just a matter of finding a color and style that makes you feel incredible as you celebrate this special day.