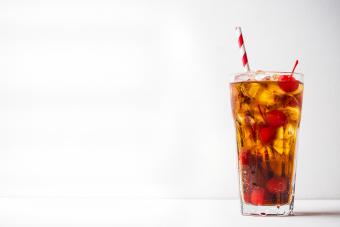 If you are looking for an alcoholic mixed drink that has no liquor flavor, amaretto and Coke is a good choice. It's a smooth, sweet, moderately low-alcohol cocktail that's tasty and unique.
How to Make Amaretto and Coke
It's deceptively simple to make, but the flavor of amaretto and Coke is complex and sweet. You can change the basic recipe to suit your own tastes, or create interesting add-ins to balance the sweetness with bit of acidity or bitterness.
Basic Recipe for Amaretto and Coke
Here's the basic recipe. Adjust proportions to suit your tastebuds.
Ingredients
Ice
4 ounces Coke or another cola
2 ounces amaretto
Maraschino cherries for garnish
Instructions
Fill a rocks or highball glass half-full with ice.
Add the cola and amaretto. Stir.
Garnish with cherries.
Virgin Amaretto and Cola
You can also get rid of the alcohol and still have similar flavors.
Ingredients
Instructions
Fill a rocks or highball glass half full with ice.
Add the cola and syrup. Stir.
Garnish with a cherry.
Variations
You can also adjust the beverage with these variations.
Add a dash of bitters.
Add a squeeze of lime juice to introduce acidity.
Replace traditional cola with cherry or vanilla cola for interesting flavors.
Add a teaspoon of maraschino cherry juice or grenadine.
Add a squeeze of orange juice or an ounce of apricot nectar for a delicious apricot-flavored drink.
Soft Drink Variations
Pepsi mixed with amaretto and a splash of lemon creates a light tasting cocktail.
To experience the full almond taste of amaretto, mixing it with club soda gives it refreshing carbonation without masking the flavor of the liqueur.
Lemon-lime soda mixed with amaretto makes a cooling spritzer, and combining the liqueur with root beer creates a unique taste sensation.
For all these drinks, the proportion of mixer to liqueur is totally dependent on the preferences of the drinker, as is the addition of ice or garnishes.
What Does Amaretto Taste Like?
Amaretto tastes like bitter almonds. It's a nice combination of bitter and sweet with a nutty edge.
What's in Amaretto?
Amaretto is a unique Italian liqueur made with a base of apricot pits. The sweeteners in amaretto offset the bitterness of the pits, and the addition of natural almond flavors in some brands creates a nicely balanced but distinctively sweet alcoholic drink. Certain amaretto brands have no added almond flavorings and depend on secret herbs and spices for taste. For people with nut allergies, some brands are labeled as nut-free to assure imbibers they can consume the liqueur without fear of adverse reactions.
What Does Amaretto and Coke Taste Like?
Many people feel the combination of the bitter almond liqueur and cola makes the finished drink taste a lot like Dr. Pepper.
Other Amaretto Cocktails
Amaretto mixes well with other soft drinks or as an ingredient in other amaretto based cocktails.
A shot of amaretto mixed into a cup of hot, strong coffee and topped with a dollop of freshly whipped cream is a cozy winter cocktail for a cold day.
For optimum and quicker inner warmth, mix equal parts of amaretto with Cognac or Armagnac to make a French Connection.
Combine equal amounts of amaretto and Scotch and the Godfather is born.
A Godmother is a combination of equivalent portions of amaretto and vodka, and the Godchild gently combines identical proportions of cream and amaretto.
Enjoy a tasty sweet and sour amaretto sour.
A Lovely Flavor Combination
If you like cola and you like almonds, then this is the drink for you. It's a simple, sweet, fizzy concoction that's an easy and tasty drink.