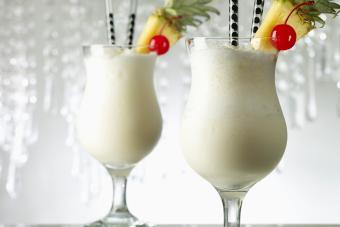 Ingredients
2 ounces light rum
1½ ounces pineapple juice
1¼ ounce cream of coconut
½ ounce freshly squeezed lime juice
Pineapple wedge and cherry for garnish
Instructions
In a blender, add rum, pineapple juice, cream of coconut, lime juice, and ice.
Blend until desired consistency.
Pour into highball or hurricane glass.
Garnish with pineapple wedge and cherry.
Variations and Substitutions
Even though the piña colada is a classic cocktail, there are many changes and swaps available to play around with while keeping the spirit of the original.
For a stronger coconut flavor, use coconut rum instead of light rum. You can also use equal parts light and coconut rum.
If you want a boozier kick, use ¾ ounce of pineapple rum or liqueur and ¾ ounce of pineapple juice.
For a sweeter taste, add ½ ounce of simple syrup.
Use one cup of ice and one cup of frozen or fresh cut-up pineapple.
Garnishes
A typical piña colada garnish includes a pineapple, but there's no reason you can't live big. Or follow a more traditional route, whatever works best for you.
Add a pineapple leaf or two for a tropical vibe.
Try out cocktail cherries for a sweeter cherry garnish.
For a more low-key garnish, use a small pineapple wedge.
Pierce three whole cherries on a cocktail skewer.
Cut designs into pineapple pieces, such as a coin, star, or triangle, to use as a garnish.
Include a colorful or comical straw or umbrella to add a playful touch.
About the Piña Colada
The piña colada has been filling frosty glasses since the early 1800s. The pirate Roberto Cofresi gave his crew a drink made with coconut, pineapple, and white rum to help lift spirits. From here, the piña colada was born, and the recipe went on reasonably unchanged for the next 200 years, except for the minor hiccup of the original recipe getting lost with Cofresi's death in 1825. The recipe quietly circulated without making waves for quite some time, but it wasn't until nearly 150 years later that The New York Times mentioned Cuba's piña colada made of rum, pineapple, and coconut milk.
Taking a jump to the modern-day, when blenders began to get well acquainted with this classic, the classic shaken piña colada quickly transformed into a popular chilly frozen treat. Many bars that offer a frozen drink menu keep their piña coladas in dedicated machines, or have their recipe down to a science, the process so quick that by the time you put your menu down after ordering, the drink will be sliding your way.
If You Like Piña Coladas
You'll love the frozen piña colada if you're already a fan of other tropical cocktails or even the classic piña colada. Your blender will be happy to have a use for something other than morning smoothies. And considering you're already halfway there, think about following this Miami Vice drink recipe and layering your pina colada with a strawberry daiquiri for the ultimate frozen cocktail.