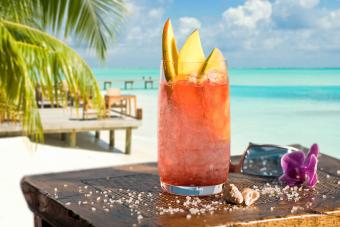 Ingredients
1½ ounces mango rum
½ ounce dark rum
¾ ounce freshly squeezed lime juice
½ ounce orange curaçao
½ ounce pineapple juice
¼ ounce orgeat or almond liqueur
Mango slices for garnish
Instructions
In a cocktail shaker, add ice, mango rum, dark rum, lime juice, orange curaçao, pineapple juice, and orgeat.
Strain into rocks glass over fresh ice.
Garnish with mango slices.
Variations and Substitutions
Since the mango mai tai is a spin on the original, you have plenty of freedom with ingredients.
Thoroughly muddle a half to a full cup of fresh cubed mango with the orgeat until the mango has been well juiced.
If you're using muddled mango, you can consider using silver or coconut rum if you want additional layers of flavors or keep the mango rum for a mango-forward flavor.
If mango rum or fresh mango isn't available, you can use mango liqueur or mango juice.
Add a splash of freshly squeezed orange juice to balance the sweeter flavors with citrus notes that aren't too overpowering.
Garnishes
A classic mai tai uses a lime wheel and mint sprig for garnish, and although the mango mai tai calls for mango slices, you can still incorporate the traditional look or combine the two together. To add more tropical flair, add a pineapple wedge or a few pineapple leaves to round out the look. If you want to keep it simple, a lime or lemon wheel completes the drink or a citrus ribbon or twist as well.
About the Mango Mai Tai
The story of the classic mai tai is a long and twisting tale about its origin. Both Donn Beach and Trader Vic claim to be the father of this classic tropical cocktail. Both were trailblazers of tropical cocktails while working behind their respective bars in California. For Trader Vic, a mai tai was a chance to show the importance of high-quality rums. For Donn Beach, he claims he was the one to create the bones that would ultimately go on to become the mai tai.
As for the origins of the mango mai tai? No one knows, but the flavors make sense. But that's part of classic cocktail lore and history. Once a cocktail becomes popular, people are bound to add spins or riffs, giving way to new cocktails, including the mango mai tai.
A Mango Conclusion
The classic mai tai is a delicious and tropical cocktail, so it's a foregone conclusion that the mango Mai Tai amplifies the classic to a whole new level of juicy and nectar flavors. So what are you waiting for?