Looking for quick and easy ways to make leftover rice a bit more interesting? Rice is one of the most versatile foods out there, so there are plenty of options. Whether you want a side dish or main dish - or even a dessert or beverage - there are plenty of simple ways to enjoy leftover rice.
Rice-Based Side Dishes
When you have leftover rice in your fridge, the side-dish possibilities are seemingly endless.
Cranberry rice: Stir cooked rice into heated chicken stock, stir in cranberries, and add salt and other seasonings to taste. Add other dried fruit if desired, such as chopped dried apricots. Simmer until rice and fruit are warm. Top with chopped pecans and sliced green onions to add some flair.
Hawaiian rice: Dump a can of crushed pineapple into a medium saucepan (including liquid). Heat on medium. Stir in two cups of leftover rice and season with salt, pepper, and a squeeze of lemon or lime. If you want a bit of kick, stir in cayenne pepper or crushed red pepper flakes. If it needs a little more liquid, add a bit of water or orange juice. Heat just until rice is warm. (Tip: This is a perfect side dish for ham.)
Layered onion rice: Place a layer of rice in a square baking dish. Spread half a container of sour cream and onion dip on top of the rice. Sprinkle shredded cheddar over the dip. Top with chopped green onions (optional). Repeat layers. Bake at 350 degrees for 30 minutes or until hot and bubbly. (Tip: To turn this into a main dish, add layers of crumbled ground beef beneath the cheese layers.)
Kale rice: Dress up leftover rice by stir frying chopped fresh kale in butter and garlic, then stirring in cooked rice to heat through. Add salt and pepper to taste. You can do the same with Swiss chard, spinach, or a blend of all three veggies.
Tex-Mex rice: Stir salsa into leftover white rice and heat for a super-simple side dish for your favorite Mexican recipes. Enhance the flavor more with a bit of cumin and paprika. Further enhance this dish with cooked black beans or whole kernel corn.
Peas and rice: Heat a tablespoon of olive oil in a skillet over medium heat. Add garlic and (optionally) diced onion and bell pepper. Cook for 2 - 3 minutes. Stir in a cup of cooked rice and half cup of canned or frozen green peas. Stir fry until the rice and peas are heated through.
Pesto rice: Heat leftover rice and stir in pesto for a flavorful side dish. This will taste great whether you whip up a batch of homemade pesto or use store-bought pesto.
Pumpkin pilaf: If you can get your hands on fresh pumpkin, it blends perfectly with cooked rice, chicken stock, olive oil and staple spices to create a delicious pumpkin pilaf recipe.
Rice stuffing: If you're looking for a creative and gluten-free stuffing recipe, try your hand at rice stuffing. Start by stirring cooked rice into heated chicken broth, then add spices for flavor, along with dried fruit and/or nuts for texture.
Stuffed mushrooms: Dress up your favorite stuffed mushroom recipe by adding cooked rice to the filling. Use this technique with stuffed portobello mushrooms and stuffed mushroom caps.
Veggie fried rice: Use leftover rice to make your own fried rice using items you already have on hand. You'll need oil and basic add-ins like scrambled eggs and soy sauce. Get creative by stirring in green onions, peas, carrots, celery or other veggies.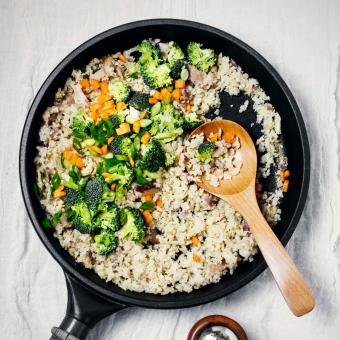 Salads Made With Rice
Rice doesn't have to be served warm to taste great. These salads make great use of yesterday's rice. Chill and serve cold.
Caprese salad with rice: Caprese salad traditionally features layers of sliced tomato, mozzarella cheese, and fresh basil seasoned with salt and pepper and drizzled with olive oil. Dress up this already colorful salad by mixing the fresh basil into rice along with a flavorful vinaigrette.
Corn and rice salad: To cold cooked rice, add a can of whole kernel corn (drained), diced bell peppers, and chopped green onions. Pour in a generous portion of your favorite oil-based salad dressing. If you'd like to add protein, stir in a can of black beans or garbanzo beans (drained). Stir, cover and chill.
Greek rice bowl salad: Place cold leftover rice in a salad bowl. Toss with your favorite prepared Greek salad dressing or homemade feta cheese dressing. Top with sliced cucumbers, cherry tomatoes (or quartered roma tomatoes), black olives, sliced red onions, and feta cheese. Drizzle additional dressing over the top, if desired. Serve with pita wedges.
Italian antipasto rice salad: Assemble your favorite antipasto items, including a variety of cured meats, cheeses, and veggies. Stir them into cold cooked rice. Add your favorite Italian salad dressing, then stir and chill.
Tuna salad recipe: Prepare your favorite tuna salad recipe, such as this white bean tuna salad, and stir in some leftover rice. Chill thoroughly. Serve over lettuce or with saltine crackers.
Main Dishes Featuring Leftover Rice
Paired with a protein source such as beef, chicken, seafood, or beans, leftover rice can be used to whip up many tasty and affordable main dish recipes.
Barbecue chicken and rice casserole: Preheat oven to 350 degrees. In a casserole dish, combine a pound of chunks of cooked chicken with two cups of cooked rice, a can of tomatoes with green chiles (including liquid), and half cup of your favorite barbecue sauce. Mix to combine. Top with shredded cheddar cheese and bake for 30 minutes. Vary by stirring in a can of whole kernel corn and/or black beans (drained) prior to cooking.
Black beans and rice: Heat a can of black beans and serve over leftover rice. Jazz it up a bit by stirring in pre-cooked smoked sausage and/or canned whole kernel corn (drained).
Burritos: Create yummy burritos with flour tortillas and leftover rice paired with a few other basic ingredients. Mix rice with taco meat and refried beans for traditional burritos, or whip up a batch of vegan burritos.
Cabbage rolls: If you have leftover rice and ground beef, you have the main ingredients to make stuffing for a batch of tasty cabbage rolls.
Jambalaya: Cooked rice provides a head start on jambalaya. Prepare the meat and liquid per your favorite jambalaya recipe, then stir in cooked rice and leave on the burner just long enough for it to heat through.
Lettuce wraps: Add rice to the stuffing for your favorite lettuce wrap recipe.
Meatballs with rice: Prepare your favorite meatball recipe. Make a batch of brown mushroom gravy. Heat the rice, place a few meatballs on top, and cover with the gravy mixture. This would also work with beef tips instead of meatballs.
Omelet with rice: If you're a fan of eggs and rice, try adding leftover rice to the middle of your next omelet. For example, add cooked rice to an asparagus and feta omelet, or any type of omelet that you enjoy. Spice it up by using herbs that complement eggs.
Paella: Prepare a hearty Spanish-inspired meal at home by using leftover rice as the base for a tasty paella recipe. Include a mixture of proteins, such as shrimp, mussels, chorizo, pork, and more.
Quiche with rice crust: Use leftover rice to prepare a crust for your favorite quiche recipe. Simply combine two cups of cooked rice with one egg and 4 ounces (1/2 cup) of shredded cheese (cheddar, Monterey jack, colby, or Swiss). Press mixture into the bottom of a pie plate. Prepare your favorite quiche recipe and pour the mixture over the crust. Bake for 20 minutes at 375 degrees, or as directed per your quiche recipe.
Shrimp fried rice: For a hearty Asian-inspired main dish, use cooked rice to whip up a batch of shrimp fried rice. Serve with crab Rangoon, fried wontons, or egg rolls.
Spicy shrimp over rice: Prepare a flavorful sauce-based shrimp dish such as bourbon shrimp or shrimp scampi, and serve it over leftover rice.
Meatloaf: Use pre-cooked rice in lieu of some of the breadcrumbs in your favorite meatloaf recipe. Or, for a gluten-free meatloaf, replace all the breadcrumbs with rice.
Spinach and rice stuffed fish: Make your favorite spinach dip recipe. Stir in some cooked rice. Spread the mixture on a fish filet, then roll up the filet and bake at 400 degrees for 15 - 20 minutes, or as appropriate for the type and thickness of fish.
Stuffed grape leaves: If you love Greek cuisine, use your leftover rice to make a batch of stuffed grape leaves, either with meat or vegetarian. If you don't have access to grape leaves, try wrapping the stuffing in spinach leaves before cooking. Or, just make the stuffing and eat it on its own or in a lettuce wrap.
Stuffed zucchini: Hollow out a few whole zucchinis and use your rice in a tasty stuffing. Add rice to your favorite stuffed zucchini recipe, or simply combine rice with canned tomatoes, drained whole kernel corn, cooked black beans and some ground beef or shredded chicken. Simply fill the zucchini boats and bake at 350 degrees for 20 minutes. Top with a bit of shredded cheese prior to serving.
Soups That Include Rice
When you serve soup over rice or mix rice into a hearty comforting soup recipe, you'll take comfort food to a whole new level.
Beef stew with rice: Cook a batch of beef stew (or open a can of stew!) for a comfort food treat. Extend the recipe and boost the flavor by ladling it over leftover rice.
Chili over rice: Make your favorite slow cooker or pressure cooker chili recipe and dish it out over a layer of reheated rice. You can even do this with vegetarian chili!
Ground beef soup: Prepare a batch of ground beef soup. Stir in leftover rice just before serving, leaving it in the pot just long enough for the rice to heat through.
Gumbo with rice: Having leftover rice in the fridge is a great reason to make gumbo! Whip up a batch of vegetarian gumbo or Cajun chicken and sausage gumbo; stir in rice just before serving.
Mushroom and rice soup: Whip up a pot of homemade cream of mushroom soup. To make it extra special, swirl in a bit of leftover rice just before serving.
Desserts and Beverages Using Leftover Rice
While rice isn't the first ingredient that comes to mind when thinking about dessert or beverages, there are some options to consider.
Rice Pudding: You can whip up a tasty rice pudding using staples like milk, sugar, eggs, raisins, salt. Stir in staple spices like cinnamon or nutmeg for more flavor. Bake it in the oven or use your slow cooker.
Rice milk: Make your own rice milk using nothing more than leftover rice and water, plus any flavorings you'd like to mix in. Whether you drink it or use it in cooking, rice milk is a low-cost milk alternative.
Smoothies: Add rice to your favorite smoothie recipe to boost the carb count while adding flavor and texture. From green smoothies to fruit smoothies, rice is a great add-in. Be sure to blend thoroughly after adding rice.
Meal Prep Tip: Prepare a Big Batch of Rice
If you're looking for a way to make easy work of weekday meal preparation, planning ahead to have leftover rice is a great option. Consider mapping out a weekly meal plan that features several rice recipes. On your day off from work, cook a big batch of rice on the stovetop or in a rice cooker and you'll have a head start on a week's worth of meals your family is sure to enjoy. If you find this helpful, you may even want to start keeping several types of rice in your pantry so you can get even more creative with your meal ideas!