Football season is officially underway, so it's tailgate time once again! While the staple grilling goods for games include burgers and hot dogs, what about those early morning kickoffs?
When the game starts at 11AM, many of us find ourselves up at the crack of dawn, so breakfast foods are a must. The question remains, what are the best breakfast tailgate foods? Don't worry, we're here to serve up the tasty details!
Grilled Pigs in a Blanket
Who doesn't love pigs in a blanket? This is the perfect combo of carbs and protein, and many don't realize that you can prepare these on the grill! Grab your favorite brand of hot dogs, cheese, and Pillsbury crescent rolls, along with some aluminum foil, and you are ready to start cooking your piggies!
Cheesy Sausage Balls
If you're hoping to pump up the protein at your breakfast tailgate, this is another solid choice that you can serve hot or cold. It's also an item that you'll prep the day before. Follow the recipe as directed, allow the sausage balls to cool, and then place them in a zipper bag in the refrigerator. Once you get to the tailgate site, either serve them as is or toss them in a cast iron pan on the grill to quickly warm them up!
Egg Baskets
Want to make the most adorable breakfast tailgate food ever? Egg baskets are where it is at! You will prep the baskets in advance and then fill them when you get to the game.
All you need to do to make your baskets is mix 20 ounces of hash browns with four tablespoons of flour, two eggs, and one finely minced onion. Then, using a muffin tin, apply a non-stick spray, fill the sections one-third of the way, and press the contents in the middle so that they spread along the base and sides of each section.
Bake at 400°F for 20 to 30 minutes until golden brown. Then, when tailgate time arrives, scramble some eggs, crumble some crispy bacon over top, sprinkle on some shredded cheddar cheese and chopped green onions, and top with a dollop of sour cream and a dash of salsa!
Scrambled Eggs
Speaking of scrabbled eggs, this staple morning meal can serve as a versatile breakfast tailgate food. How you may ask? As someone from the South, breakfast burritos, tacos, and quesadillas were all regulars on our tables, and they are great for on the go!
In other words, serve your scrambled eggs as a basic dish and sit down to watch the pregame show or keep that cornhole game going while eating at the same time with one of these delicious southern dishes!
Campfire Breakfast Casserole
Did you know that you can make virtually any breakfast casserole on the grill? You just need an aluminum tin instead of a regular baking dish. The only other real change is that your cook time may vary, depending on the heat-setting options you have on your grill. If you can set your temperature, follow the same temperature recommendation provided in your recipe.
We advise assembling your casserole before you leave the house. If you choose to make it the night before, just know that this could extend your cook time further, since it will be chilled when you place it on the grill. When you're ready to start cooking, fire up the grill, throw on your casserole with aluminum foil over the top, and set your timer.
When it looks golden brown, grab your thermometer and check that it's at least 160°F. Allow it time to cool and then serve.
Breakfast Sausage
This is another classic breakfast choice, and it's ideal for the grill or griddle. Just like the eggs, you can wrap your sausage in a tortilla and continue your pregame fun, or you can chop it into medallions and throw some toothpicks in the center for quick and easy finger food.
Bacon
A breakfast of champions is incomplete without this pig product. Bacon and griddles go hand in hand, but if you are working with a grill, bring along a big cast-iron skillet and some dependable oven mitts to make this crispy classic.
Breakfast Quesadillas, Tacos, and Burritos
We mentioned these Southwestern breakfast tailgate ideas earlier and for good reason! They are a great way to combine ingredients that you're already planning to prepare. You can make them in a skillet or on the griddle.
Combine what you like — scrambled eggs, cooked and chopped bacon (which you can make the night before if you prefer), grilled peppers and onions, cheese, and green onions. Partner it with salsa, guacamole, and sour cream, and you have quick, easy, and hearty tailgate breakfast food!
Need to Know
We know that you know to have a skillet for quesadillas, but for those looking for a sturdy burrito, we recommend toasting the sides of your tortilla once your burrito is assembled in a cast-iron pan or on the griddle to help it stay together. This can be a filling food to snack on as you walk to the stadium.
Loaded Potato Pancakes
Hash browns are the best, but they can be a mess. Keep your potatoes on your plate by prepping some sturdy potato pancakes in your cast-iron pan on the grill or on the griddle! For this recipe, you will load up your hash browns with cheese, cooked and crumbled bacon, and chives.
We recommend mixing up your ingredients before heading to the tailgate site and throwing them in a large ziplock bag. Pack a large scoop for easy transfer and start cooking as soon as you arrive. This limits the mess and saves you time once you want to start cooking.
Skillet Breakfast Potatoes
This is one of my husband's favorite dishes to throw on the grill! Chop up your favorite spuds, along with peppers and onions, and put them in a zipper bag before you head to the tailgate site. Once you arrive and heat up the grill, toss some olive oil in the bag and then add in your go-to spices — we are a salt, pepper, garlic, onion, and Cavenders kind of family.
Zip up the bag, shake it until all the potatoes and vegetables are coated, and then toss them in a big cast-iron skillet. Cook until golden brown and tender, and then serve.
Breakfast Sandwiches
Another popular breakfast tailgate food is sandwiches, but not just any kind of sandwich, but one that features all your favorite morning foods. For these, we love to make waffles the night before to serve as our bread. Then on game day, fry up some eggs on the cast iron or griddle, add a slice or two of sharp cheddar, and garnish your sammy with some freshly sliced avocado and bacon, and voila! Breakfast is served.
Deviled Eggs
Another prep-ahead tailgate breakfast idea is deviled eggs! These are a delicious, protein-packed finger food that are a tasty addition to any football spread. Sprinkle on scallions, and you're ready to dig in!
Fruit Salad Skewers
If you are looking for a lighter tailgate breakfast idea that you can make the night before, this is one of my favorites. Berries, melons, grapes, and other hearty fruits are perfect for this project.
Wash your fruit, cut them into bite-size pieces, and slide them onto the skewers. These transport easily in a large zipper bag or Tupperware bin, and you can keep them in the cooler until you're ready to eat.
Quick Tip
For the extra-avid fans, you can also purchase small cookie cutters that reflect your team's logo, mascot, and even your state to cut out your fruit with. This can add additional team spirit to your spread.
Parfait Station
This is another easy breakfast tailgate idea that you can prep before you arrive. All you need is a large tub of your preferred vanilla Greek yogurt, a bag of washed and sliced berries, granola, chocolate chips, and whatever other parfait toppings you prefer.
Helpful Hack
Don't lug a bunch of serve ware with you for your parfaits. This is what Solo cups and plastic silverware were made for. It will make cleanup a breeze and ensures that you get a beautifully layered snack.
Deep-Fried Donuts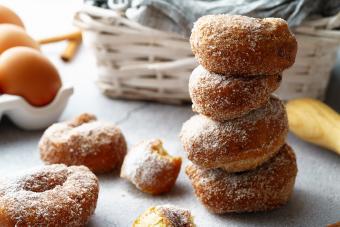 Can you really call it a breakfast spread without donuts on the table? This is an easy tailgate breakfast food that you can make the day before and pull out the moment you arrive. Choose from deep-fried donuts, glazed donuts, or even vegan recipes!
Skillet Cinnamon Rolls
Did you know that you can make cinnamon rolls on the grill? This can add a touch of sweetness to your meal, and all you need is a tube, or two, of Pillsbury cinnamon rolls, some non-stick cooking spray, and a cast-iron skillet. The recipe is simple, there is virtually no mess, if you don't count the frosting on your fingers when you eat them. And the recipe takes less than 20 minutes to make!
Muffins
Starchy foods are always a good idea if your tailgate includes some adult beverages. Muffins are a grand choice that are another easy grab-and-go option. Best of all, you can prep them in advance or simply buy a container of these fluffy breakfast cakes at the store.
Fast Fact
As a parent of two young kids, I no longer have time to bake things from scratch for my tailgates and watch parties. If you want to serve some crowd-pleasing muffins that you can make in advance, but that require minimal prep, Krusteaz Cinnamon Swirl Muffins are to die for, and they will disappear in seconds!
Sweet Breads
Banana bread and pumpkin bread are always fan favorites for breakfast, and you can bake them in advance. Whip up some cinnamon butter or cream cheese to pair with these sweet starches, and you're good to go!
Breakfast Tailgate Foods Can Feature Your Favorite Items
These are just a sampling of the many menu ideas that you can choose from for your breakfast tailgate. Get creative with the recipes you love at home and see if you can change things up so that you can still enjoy them on the grill.
Since tailgates always feature a large spread, you should be safe to experiment. If it turns out to be a touchdown dish, then your spread will be even more successful. And if it is a bit of a fumble, there will be other players to keep your menu covered.