Bring some bright flavors and healthy elements to your summer breakfasts with easy recipes and fresh ingredients. You'll wave goodbye to boring granola bars and plain oatmeal with these flavor-packed and creative breakfast dishes that keep you fueled for your summer adventures.
Summer Veggie Scramble
Upgrade your usual scrambled eggs with colorful summer vegetables and a bit of added protein. This recipe is almost as easy as your traditional egg scramble and will give you energy for your busy summer days.
Ingredients
2 large eggs
2 tablespoons cottage cheese
1 handful spinach leaves
¼ green bell pepper - chopped
¼ red bell pepper - chopped
2-3 cherry tomatoes - quartered
Directions
Heat your pan over medium heat while prepping your egg mixture.
Add eggs to a medium bowl and beat until blended.
Add cottage cheese and whisk until combined.
Once your pan is hot enough, add one tablespoon of butter or oil and coat the pan thoroughly.
Toss in your vegetables, except for the tomatoes, and let them cook for roughly 2 minutes.
Add your egg mixture and cook, stirring, to your preferred consistency.
Plate your eggs and add the tomatoes to the top before digging in.
Summer Fruit Breakfast Bake
If you prefer the sweet fruits of summer to the crisp veggies, this fruit breakfast bake from Eazy Peazy Mealz is a must-try. It's overflowing with strawberries, peaches, and bananas to satisfy your summer sweet tooth at the start of your day.
Strawberry Lemonade Smoothie Bowls
Bagel Fruit Pizza
Here's a quick summer breakfast that's refreshing and filling. The best part is that it's completely customizable, and you can make it on a busy summer morning.
Ingredients
1 plain bagel - halved
2 tablespoons plain, spreadable cream cheese
2 strawberries - sliced
Half of a mandarin orange - separated
Half a kiwi - sliced
1 teaspoon honey
Directions
Toast your bagel to your preferred texture. You could also use a blueberry bagel here.
Spread a tablespoon of cream cheese onto each half (add more cream cheese if you prefer).
Layer your berries, mandarin, and kiwi slices. Customize with other summer fruits you love.
Drizzle with honey and enjoy!
Egg & Avocado Breakfast Quesadilla
Sweet & Savory Summer Waffles
Elevate your basic waffle recipe with exciting summer flavors, from sweet to savory. Prep your batter and toss in your fruits, veggies, cheeses, or herbs for a flavorful upgrade on the traditional breakfast waffle. Try these summer flavor combos for an exciting breakfast the whole family will love.
Lemon juice and poppyseeds
Strawberries and Nutella
Bananas and chocolate chips
Peaches
Fresh spinach and feta crumbles
Matcha powder and blueberries
Chorizo and cheese
Lemon juice and rosemary
Lime juice and coconut flakes
Homemade Strawberry Oatmeal
Lemon Blueberry Ricotta Toast
Toast is a go-to for breakfast since it's quick and convenient. This recipe layers on added flavor and nutrition without compromising the ease of making traditional toast.
Ingredients
2 slices sourdough bread - toasted
⅓ cup ricotta cheese
Fresh blueberries
Zest of one lemon
1 teaspoon honey
Directions
Toast your bread according to your preferences. Swap the sourdough for sprouted bread, French bread, or your favorite sandwich bread.
Pile on the ricotta! This is the filling part of the breakfast, so add more if you like.
Toss on a handful of blueberries. You could sub with blackberries, raspberries, or strawberries.
Zest your lemon over the toast. Don't be afraid to include a small squeeze of juice as well.
Drizzle on your honey or sub with maple syrup.
Corn & Squash Breakfast Hash
Key Lime Pie Chia Pudding
A healthy summer breakfast that fuels your body and satisfies your sweet tooth? Carrie, over at Walder Wellness, is making it happen with this decadent and nutrient-rich key lime pie chia pudding. Sweet, tart, and filling, this recipe shakes up your summer breakfast with a dessert-inspired meal that keeps you full and energized.
Tropical Summer Smoothie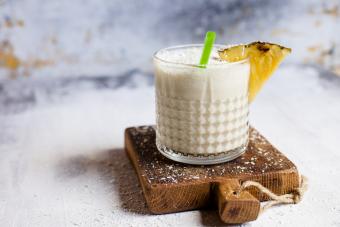 If you have a busy summer morning and need a quick breakfast that hits all your nutrition points for the day, this tropical smoothie gets the job done. You can customize this recipe with your favorite milk or fruits, but definitely give the tropical combo a try for a taste of vacay in every sip.
Ingredients
½ cup milk of choice
1 cup coconut water
1 scoop vanilla protein powder
½ cup frozen pineapple
½ cup frozen mango
1 fresh orange - peeled and quartered
½ ripe banana
Directions
Add the liquids to your blender first for a smooth consistency.
Follow with protein powder and fruit.
Blend until completely smooth. Add more milk or water to reach your desired consistency.
Summer Breakfast Salad
A salad for breakfast? It's a thing, and it's surprisingly scrumptious! Microgreens, summer veggies, and protein-rich eggs make this salad perfect for a fun breakfast twist or a light addition to your brunch menu. Try this recipe from Eating Bird Food and serve the salad warm for a comforting breakfast that still feels light and fresh for summer.
Summer Almond Milk Protein Shakes
Here's a dairy-free twist on some of the best summer flavor combos for a fresh and filling protein shake. These almond milk protein shake variations will keep you full with tons of summer fruit and all your breakfast protein points in one glass.
Breakfast Rice Cakes
Rice cakes on their own might be bland, but upgrading them with summer flavors makes breakfast a nutritional breeze. Top rice cakes with spreads, fruits, veggies, and other toppings for a quick breakfast to carry you through that busy summer schedule. Here are some rice cake breakfast toppings for a satisfying meal you can whip up as easily as you make toast.
Layer peanut butter, banana slices, chia seeds, and a drizzle of honey on a plain rice cake.
Spread a generous layer of almond butter on a rice cake and follow with slices of mango, a few blueberries, and coconut shavings.
Start with a light layer of pesto on a plain rice cake. Add slices of mozzarella, fresh basil, halved cherry tomatoes, and oregano.
Spread Nutella on a multigrain rice cake and top with strawberries or raspberries.
Layer cream cheese, everything bagel seasoning, and smoked salmon on a plain rice cake.
Start with mashed avocado on a rice cake and follow with salt and pepper, a soft fried egg, feta crumbles, and sriracha.
Summer Breakfast Tacos
These summer breakfast tacos are so good you might choose to work them into your dinner recipe circulation too. How Sweet Eats has created a 15-minute breakfast of champions with these summer tacos so you can start your day with all the fresh Tex Mex flavors you love.
Lemon Chia Breakfast Cookies
Who says you can't have cookies for breakfast? These lemon chia breakfast cookies from Mile High Mitts are the make-ahead breakfast you'll be whipping up all summer long. Don't worry, these cookies are full of healthy ingredients to keep your energy up for a busy summer day.
Green Matcha Smoothie
Get your greens, protein, and caffiene fix all in one delicious drink. A green matcha smoothie is sweet, earthy, and energizing for a busy summer schedule.
Ingredients
1-2 cups ice
1½ cups milk of choice
1 cup fresh spinach
1 kiwi - peeled
1-2 tablespoons matcha powder
1 scoop vanilla protein powder
1 teaspoon honey
Directions
Layer all the ingredients in your blender, starting with the ice, then the liquids, the fruits and veggies, and finishing with the powders.
Blend until smooth and the matcha powder is dissolved.
Top with a drizzle of honey and enjoy!
Vegan Breakfast Burritos
Give vegan recipes a try this summer for a lighter breakfast that still gives a nutritional boost in the morning. Vegan breakfast burritos can be made ahead for easy mornings and customized to fit your favorite flavor profile and your dietary needs.
Lemon Blueberry Pancakes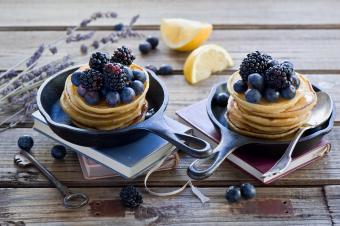 Pancakes are a beloved breakfast staple, and they deserve a spot on your summer menu. Serve refreshing and decadent lemon blueberry pancakes - this recipe from Heavenly Home Cooking is fluffy and bright - to treat your family to a new summer classic.
Stay Fresh & Fueled This Summer
With all these creative summer breakfast ideas, you'll be excited to roll out of bed even when you have the chance to sleep in. Fuel your summer adventures and discover fresh new flavor combinations that brighten your first meal every morning.