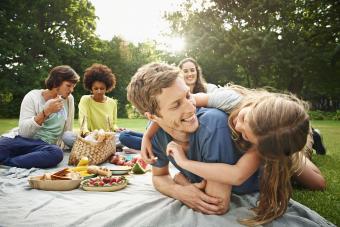 The sunshine, the warm breeze, and the beautiful outdoor views that accompany the spring and summer months make picnics a prime choice. The problem is that many of your regular meals don't carry well in a picnic basket.
For the folks looking for the perfect portable spread or those searching for patio meal options that can withstand the heat, we have 26 simple yet magnificently mouthwatering picnic food ideas to include on your next excursion into the great outdoors.
Caprese Salad
Caprese salad is an easy but elegant picnic food choice that only requires three ingredients: tomatoes, fresh mozzarella, and basil. Drizzle on a little olive oil and balsamic glaze to add extra zing and you have yourself the perfect salad for a picnic.
Best of all, you can turn this Italian staple into a sandwich or you can buy grape tomatoes and mini mozzarella balls and slide your salad onto skewers to make for a utensil-free snack! Just pour your olive oil and balsamic vinegar into mini squeeze bottles for easy transport.
Cobb Salad
If you're hosting your picnic on a patio, cobb salad is the quintessential choice. This substantial meal has hard-boiled eggs, crispy bacon, blue cheese, diced tomatoes, avocado, green or red onions, romaine lettuce, and chicken breast. Pair this with your favorite ranch dressing and you have the perfect summertime lunch!
Salad Jars
For those folks looking for lettuce to be a part of their spread, but plan to be on the go, salad jars are a fantastic solution! They carry well in a picnic basket or backpack, and when sitting upright, they don't get soggy. However, our favorite part about this healthy dish is that you can completely customize each person's portion.
When crafting your salad jars, the trick is to put wet ingredients, like chopped tomato, artichoke hearts, avocado, and dressings, at the bottom, and to put the 'dry' ingredients, like the cheese, chopped onions, lettuce, and croutons, at the top. Just make sure to leave at least an inch of space between your ingredients and the lid so that you can mix everything up when you're ready to eat.
Cowboy Caviar & Tortilla Chips
If you have a hankering for some spice, consider mixing up some cowboy caviar. For those unfamiliar with this classic Texas mix, it's an invigorating combination of sweet corn, diced tomatoes, black beans, black-eyed peas, finely chopped bell peppers, red and green onions, jalapenos, and fresh cilantro, all tossed in a red wine vinaigrette.
Pair with tortilla chips and you have yourself a Tex-Mex dip that's guaranteed to please!
Pasta Salad
Looking for something a bit heartier? Pasta salad is a spectacular choice - just mix ingredients like noodles, salami, pepperoni, olives, fresh tomatoes, sauteed mushrooms and onions, mozzarella, parmesan, and Italian dressing. This is a tasty combination that will fill you up faster than you think.
Fresh Fruit
Sweet, juicy, and energizing - there's something so wonderful about freshly sliced fruits! For those looking to have a naturally sweet side at their picnic, grab a snackle box or bento box and fill it with grapes, watermelon cubes, strawberries, raspberries, blueberries, sliced peaches, and cherries.
Cheese & Crackers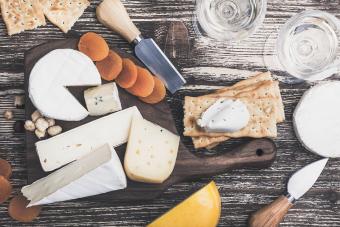 Hard and spreadable cheeses, along with artisan crackers, are a wonderful picnic food idea. Snag whatever cracker you prefer, and then pair it with pre-sliced cheddar, aged gouda, and gruyere.
If you plan to bring your food on ice, a refined choice to add to your cheese board is brie or mascarpone. These pair splendidly with a fruit spread and you can elevate their flavor with raspberry or fig jam and local honey.
Charcuterie Meats
Summer sausage, salami, pepperoni, and chorizo are all ideal picnic foods because these meats are cured. That means that they can safely stay out of the fridge for extended periods of time.
Helpful Hack
When serving these salty and smoky eats, we advise slicing them in advance and pairing them with caramelized onion jam or spicy mustard to add an extra kick!
Pita Bread & Hummus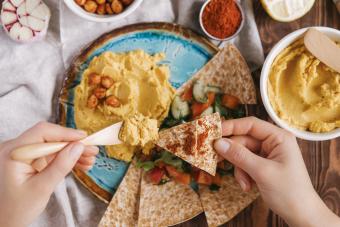 Creamy, buttery, and earthy. Hummus is a quick and easy way to go when it comes to preparing a picnic spread. Not only does it have a bit of protein, but you can pair it with pita bread, fresh veggies, apple slices, or chips.
Rainbow Veggie Kabobs
Speaking of vegetables, if you're looking for some healthy picnic food, consider crafting kabobs that are filled with your favorite dippable veggies. These can include grape tomatoes, bell or sweet peppers, zucchini, baby portabella mushrooms, carrots, broccoli, and celery. Then, partner these skewers with a to-go container of french onion or ranch dip and you have a delicious and colorful snack!
Spring Rolls
When made fresh with rice paper, spring rolls are a delightfully light choice that can be sweet or savory depending on the sauce you pair with them. Picnic-goers can choose mango avocado spring rolls or a rainbow of veggies layered in the rice paper. You can also add in chicken, shrimp, salmon, or tofu for an extra boost of energy!
Don't forget your dip! Fruit-based spring rolls go great with Greek yogurt. In contrast, your meat and veggie rolls can be garnished with more earthy options like peanut ginger or orange sauces.
Pickle & Olive Tray
On a hot summer day, it's hard to resist salty snacks! These are great for replenishing electrolytes and add a sour component to your spread. Kalamata, green, and black olives, kosher and bread and butter pickles, banana peppers, fresh green onion stalks, and fresh radishes are a surprisingly satisfying choice.
Granola Apple Peanut Butter Wrap
For those hosting their picnic in the park at an early hour, make your picnic food breakfast-themed! Smear a thick layer of peanut butter onto a whole wheat tortilla, drizzle on some honey, and sprinkle on a layer of granola, chocolate chips, and dried cranberries.
Finally, julienne green apple slices to add a tart component to this breakfast-style wrap. Roll it up and you are ready to go!
Chicken Salad Sandwiches
For those who want a bit of protein and a lot of zest in their meal, chicken salad can provide quite a lively kick! While seasoning the chicken before baking and shredding is always best for flavor, you also have the option to just grab a quick rotisserie chicken, which should always be on your Costco shopping list.
Simply shred it and continue with one of these great recipes. Then, throw the mixture on some artisan bread and you have an elegant spread without too much prep!
Buffalo Chicken Dip
If you're hosting your picnic on the patio, consider firing up the oven and whipping up some spicy buffalo chicken dip! This is great with bread, chips, or even fresh vegetables. And, just like the chicken salad recipe, it is quick to make when you choose to use a five-dollar Costco chicken.
Poke Bowls
For the fans of raw fish, poke bowls are a delicious Hawaiian dish that feature fresh fruits and vegetables, rice, raw tuna or salmon, and dressing. These are a heartier version of sushi that you can easily serve during your patio luau party or you can pack them to-go to enjoy after a long hike or playtime at the park.
Pineapple Mango Chicken Lettuce Wraps
This is yet another easy recipe that involves pre-cooked chicken. Snag some romaine or bibb lettuce and pile it high with seasoned, shredded chicken and some pineapple mango salsa. Best of all, this simple recipe takes 20 minutes to make, and it travels well. Simply assemble your wraps when you get situated in your perfect picnic space.
Greek Chicken Salad Stuffed Peppers
Shred precooked rotisserie chicken and mix it with chopped kalamata olives, artichoke hearts, red onions, tomatoes, hearts of palm, cucumber, bell pepper chunks, and feta cheese. Then, toss the mixture in your favorite Greek dressing. Finally, when it is time to eat, simply serve the mixture in bell pepper halves that have been washed and de-seeded.
Turkey, Apple, and Brie Sandwiches
Roasted turkey, arugula, thinly sliced gala or jazz apples, brie cheese, caramelized onions, and fig jam - all layered in between two slices of sourdough bread or a light and flakey croissant is a combination that is hard to beat. It's filling, flavorful, and downright delicious!
Hasselback Tomato Clubs
It's all the goodness of a turkey club, positioned in a semi-sliced plum tomato. All you have to do is cut your tomatoes crosswise five times, making sure to leave one side of the fruit intact. Then, grab some thinly sliced turkey, crispy bacon, slices of Monterey Jack cheese, lettuce, and avocado and fill each section with one of these ingredients.
Of course, you can always go more traditional and do a classic turkey club on your favorite bread or bun for an irresistible picnic sandwich.
Classic Arnold Palmer
A picnic isn't complete without the right beverage, and what better choice than a classic Arnold Palmer. Half-iced tea and half-lemonade make for double the deliciousness!
Fruit-Infused Water
Another fine choice is fruit-infused water. It's refreshing and will help you stay hydrated at your picnic. First, wash the fruit, chop up the larger produce, and then drop it in a pitcher of water. Let it set for at least 30 minutes and you are good to go. Try combinations like:
Cucumber and lemon
Strawberry, lemon, and basil
Grapefruit, pomegranate, and mint
Oranges and blueberries
Mint and lime
Virgin Mojito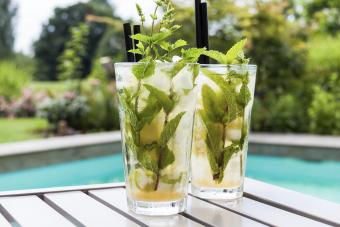 Speaking of mint and lime, another energizing drink for a picnic in the sun is virgin mojitos! Lime, mint, simple sugars, and club soda are a mouthwatering concoction. You can also spruce things up with recipes that add in muddled raspberries, blueberries, or watermelon juice!
Lemon Bars
The perfect combination of sweetness and tart! Lemon bars are a light and flavorful dessert option that are a classic choice for any picnic. They travel well and they tend to be enjoyed by all. There is also an assortment of lemon bar recipes to choose from for this dessert item that include cheesecake-style bars or options that add in the sweetness of blueberries.
Frozen Yogurt Parfaits
On a hot summer day, a cold treat is a welcome choice! Frozen yogurt parfaits are a great option because you can eat them right out of the freezer or they can thaw in the cooler and still serve as a delicious snack. Simply combine vanilla Greek yogurt with a zest of lemon. Next, mash together 1.5 cups of raspberries and half a cup of white sugar. Let it sit for an hour.
Then, layer your raspberry mash, fresh blueberries, and yogurt in a to-go container. Freeze overnight or until the mixture is solid. When packing up your picnic, grab some granola, chocolate chips, chia seeds, extra fresh fruit, and whatever else you like on your parfait.
White Vanilla Cranberries
Make Christmas come early with this simple picnic food idea! All you need are fresh cranberries and Ghirardelli White Vanilla Flavored Melting Wafers.
Wash your berries and then line a cookie sheet with wax paper.
Next, melt your wafers following the directions on the bag.
Then, dunk your fruit in the chocolate and line them up on your tray.
Freeze for one hour and you have a mouthwatering treat that is hard to resist and easy to throw in a picnic basket!
Simple Picnic Food Ideas and Refreshing Ingredients Make It Happen
The key to crafting the perfect picnic menu is to pick foods that are light, yet full of flavor, and are meant to be served cold! Since you'll be eating these dishes in the heat of spring and summer, heavy and hot foods aren't ideal.
Additionally, you want items that can handle the heat, especially if your picnic is going to be out in nature and not on a patio. This means that non-perishable dishes should be your first choice. However, if you do choose picnic foods that you need to keep cool, a freezable tote is a worthwhile investment. Get creative with fresh ingredients and you can have the perfect picnic foods for any occasion.