If you like to bottle your own wine, free printable wine labels add a personalized touch to your bottles. Use these labels to celebrate a special occasion like Valentine's Day or Christmas, or just choose a beautiful label that will work any time and use the gift of wine to let someone know you care.
Free Printable Wine Labels Online
Check out these free printable wine labels that will have you covered for almost any occasion, from every day to the holidays. The templates below work with Avery wine labels 15516, 5126, 8126 and may work with other brand labels. Click the images for the printable PDFs. If you need help downloading the labels, check out some helpful tips.
Graphics in the free templates cannot be changed. However, you're free to edit the text to suit your needs. If you don't have enough text to fill a spot, simply delete the example text. The space will print blank.
Try grapes for any occasion:
Add a decorative touch:
Try a simple, sophisticated label:
Cupids and hearts are perfect for Valentine's Day: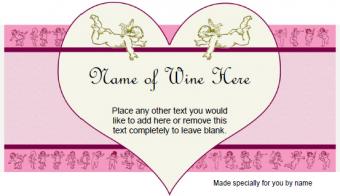 For the holidays, try a festive label:
Labels in neutral tones are perfect anytime:
Applying Wine Labels
Finding great looking wine labels to download on your computer is convenient. However, they still need to be printed out and applied to your wine bottles. There are several ways to accomplish this.
Using Blank Paper for Labels
One way to use your free wine labels is to print them directly onto paper, cut them out, and apply them to the bottle. The type of glue you use should be able to withstand a little moisture and not disintegrate if it becomes damp. Good choices include Elmer's glue and rubber cement. Some people have been able to use glue sticks as long as they totally coat the label with the glue before it is applied to the dry bottle.
Using Gummed or Adhesive Labels
Another option is to purchase pre-gummed labels or adhesive labels. Ones that are manufactured specifically for wine label use will stay adhered to your bottles while others made for general use may come off or slip when they become moist or wet. Often these packages of labels will provide directions on how to use your word processing program to print them out correctly. It may be helpful to print out a copy of your wine labels on plain paper first to ensure correct alignment of the label sheet.
Consider the conditions under which your wine bottles will be stored. If the bottles will be in a cool, dry environment the labels will probably stay on without any problems. Bottles stored in a cellar or in areas where they may become damp will need labels with strong sticking power.
Ideas for Using the Labels
The first use for the labels are to place them on wine bottles for gift-giving. You can peel off the original label, clean the adhesive off, dry, and place your new label. If you're giving a homemade wine, you simply need to put the label on. You can put the labels to other use though.
Consider using the labels on wine gift baskets. Wrap the basket with cellophane and then place the label on a smooth spot on the front of the basket.
At Christmas, Valentine's Day, or on a birthday, use the labels as a gift tag. Just peel and stick on the wrapped present.
If you're giving out a wine wedding favor or other special occasion party favor, use the wine labels as your favor tag. You may need to attach a small blank tag made from card stock if the favor is too small to fit the tag on neatly.
When using the labels on something other than a wine bottle, be sure you adjust your text so it makes sense.
Additional Wine Labels
Other places to find free labels for your wine include:
Unique Inside and Out
Printing your own wine labels is a great way to make your wine bottle as unique as your homemade vintage. It is also a good way to save money on labels when you are making small batches of wine and mead. Another bonus is that many of these labels are customizable so you can change the printed information and graphics easily. Why not try some of these labels on your next batch of wine? You'll save money and have a great looking bottle of wine, too!