The sound of the cork as it pops out of the neck, the sound of the wine glass clinking onto the counter, the soft trickle of wine out of the bottle, the first sip that goes straight to the soul. Red wine. Nothing else compares. And while there's a case to be made for every bottle, these are the most popular red wines. Which is your favorite?
Read on for some of the most popular red wines, according to sources like Wine Folly, VinoVest, and Town & Country Magazine.
Cabernet Sauvignon
Cabernet sauvignon is often considered the king of red wines, and for those who are familiar with this red, it's a clear-cut reason: because of its depth and complexity. It's full-bodied with a high tannin content, and cabernet often has flavors of blackcurrant, black cherry, and cedar. Its ability to age well? Just another reason that makes it a popular choice for wine collectors.
Merlot
Merlot is a beautifully versatile, approachable red wine (dare we say table wine) with a medium to full body. In each sip, you'll find fruit-forward flavors of plum, black cherry, and herbal notes. It's softer than cabernet sauvignon, which makes it an excellent introduction to red wine for beginners or when you're looking to serve a crowd.
Pinot Noir
Known for its delicacy and lighter body, Pinot Noir offers dazzling aromas of cherry, raspberry, and, occasionally, hints of earthy, herbaceous clove. It pairs well with a range of foods and snacks, but without pulling focus from your main dish. The perfect supporting actor, but a star in its own right.
Syrah and Shiraz
A rose known by two names, Syrah in France and Shiraz in Australia, this grape produces a bold, full-bodied wine. Inside each glass, you'll find dark fruit flavors like blackberry and blueberry, often with black, peppery spice, or smoky notes.
Zinfandel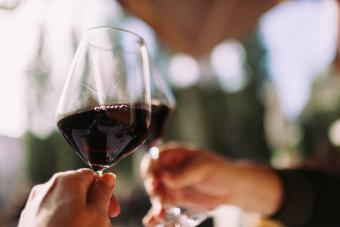 Predominantly grown in California, Zinfandel is a singular wine. It's known for its fruit-forward yet spicy character, with juicy flavors of jammy fruits like blackberry, cherry, and plum. And on the finish? A peppery flair.
Malbec
A wine that began in France but is now most associated with Argentina, Malbec wines are rich, dark, and full-bodied. Each bottle has flavors of black fruit, including plum and blackberry, some with a hint of chocolate, and others with deep, rich notes of tobacco.
Sangiovese
As the primary grape in Chianti, you can thank Italy for the sangiovese you know and love. This wildly popular red wine offers flavors of red fruit, tomato, and herbs, for an earthy red wine treat. With a high acidity, this makes sangiovese a food-friendly wine.
Grenache and Garnacha
Like syrah/shiraz, this popular red wine is known as grenache in most of the world and garnacha in Spain. This grape makes for a full-bodied wine with red fruit flavors and hints of spice. You can also find grenache blended with other varieties like syrah and mourvèdre.
Nebbiolo
The key grape in Barolo and Barbaresco, two of Italy's finest wines, nebbiolo is noted for its high tannins and high acidity. Among that profile, you'll find flavors of cherry, leather, and anise. It's a wine that can age beautifully, so it's a popular choice to pick up and not rush to open.
Sensational and Popular Red Wines
Grab your corkscrew and a bottle (or two) of one of these popular red wines. Call a few friends and host a wine night with a tasting to see which comes out as your favorite. The best of the most popular red wine is the one that makes your tastebuds sing.