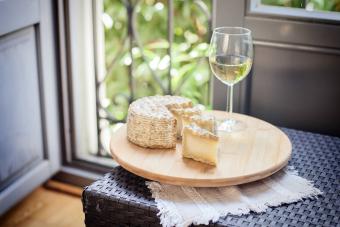 As with all food and wine pairings, taste is subjective and there are no hard and fast rules on what to drink with what. There are, however, a few wine and cheese pairings that complement each other particularly well when considering texture, fat, acidity, and salt. Learn what makes those fan favorites so good and how to craft your own wine and cheese pairings for a dreamy mouthful.
The Basics of Pairing Wine & Cheese
Matching any food with wine is all about balancing flavors and textures to create a whole new gastronomic experience. It's no different when it comes to paring wine and cheese. The intensity, salt, fat, piquantness, acidity, tannins, texture, and funkiness of the cheese all influence what style of wine you'll want to drink alongside it.
Texture
Cheese varies drastically in texture based on what type of milk, what style of cheese, and how long it has been aged for. Young, fresh, and rindless cheeses are soft, and when served at room-temperature can become gooey and nearly melt off the plate. Hard cheeses, on the other hand, have significantly more tooth and need to be crumbled or cut. The younger, softer cheeses typically pair better with lighter wines like arneis, dry rosé, or light-bodied reds like zweigelt, while the heartier hard cheeses, like Parmigiano Reggiano, go wonderfully with more substantial wines like Franciacorta, nebbiolo, or Bordeaux blends.
Intensity
Matching intensity is really important when it comes to balance. A strong blue cheese can quickly overpower a delicate white wine. Likewise, a statement red, like Barolo, can be overbearing for a mild ricotta. Washed rind cheeses have a distinct funk and pungency and need an equally talkative wine. Think if each had a personality, are they destined to be best friends? Introverts with introverts and extroverts with extroverts is generally a good call.
Salt
Some cheeses are saltier than others, and salt affects how your palate perceives other flavors. Salt likes acid, so a cool-climate white with ripping acidity will be a great match for a salty cheese like halloumi. Think Chablis, dry riesling, or muscadet.
Fat
Not all cheeses are created equal. Depending on whether the cheese is from cow's milk, sheep's milk, or goat's milk, the fat content can vary drastically. Fat also likes acid. See a theme here? A fresh, bright, and acidic grüner veltliner cuts through the fatty nature of a Camembert, bringing balance to the party.
Age & Tannins
Cheeses become bolder and more complex as they age, taking on concentrated flavors. In this way, they are similar to aged red wines that develop tertiary aromas and characteristics over the course of aging. If you have a 38-month aged cheddar, it's going to have a richness to it that needs a wine with an equal amount of depth. Robust tannins in a nero d'avola or Chianti will counter the fattiness and round out the whole flavor profile.
Think Regionally
If you get stuck, think about origin. The food culture of a specific place typically has deep roots, and many classic pairings come out of local traditions. For example, a Loire sauvignon blanc paired with the local goat cheese from the farm down the road--probably a good match.
Classic & Unconventional Pairings
Though there may be some classic pairings, there are no boundaries when it comes to pairing cheese with bubbles, white, red, rosé, or orange wine. If you've got a specific bottle in your wine cellar you are looking to crack open for a little apéro and want a little more direction, these classic and unconventional pairings are here to help.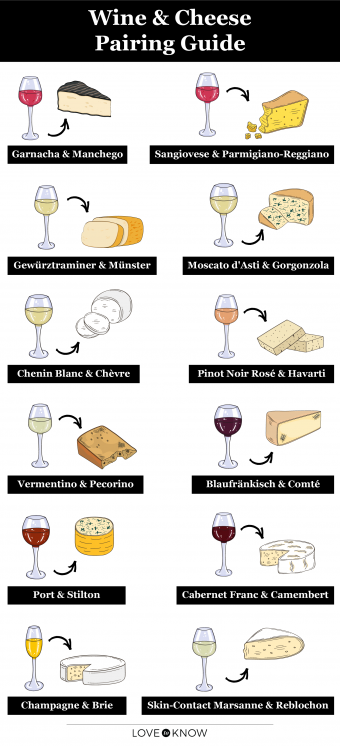 Garnacha & Manchego
Spanish born and bred, garnacha and Manchego pair beautifully. The juicy strawberry, purple plum, and savory nature of garnacha brings a vibrancy onto the palate, while the buttery, rich, aged Manchego delivers a salty complexity.
Gewürztraminer & Münster
Gewürztraminer is a stunning grape bursting with floral aromas of rose and ginger, along with lychee. Its high acidity and perfumed sweetness pairs well with equally aromatic German Münster.
Sangiovese & Parmigiano-Reggiano
The beloved Italian grape brings bright cherry, earthy tomato, and savory garden herb to the table while the aged Parmigiano-Reggiano brings a rich complex nuttiness with piquant tyrosine amino acids. Match made in heaven.
Moscato d'Asti & Gorgonzola
Gorgonzola is a relatively strong cheese. It's creamy, rich, piquant, and pungent all at the same time. The funkiness of Gorgonzola craves a bit of balance, which comes in the form of moscato. Delicately sweet with good acidity, moscato cleans the palate after a taste of gorg.
Chenin Blanc & Chèvre
A cool-climate chenin has ripping acidity with delicate notes of yellow and green fruit, undertones of chamomile, and a grounding minerality. When paired with a herb-crusted log of chèvre, its a real winning match. Each compliment the other without overwhelming.
Pinot Noir Rosé & Havarti
A light-hearted rosé for a light-hearted cheese. The delicate yet fresh and fruity nature of a pinot rosé balances the creamy, soft texture of Havarti. The acidity and tannins here are just enough to cut through the richness in the cheese.
Vermentino & Pecorino
This is one of those hyper-regional parings. Both vermentino and pecorino come from the small island of Sardegna, Italy. Engulfed by the salty sea, both the grape vines and the scrubby bush the sheep feed on take on similar light, savory, citrus, and salty characteristics. Like goes with like.
Port & Stilton
Port and Stilton are a classic pairing. The pungent cheese is matched by an equally powerful profile in port. The sweet notes, full-body, and richness of port bring the right amount of intensity to this salty cheese.
Blaufränkisch & Comté
Juicy, medium-bodied blaufränkisch is all brambly fruit with hints of allspice and zings of black pepper. On a warm day, this wine with a slight chill is such a treat when paired with a few long wavy ribbons of buttery and spicy aged Comté.
Cabernet Franc & Camembert
The brambly fruit combined with a crushed gravel mineral characteristic and a hint of chili pepper or bell pepper in a cab franc are a vibrant and acidic match for a rich, soft Camembert.
Champagne & Brie
Bubbles, bubbles, bubbles. While they are suited for really any cheese, they especially go well with a soft, rich, and creamy Brie. Champagne has bright acidity and consistent, punchy bubbles that refresh the palate after the fattiness of the Brie.
Skin-Contact Marsanne & Reblochon
A grippy marsanne is full of quince, acacia, beeswax, and bruised apricot. Its slightly funky vibe is a great match for this soft washed rind cow's cheese. Reblochon has aromas of cellar with a creamy texture and lingering nuttiness that match the funk of this orange wine.
Meant to Be
Wine and cheese...they're kinda meant to be, so whichever route you take on your pairing journey, you'll likely end up satisfied. When thinking about making those matches, consider texture, flavor, and even region. Use your instincts and remember the most important thing is there are no rules.