While Old World wine culture pairings come together pretty seamlessly, finding wines that pair well with Asian food takes a bit more creativity and thought. The bold, umami, and spicy flavors can quickly overpower certain wines and clash with others. But, when you find that winning match, it's well worth the effort. So next time you order those din tai fung spicy chicken dumplings, grab a glass of wine to go with it.
What to Consider for Wine and Asian Food Pairings
From chili oils, to curries, to fish sauce, to punchy ginger and so much more, the tornado of flavors in Asian dishes is often fierce. With the intensity of so many aromas and flavors, it can be intimidating to find the right wine to pair. There are a few considerations that will help you navigate towards some and stay away from others.
Avoid Oaked Wines & Tannic Wines
Steer clear of anything oaked (red or white); those cedar vanilla characteristics are just too much for this mix that's already going on, and the flavors in the wine can quickly become astringent and bitter. Tannic reds and grippy orange wines also often compete with the flavors in the food, and they end up tasting sharp and bitter.
Low to Medium Alcohol Is Best
It's best to stick with wines that are low to medium in alcohol rather than real bombs when pairing with spicy foods like chili or Sichuan pepper. Our palates perceive the heat from chili to be even more intense with higher alcohol wines compared to lower ones.
Acidity & Bubbles Are Your Friend
Acidity in both the dish and the wine are generally a good thing when it comes to pairings. Think about finding a wine to match the level of acidity in whatever you're eating; the acidity in the food will bring out the fruit characteristics in a wine. Salty foods are also super wine friendly. A salty Taiwanese chicken and rice dish will highlight the fruity notes and emphasize the body in a wine. Aromatic wines that can hold their own against satay are great. And bubbles! Any and all spritzy bubbles are a breath of fresh air when it comes to clearing your palate.
A Few Wines That Pair With Asian Food
So, still wondering what to reach for? There are a handful of wines from red, to rosé, to white that can make the perfect pairing for your chosen dish.
Fruity Chillable Reds
If your heart is set on a red, look to the light-hearted, low-tannin reds of the world like a chilled gamay, grenache, st. laurent, zweigelt, or carignan. They've got the body to stand up to the bold flavors without the competing tannins. Plus, their fresh fruit character will match the liveliness of the dish and bring the whole party together.
Acidic Whites
High acid whites like a New Zealand sauvignon blanc or Sancerre, German riesling, albariño, pinot gris from Alsace, muscadet, or vinho verde are great matches for many Asian dishes from khao pad to bún thịt nướng (grilled pork and rice vermicelli). The puckering acidity tightens everything on the palate and brings it into focus, offering a refreshing vibe.
Aromatic Whites
Aromatic whites can really hold their own against some of the strong flavors and work extremely well with flavors of ginger, lemongrass, kaffir lime, and coriander. Think gewürztraminer, zippy rieslings, torrontés, and vidal blanc.
Bubbles
Sparkling rosés or other sparkling wines like prosecco, cava, pét-nats, Franciacorta, and Champagne are all amazingly bright parings for Asian dishes as they quickly reset the palate from an overdose of heat. The actual bubbles and acidity are extremely food friendly and will work with everything from a Thai basil-forward salad to those drunken noodles everyone is fighting over.
Wine Pairing Suggestions
While there are incredible nuances in the food cultures and flavors from town to town, region to region, and country to country, highlighting a few commonly found dishes in the West will help you to make those perfect pairings and set you up to make more of your own.
Chinese Food Wine Pairings
Vegetable forward dishes with a good splash of soy sauce go particularly well with an acidic white that has grassy, herby notes, like a New Zealand sauvignon blanc. If you are eating something like sesame chicken that has both sweet and salty notes, a fruity bubbly lambrusco is a great match. Other spicy chicken, like Kung Pao, is great when paired with a sharp riesling. Anything fried, like spring rolls or crab rangoon, craves dry, poppy bubbles like Franciacorta to balance out the fat. The crispy crunchy textured with spritzy bubbles is everything you'll want and more.
Wine Pairing With Hoisin Sauce
Cantonese dishes with chicken marinated in hoisin sauce, moo shu pork, or BBQ ribs with hoisin sauce are great with either an acidic white or red. An Oregon gamay or Beaujolais are good bets here with big enough body for the flavor and meat. Another great choice would be a glass of peppery cabernet franc, which would mimic some of the marinade flavors.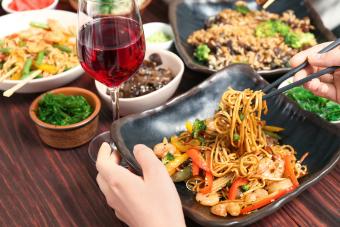 Pairing Wine With Thai Food
When it comes to Thai food, the whites really pull their weight. An off-dry riesling is the amazing when paired with that medley of sweet, sour, spicy, and salty flavors. The tropical flavors, floral aromas, and ripping acidity in the wine are the perfect match for som tum or pad krapow moo saap. Chenin blanc and grüner veltliner are also light and zesty whites that can deliver a matching profile of lime and lemongrass. If you are set on a red, look for an Austrian zweigelt. It's juicy and sharp with bright fruit all at the same time.
Sichuan Food Wine Pairing
For your dan dan noodles, choushou, and tofu with Sichuan pepper, you are looking for something to tame the heat. An off-dry riesling from Mosel or pinot blanc will do the trick. It complements the whirlwind of flavors beautifully, and both shine. If you are eating Peking duck, look for one of those glou-glou reds like blaufränkisch or gamay.
Brilliant Wine and Asian Food Pairings
The next time you are making Thai food or out for Sichuan, don't just skip to the wine - there are a handful of reds, whites, and rosés that balance all the flavors and heat beautifully. Remember to look for wines with lower alcohol and tannins and good acidity. And when in doubt, riesling.