Before the white-painted cabinets associated with farmhouse chic had taken HGTV audiences by storm, there was a group of dedicated 19th century cabinet makers who took woodworking to a new level. With delicate gold leaf, rich staining, and ornate carvings, these historic cabinets are quite a sight to behold.
Furniture Styles of the 19th Century
Throughout the 19th century, many different furniture styles came in and out of vogue. It was the century of revival furniture styles in the United States, England, and Europe. As America became more industrialized, furniture reflected the new technologies of the period and cabinet makers quickly adapted the styles of the furniture to these new technologies.
The following are the furniture styles of the 19th century and the years the styles were produced. Knowing the years that the furniture styles were created makes it easier to see the transitions that many cabinet makers of the 19th century made during their years of production.
Federal - Also called American Neo-classicism, made from 1780-1820
Biedermeir - Made from 1815-1860
American Empire - Also known as Regency in England, made from 1820-1840
Elizabethan Revival and Gothic - Made from 1825-1865
Empire Revival / Late Classical - Also called the French Restoration, made from 1835-1850
Rococo Revival - A Victorian style that was a revival of Louis XIV and XV, made from 1845 -1900 with declining popularity post the 1860s
Renaissance Revival - A Victorian style that was a revival of the Italian Renaissance, made from 1890s-1920s
Colonial Revival - Made from 1875 to current
Eastlake - The last Victorian style, made from 1880 -1900
Arts and Crafts - Made from 1880-1910
Art Nouveau - Made from 1880-1920
Shaker - Made from the late 1700s through the end of the 1800s
Experimental Styles - Made with materials including lamination, paper mache, metal and natural elements throughout the 1800s
19th Century Cabinet Makers
Although there were hundreds of cabinet makers using their skills throughout the 19th century, there're many that are considered true masters of their craft.
Townsend and Goddard Families
Legends in the world of Rhode Island cabinetmaking, Quaker communities became famous for their woodworking skills, such as cabinet making, in the 18th and early part of the 19th century. The oldest of the Townsend cabinet makers, Job Townsend, passed away in 1765 and his son John Townsend continued the business with his cousin John Goddard, forming the Townsend and Goddard enterprise. The furniture produced by Townsend and Goddard is well-known for its:
High quality mahogany wood
Block and shell ornamentation of pieces in the Chippendale style
Attention to find details including perfectly executed dovetails
The creation of claw and ball feet with undercut talons
Alexander Roux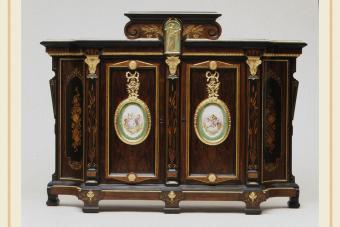 Born in 1813, Alexander Roux was a French cabinet maker that worked in New York City. Although Roux produced pieces on his own, he also worked with his brother, Frederick Roux, and his son Alexander J. Roux. Alexander Roux specialized in furniture of the Gothic, Renaissance, and Rococo Revival styles, though the latter is the one that he's most known for today. The Roux shop closed in 1898, 12 years after its founder, Alexander Roux passed away, but its pieces have lived on to become highly desirable collectibles. Cabinets from Roux's workshop were often characterized by:
Renaissance-inspired ornamentation
Cabriole legs
Delicate and intricate openwork
Thomas Sheraton
An English cabinetmaker, Thomas Sheraton was born in 1751 and much like Shakespeare, little is known about his early work. His work was first documented when he was in his forties, when he would come to be known for his exquisite neoclassical pieces. Aside from the famous Chippendale style, Thomas Sheraton is thought to be the most famous of the English cabinetmakers, and his death also killed the era of English cabinetry dominance. The Sheraton style is defined by:
Tapered legs
Open backs
Secret compartments/mechanisms
John Swisegood
A cabinetmaker in North Carolina, John Swisegood was of German descent and brought a strong German influence to his pieces. Born in 1796 in Tyro, North Carolina, Swisegood apprenticed under cabinetmaker Mordecai Collins before starting his own business of making cabinets for his surrounding community. Rural North Carolina loved his work so much that he's considered by many to be the most well-known furniture maker in the North Carolina area during the 19th century. Some of the attributes that Swisegood is best-known for include:
Light woods and finishes
Clean lines
Inlays and veneers
Less-ornamentation
Pottier and Stymus
Considered elite in the field of furniture and design, cabinet makers William Stymus and Auguste Pottier's business was located in New York City and came to be associated with a distinctly New York style. Working mostly in the Egyptian and Renaissance Revival furniture styles during the 19th century, their pieces are often identified by the P & S stamp. Pottier and Stymus produced elaborate carved large pieces of furniture for clients, including the White House, the Plaza Hotel, and John D. Rockefeller. These notable cabinets can be identified by their:
Decorative ornamentation
Colored details
Dark wood/staining
Luxurious materials
Additional Notable Cabinetmakers of the Time
Several additional notable cabinet makers of the 19th century include:
Michael Allison and Richard Allison - A pair of New York based brothers who were known for their unique labeling, and distinctive features like stringing and serpentine skirts.
Francois Seignouret - Seignouret was one of New Orleans' most popular furniture makers and was best known for his distinctive 'Seignouret chair.'
Brazilia Deming & Eratus Bulkley - The Deming and Bulkley partnership produced furniture between the early to mid-19th century and supported expensive clientele up and down the East coast.
Lieutenant Samuel Dunlap - A member of the famous family of cabinet makers, Samuel Dunlap was particularly known for his maple furniture.
Major John Dunlap - John Dunlap was another prominent member of the Dunlap family and was known for his cherry wood and inlay pieces.
Leon Marcotte - A French cabinet maker and interior designer that operated during the 19th century, Marcotte was a favorite of the social elite residing in New York.
John and Thomas Seymour - This father-and-son design duo created a name for themselves in the Boston area, though their business closed in 1824 following growing anti-British sentiments in America in the early 19th century.
Alden Spooner and George Fitts - The two craftsmen owned a Massachusetts business (Spooner & Fittts), which produced stylish pieces during the late-18th and early 19th centuries.
John Shaw - Shaw usually worked in the Chippendale and Federal styles, creating cabinetry and other furniture throughout the late-18th century.
Henry Heitman and Joseph Conrad - These two Davidson County, North Carolina cabinetmakers were well-known for their pieces filled with beautiful veneers and inlay.
Home Renovations Made Historic
Often surviving antique furniture pieces made by many of the 19th century cabinetmakers are part of private or museum collections, but if you look hard enough, you can find a special piece here and there to add to your own collection. While these expertly crafted cabinets are often expensive, they'll take any home Renovations to the next level.