Collecting Antique English Bone China
Antique English bone china is an exciting find for many collectors. The delicate designs, amazing translucence, and incredible loveliness of these pieces makes them timeless works of art. Many of these can be found inexpensively today at antique stores and thrift shops, and it's easy and affordable to begin a collection of astounding beauty.
Bone China History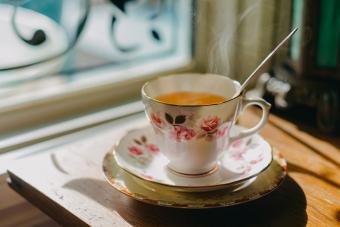 The process for making bone china was originated by Josiah Spode in England in about 1800. It proved to be less expensive to produce that the conventional porcelain of the day and was also much lighter in weight yet very durable. Because of the lightness and beauty of the china, it became a popular material for tea sets and tea cups.
Formula for Bone China
The durability of bone china comes from actual bone. The basic formula consists of six parts bone ash, four parts china stone, and three and a half parts china clay. This formula has remained largely unchanged since its beginning. This Wedgwood tea pot is a fine example of the beauty of a simple bone china pattern.
Identifying Bone China
You can always identify bone china by holding it up to the light and placing an open hand behind it. You will be able to see the shadows of your fingers through the china. This phenomenon is one of the things that give antique English bone china its delicate beauty. This will work whether you are testing a plate or a beautiful antique tea pot as long as you have a good light source.
Delicate, Hand-Painted Designs
The china is desirable for many reasons. It does not easily chip, and the color is beautiful. Bone china is a slightly off white or ivory color and may be embellished with gold leaf, hand-painted designs, or both. In fact, the incredible hand painting is one of the things that makes this type of china so desirable.
What Is "Ivory" China?
American bone china is not as fine as the English version. It tends to be thicker and a little heavier. It can often be identified by the word "Ivory" in the name. This Lamberton bone china plate is American made and is clearly marked with the word "Ivory" on the back of the plate.
Antique English Bone China Brands
Several English manufacturers are famous for making bone china. Some of the most famous include Spode, Wedgwood, Royal Doulton, Mintons, Aynsley, Royal Worcester, and others. Each of these English china brands had a unique maker's mark, and these marks changed over the years. If you turn a piece over, you can see the identification mark on the back or bottom.
Famous English Bone China Patterns
There are hundreds of different antique bone china patterns that are lovely and often valuable, but a few stand out as particularly famous:
Spode Blue Italian - In production for nearly 200 years, this blue and white pattern is reminiscent of Blue Willow. It was made in bone china, as well as earthenware.
Wedgwood Fairyland Lustre - This beautiful pattern from the early 1900s features an iridescent glaze and hand painting.
Wedgewood Wild Strawberry - This vintage patter featuring strawberry leaves and berries is highly collectible.
Spode Buttercup - An unusual yellow pattern with buttercup flowers and a fluted rim, this design dates to 1924.
Antique Fine China Sets
You'll find antique English bone china in individual pieces, as well as complete sets. Tea sets include a teapot, cream pitcher, sugar bowl, teacups, saucers, and sometimes other pieces. Dinner sets include place settings for six, eight, twelve, or more. A fine china place setting usually includes a dinner plate, salad plate, cup, and saucer.
Individual Pieces of Bone China
It's more common to find individual pieces of antique bone china in antique stores or online. You can assemble these to create a complete set or simply choose pieces you like. You'll encounter bone china vases, teacups, plates, bowls, and other items. Each of these is a treasure you can use on your table or display in your china cabinet.
Factors Affecting the Value of Antique English Bone China
It's important to understand the value of a piece of English bone china, especially if you plan to buy or sell it. There are several factors that can affect how much bone china is worth:
Rarity - If there are very few pieces of a pattern or item, it tends to be worth more.
Beauty - The original workmanship affects the value of bone china. Hand painting, delicate details, and fine craftsmanship make a piece more valuable.
Condition - Cracks, chips, crazing, stains, loss of gilding, and other signs of damage can decrease the value of a piece of bone china.
Age - Often, pieces that are very old are worth more than newer vintage examples in the same pattern.
Most Valuable Bone China Pieces
The most valuable bone china pieces can be worth thousands of dollars. Usually, these items are rare and in excellent condition. For example, a single Shelley Lincoln teacup with a lily of the valley on it sold for about $1,200. It was a rare pattern and in perfect condition. Similarly, a very rare Wedgewood Fairyland Lustre bowl in excellent condition sold for about $2,300. An Aynsley Orchard Gold coffee pot sold for more than $2,700 due to its rarity and perfect condition.
Typical Bone China Values
However, most antique bone china is not worth thousands of dollars per piece. You can often find a beautiful teacup and saucer set for about $30. For example, a Shelley Dainty Blue teacup and saucer in perfect condition sold for about that price. Plates and other pieces are also affordable, even in desirable patterns, with a Wedgwood Wild Strawberry dessert plate selling for under $10 in fair condition.
Best Bone China Pieces to Collect
If you're considering starting a bone china collection, there are several ways to begin:
Teacups in various patterns - Collect teacups in different patterns for a mix-and-match set.
Mixed plates or dining pieces - You can collect different patterns of plates to make a dessert set or dinner set that will look eclectic and fun.
All one pattern - Choose your favorite pattern and collect enough pieces of it to create a set.
Vases or special items - Collect vases or other special pieces in patterns you love.
A Collectible You Can Use Daily
Bone china is a beautiful and durable collectible that you can use daily. Have your morning tea or coffee in an antique cup or serve your lasagna on a bone china plate. These beautiful antiques are made to be used and enjoyed.