Gracing fireplace mantels and shelves for more than 250 years, antique mantel clocks can range from being highly ornate to stylishly sleek. Unlike some antiques, you don't have to leave these fixtures in the past as they add gravitas to any modern living room. With thousands of designs and in a wide range of prices, these old mantel clocks are easy to find and even easier to bring home.
Tell Time in Style With Mantel Clocks
Made small enough to set on a fireplace mantel or shelf, these clocks are key wound and run from 30 hours to eight days, depending on the specific clock. Also known as shelf clocks, the clock's movements were either made out of brass or wood. Similar to many antique wall clocks, many of them also come with a swinging pendulum. However, these clocks' movements are positioned differently from those used in a wall clock. Wall clock movements are set in an upward position on the clock's backboard; however, the movement in a mantel clock is made to lie horizontally on the clock's base, also called the seat board.
How to Tell an Antique Mantel Clock Apart From Other Timepieces
Although mantel clocks come in a variety of styles, they usually come in a more petite size than other clocks from historic periods. Most of these clocks can easily be picked up in both of your hands and have a solid base that they're meant to rest on. Sometimes, more ornate clocks (often coming from continental Europe) have detailed legs or filigree that they rest on instead of a standard base. These clocks were created in a variety of shapes and styles and were made out of a number of materials like wood, glass, bronze, and marble. That being said, these clocks were both wind-up and battery-operated, though most antique examples were made to be wound.
Of these mantel clocks, there are four specific styles that horologists acknowledge: French style, German style, Art Deco style, and Modern style. Each of these styles is popular to varying degrees with collectors, though American manufacturers have seen a resurgence in popularity among clock collectors in the past few years.
Early Styles of Mantel Clocks
Originating in France in the mid-18th century, the early French clocks for mantels were typically very ornate and highly decorative to match the furniture styles of the day. Many were decorated with popular Rococo motifs like small angels, cherubs, and other angelicesque figures. This particular style of clock is sometimes called a cherub clock.
These early French clocks were made of a combination of materials, including gilt metal, wood, and porcelain. The most popular gilt metal of the time, ormolu, was made of 93% bronze and 7% gold.
Today, collectors look for these highly decorative, hand-crafted clocks at estate sales and auctions, searching for examples of clocks from early French clockmakers including:
Raingo Fres
Howell & James
Jacob Petit
Mougin
P. Japy & Cie
Charles Anfrie
Mass Production and Wooden Clock Movements
By the end of the 18th century, the mantel clock's popularity had quickly spread throughout Europe and infiltrated wealthier homes in the United States. In the early part of the 19th century, Connecticut clockmaker Eli Terry, along with Silas Hoadley and Seth Thomas, began mass producing clocks, which made them more affordable to own. The most significant change from hand-crafted clocks to clocks mass produced in a factory was the movements that they used. Instead of using expensive brass for the clock movements, the movements were made from wood, democratizing the process and aiding in lowering their market value. By 1830, the idea of wooden clock movements was so popular that there were hundreds of companies in Connecticut alone making clocks with wooden movements.
American Antique Mantel Clocks
Although some styles of American mantel clocks incorporated brass or iron in their design, the clocks were generally made out of porcelain, oak, or cherry wood. The clock bases were decorated in many different ways, some using solid wood panels, often engraved or carved, with others including painted scenes and sculptures.
The Ansonia Clock Company
From 1850 to 1929, the Ansonia Clock Company produced millions of clocks. Their most popular styles included: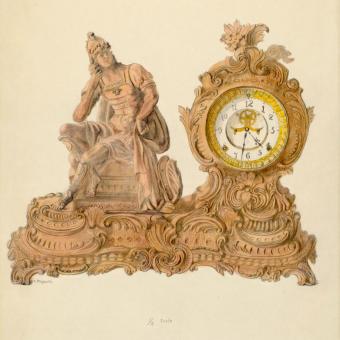 Porcelain cases painted with beautiful flora designs
Beehive clocks
Glass domed clocks
Miniature ogee clocks
Exquisite carved clocks with magnificent figurines and sculptures on the base
Cast iron clocks with beautiful mother of pearl decorations
The Seth Thomas Company
Started in 1853, the Seth Thomas Clock Company manufactured many beautiful styles of mantel clocks. Yet, many collectors feel it's their Adamantine mantel clocks--generally referred to as Black Mantel Clocks--that are their most memorable and highly desired. The Adamantine clocks were made as a much less expensive version of the French mantel clocks of the 1860s. The cases of the French clocks were made of marble, onyx, or slate, while the Black Mantel Clock was made out of Adamantine, a celluloid veneer that mimicked natural materials and attached to the case with glue. The veneers were made in:
Solid white
Solid black
Patterned like marble
Patterned like onyx
Patterned like wood grain
Additional Styles of American Mantel Clocks
Introduced in the 1840s, the Ogee clock featured a curve in its molding that is shaped like an ''S''. This design became very popular and a number of variations developed.
Resembling a church steeple, the steeple clock was designed by Elias Ingraham in the mid eighteen century. The steeple clock has column-like sides and a triangle shape front, resembling the steeple of a church. Two of the many variations of the steeple clock are the beehive and the double steeple clock.
Art Deco mantel clocks feature exquisite art deco designs and figures, often created in a severe, geometric shape. Many were made out of a gorgeous combination of materials such as silver, onyx, and gilded metal and have removable garnitures.
Other Early American Clock Companies
Mantel and shelf clocks became a popular item in American households, and the demand caused the growth of the clock manufacturing industry throughout the eastern United States. In addition to Ansonia and Seth Thomas, there were many high quality clock manufacturers, many of which are still in existence today. Some of these early American clock companies included:
The Gilbert Company
Chelsea Clock Company
The Sessions Clock Company (E.N. Welch Manufacturing Company)
Chauncey Jerome
New England
Herschede Hall Clock
Howard Miller
Hermle
The Waterbury Company
Lux Manufacturing
Westclox
How Much Are Mantel Clocks Worth?
Mantel clocks derive a large percentage of their value from their manufacture. Renowned names like Seth Thomas will bring in hundreds more in profit than unmarked or lesser-known manufacturers' clocks will. That being said, other factors that contribute to these clocks' values include their design, the materials used to make them, their age, and their provenance. Thankfully, there's an abundance of these clocks on the market, and you can find rather cheap examples for under $20 if you're not partial to any specific style. However, if you're interested in having a specific style of clock, then you might have to be willing to pay a little more. Don't worry, though, these clocks are usually never sold for more than $300.
Here are a few examples of the types of mantel clocks that've recently sold on eBay.
Where to Find Antique Mantel Clocks
Estate sales, antique stores, and auctions are all excellent sources for mantel and shelf clocks. Due to their compact size, these clocks are easy to ship, which makes them an excellent item to purchase from online sources like:
Take Time Decorating Your Mantel
Their compact size and arresting historic look makes antique mantel clocks a steadily popular collectible among avid antiquers and interior designers alike. Whether you like yours to reflect the opulence of generations past or like them to have a more streamlined appearance from recent decades, these mantel clocks will be a timeless addition to whatever space you add them to.