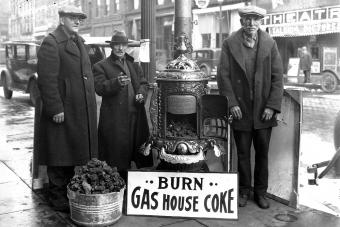 Antique parlor stoves look like something that Wednesday Addams and her family would cook a poison apple pie in. Marrying both form and function, these old cast-iron stoves had a multitude of purposes. And they're petite enough to survive all of those 'modernization' attempts where old appliances get shipped off to die. While we've got central heating and electric stoves to do all the work, these unique stoves have their own place on the antiques market.
Victorians and Their Parlor Stoves
By the 1870s, using a contained vessel to heat the house and cook your food wasn't anything new. But, there had been little attention given to aesthetic detail, and if there was one thing that Victorians couldn't get enough of, it was turning the mundane into something spectacular.
By definition, antique parlor stoves are small-scale stoves that developed in the 1870s and were popular through the 1920s. Situated in the parlor (hence the name), these stoves were used in a similar way to space heaters. They helped keep those intimate rooms cozy. However, these teeny stoves weren't known for their power, but for their ornate designs. But they weren't entirely useless. You could absolutely cook some biscuits or warm up a light lunch in them while you chatted with friends.
Antique Parlor Stove Features
On top of their petite size are a ton of characteristics you can use to identify an antique parlor stove.
The lids can be lifted or removed. This was a helpful function that wasn't always available to older stoves.
They're typically built on cabriole legs. These legs have that defined swirling s-shape.
Almost all of them are made out of cast iron. It's a fire-resistant metal that was easily accessible at the time.
They come in several geometric shapes. On top of round stoves with square beds, there are square, trapezoidal, hexagonal, and more.
They're decorated with gothic-inspired sharp lines.
They often feature figural scenes of nature, women, and folklore.
Some more luxurious stoves have expensive features like enameling, gilding, etc.
Antique Parlor Stove Manufacturers
Because parlor stoves were a staple in moderately wealthy to high-society homes, there are too many manufacturers to count. However, here are just some of the big names to come out of the period:
Abbott & Lawrence
Boston & Maine Stove Co.
Bridge, Beach and Company
Walker & Pratt Manufacturing Co.
Weir Stove & Range Co.
How Much Are Antique Parlor Stoves Worth?
It's fascinating that something so small can come with such a big price tag. Genuine antique parlor stoves run the gamut of prices, thanks mostly to who's interested in buying them and how much they're willing to pay. Today, most unrestored stoves sell for about $200-$1,000.
For instance, this Art Deco parlor stove that was made at the tail-end of the parlor stove's era recently sold for $795 on eBay. While a late-parlor stove would normally bring in less interest, it's this one's eye-catching coppery enamel that makes it so special.
However, the real money is made in selling restored parlor stoves. Completely cleaned and repainted Victorian parlor stoves can easily sell for $2,000-$3,000. For example, this beautiful deep blue fully restored parlor stove is currently listed on Good Time Stove Co.'s website for $3,150.
What makes restored parlor stoves so valuable is that they're often equipped to use not only wood and/or coal, but also to cope with electrical hookups. In this case, the custom modifications don't drop the prices but make them more worthwhile to people hoping to install them in their modern homes.
The Tiny Stoves to Get Fired Up About
More is more when it comes to things made in the Victorian fashion, and parlor stoves are no different. They're ornate, highly decorative, petite, and have that gritty edge to them that only gas-lamp cobblestone streets could inspire. Although these stoves aren't rare per se, they're well worth investing in, and they can bring a certain Addams Family vibe to your humble abode.