Whether you choose to stick with antique styles or unique clocks from the Atomic Age, there are thousands of types of collectible clocks available . In fact, the most difficult part of collecting may be narrowing down your choices to just one or two of your favorites.
Types of Collectible Clocks
People collect clocks for their beauty, historical and scientific value. Clocks can serve many purposes, from being used as exact scientific instruments to being displayed as beautiful antique objects like jewelry and vases. Whatever the reason that you collect them is, the loud ticking of an antique clock evokes nostalgia among many collectors.
Categorizing clocks into groups can be difficult because of the various names given to them. Savage and Polite's Antique Clock Price Guide has 44 categories of clocks represented. You can see images of each style of clock on their site. Collectible clocks can be broken down even more by adding subcategories. The following list of collectible and antique clocks is a list of the most popular clocks to collect, but there are other types and styles, too.
Advertising Clocks
Advertising clocks were created by manufacturers to give to customers as an incentive. They usually have the advertiser's logo on the face or elsewhere on the clocks and may have other decorations as well. They were typically stylized into wall clocks or shelf clocks. These types of clocks have become quite popular, meaning that collectors should be wary of fakes. Without having appraisal documentation, one way you can try to assess your clock's legitimacy is by looking at other authenticated clocks, as they'll give you a sense for what your clock should look like.
Beehive Clocks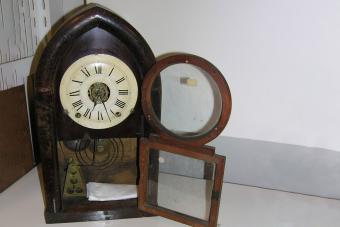 Beehive clocks are a type of shelf clock that has a case with curved sides, often fashioned into a pointed archway as the sides meet at a peak in the center of the top, creating the eponymous beehive or church window shape.
Popular beginning in the 1840s and into the early part of the 20th century, these clocks have a look similar to the stylistic hallmarks of Gothic architecture, which people were fascinated with at the same time. One of these beehive clocks, a mahogany veneer one from the early 19th century was even featured on Antiques Roadshow.
Blinker Clocks
One of the most well-known Blinker clocks--a distinctively vintage style--is the Felix the Cat Blinker that was popular in the early to mid-20th century. On Felix specifically, the eyes moved in time to the pendulum which looked like the cat's tail. Sometimes only the eyes moved depending on the character. While cats were a popular thematic choice for this type of clock, there were other figures as well.
As with all antiques, there are reproductions and fakes that muddle the auctions market, so it's best to be careful about where you source your clocks from. For instance, fake blinker clocks are often made in China; many are of poor quality.
Cuckoo Clocks
Cuckoo clocks were invented in Germany in 1730, but they didn't really become popular until the late-Victorian era. These weight-driven clocks are most commonly seen as wall clocks, although there are a few that were made as spring driven shelf clocks. A small cuckoo bird or other figure is housed in the case and emerges from a door, or doors, at the top to announce the hour and half hour. In general, these clocks are highly decorative and usually feature carved animals and natural motifs surrounding the 'cuckoos' exit.
Figural Clocks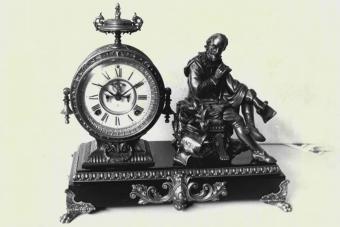 Figural clocks feature a statue of a person or an animal as part of the design, and have been created by various companies over the years. Yet, one of the most popular of these is the Ansonia Clock Company. The manufacturer was the primary manufacturer of these figural clocks during the 19th and 20th centuries, and you would've found multicolored examples of these gorgeous creations littered around wealthy Victorian homes.
Kitchen Clocks or Gingerbread Clocks
The Gingerbread clock was a purely American clock that was produced in mass quantities in the latter 19th century. It was found in the kitchens of lower and middle-class homes. The oak or walnut cases were press-molded and were highly decorated. All of the period's major clockmakers made this type of clock. Oak kitchen clocks can be found for $100 and up, while the walnut variety may go for considerably more. This type is rarely reproduced, meaning that most gingerbread clocks are authentic.
Tall Case Clocks
Tall case clocks may also be called long case clocks, the origins of which their colloquial name of grandfather and grandmother clock explains. These clocks were first made in the 17th century, and stand on the floor and have weight driven movements contained in the upper part of the clock, also called the hood. The tall case allows for the weights to drop the correct distance to keep proper time and it also protects them.
Unfortunately for some, the clocks reportedly fell out of favor in the late 19th century. As ceiling styles got lower, sometimes the clocks were cut down or the decoration on the top was removed. Clock faces were painted or changed to give an updated appearance to the clock. These changes can take the value of a clock from $100,000.00 down to $10,000.00 or less. Tall case clocks are expensive when authentic and in good condition. Be wary of a grandfather clock with a price that seems too good to be true.
Collectible Clock Values on the Auction Circuit
While clocks, antique and vintage alike, aren't necessarily the most valuable collectible or in the highest demand, there're a ton of them out there for you to find. From antique stores to consignment shops to your favorite online auction websites, these clocks can be sourced from just about anywhere. Thanks to their abundance, you'll always be able to find one of these collectibles in your price range. Commonly, the smaller the clock, the smaller the price range. For instance, mantle clocks sell for comparatively less (in the low hundreds) to the larger grandfather clocks (which can sell in the upper hundreds to low thousands). Similarly, any vintage clocks with decorative designs and valuable materials will be worth more than those made out of basic materials.
Take these collectible clocks, for example, which have recently sold at auction:
Where to Buy Vintage Clocks
It's important to buy clocks from well respected antique dealers and stores since they have incredibly delicate movements. Also, make sure that you know and understand the seller's return policies and guarantees. Given that clocks can be on the heavier side, it's best to buy your clock locally if at all possible so that you won't have to pay for shipping.
Since that's not always possible, there're a few online venues where you can purchase from reputable sellers.
Skips Clock Shop - Ships Clock Shop is a Vermont shop that has high recommendations that sell and repair clocks both locally and online.
Delany Antique Clocks - Delaney Antique Clocks is located north of Boston, Massachusetts and they specialize in tall case clocks.
Old Timers Antique Clocks and Clock Repairs - Based in New York, Old Timers Antique Clocks and Clock Repairs is owned by a clock repairmen who specializes in antiquarian horology, and you can have antique clocks of all kinds restored and repaired here.
How to Collect Clocks
Some people collect clocks by category; they may have an entire collection of advertising clocks, for example. Others prefer to collect clocks by certain manufacturers or by certain categories, like the Blinker clocks. Ultimately, it doesn't matter what type of clocks you collect or if your collection has any rhyme or reason, as long as you find the pieces that you love.
Time's 'a Ticking for These Quaint Collectibles
Whether you're feeling nostalgic for the booming 'bing-bong-bing-bong' of your grandparent's grandfather clock or you've always wanted to get your hands on one of those infamous kit-kat clocks, the fact remains that old clocks can bring a sense of lived-in domesticity to whatever place they're added to. Elevate your home by adding a collectible clock to your decor today.