From music historians to jam band artists, collecting vintage audio equipment is a hobby that anyone can have. You can collect it for the aesthetics or to use in recordings yourself; either way, make sure that you have a lot of cash on hand for these expensive collectibles.
Vintage Audio Equipment From an Electric Period
From the 1940s to the 1980s, there was a golden era in audio equipment. Technology was rapidly advancing and musicians continued to challenge the boundaries of the tech they used, creating new needs and ideas for future innovations. Due to the iconic sounds and effects that the equipment made on beloved historic recordings, collecting vintage audio equipment is super popular today.
Receivers
Considered the coup de grâce of the vintage audio finds, to the non-trained eye, receivers somewhat resemble DVD players and clock radios of the late-20th century. These devices allow audio to be converted into something which can be projected and have other specialized functions as well.
Typically, the best vintage receivers were born out of the 1970s, when brands like Pioneer took them up a notch. In doing so, receivers from the 1970s are some of the most valuable on the market. Take this 1970s Marantz 2230 receiver that's in excellent condition--it's listed for $995. If you thought that was expensive, take a look at this Pioneer SX 1280 receiver from 1978 that's currently listed for $3,800.
Some of the major brands to look for are:
Pioneer
McIntosh
Marantz
Kenwood
Sansui
Sherwood
Sony
Microphones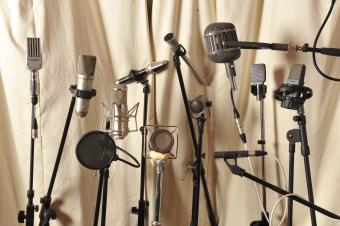 Whether you're performing onstage, in your bedroom, or recording a new studio album, you'd be lost without a microphone. These devices are designed to take in sound waves and transmit them to whatever device they're hooked up to. While microphone contraptions have been around for centuries, it's within the 20th century that the technology really developed to create increasingly successful audio tools, the most popular of which was the ribbon mic, condenser mic, and dynamic mic.
Of course, you're probably most familiar with historic mics based on their changing designs, but each of these different designs marked a shift in the technology and helped serve a different audio purpose. Yet, when it comes to vintage microphones, a few of the God-tier finds include the Neumann U47 (1940s-1950s), AKG C12 (1970s), and the RCA 77-DX (1950s).
Three of the top of vintage microphone brands that producers and performers still love are:
When it comes to pricing, microphones aren't controlled by age, with the oldest being worth the most; rather, vintage mics are valued based on being in working order, their sound quality, and their brand/model. High-quality restoration pieces can easily run you $800-$1,000. For example, this RCA 74-B ribbon microphone from the 1950s recently sold for $800.
Speakers
Speakers revolutionized how music intersected with how people socialized; take the speaker wars of the 1970s and 1980s, where serious music nerds and AV enthusiasts customized their speaker set ups with the same amount of care that gamers put together their custom computers. However, one thing you want to be sure of with vintage speakers is that they've been properly cleaned and that their hardware's been checked. Over time, dust and debris can build up and muffle what was once a clear sound.
Yet, in true music fashion, all of the bits and bobs are going to cost you. While you can find more affordable vintage speakers from quality brands (in low-quality models), the good stuff can cost you a couple hundred to a few thousand dollars. For example, this non-functioning JBL L77 speaker set is listed for $400, while this fully functioning Klipsch speaker duo from the same decade is listed for $3,695.
If you're looking at picking up a vintage speaker, here are a few trusted brands that collectors and musicians like today.
Kenwood
Klipsch
Acoustic Research
Altec-Lansing
JBL
Advent
Record Players and Turntables
Undoubtedly, your parents or grandparents have waxed poetically about how the only way they could listen to music was on their record player or Victrola depending on how old they were. Since there's been a huge resurgence in vinyl sales (at a time were vinyl was projected to die out in the same way that 8-tracks and cassette tapes did), the tech you're probably the most interested in are the vintage record players and turntables.
What's the difference, you might ask? Record players have the same components as a turntable, but they have a built-in amplifier that projects the sound outwards. In comparison, turntables have to use an external amplifier of some kind to get their sound out. In comparison to other audio equipment, record players and turntables are on the whole less expensive. Of course, there are rare instances where individual ones can cost thousands of dollars, but most vintage examples fit comfortably between the $100-$2,000 range. For instance, this completely serviced and functioning Dual 1019 turntable is currently listed for $530.01.
A few vintage record player brands that you don't want to pass on are:
Kingston
Yamaha
Thorens
Acoustic Research
Places to Purchase Vintage Audio Equipment
Since a lot of vintage audio equipment can still be used today, there's a ton of different places that sell it. Often, these retailers also restore or refurbish their wares to some degree, meaning that you might pay a little extra for a ready-to-use product.
It's much harder to find quality vintage audio equipment in-person than it is online, and these are just a small sample of the many ones out there:
Get Your Vintage Audio Equipment Restored by Professionals
It's majorly important to get your audio equipment cleaned, refurbished, and restored by a professional. If you don't have experience with doing this, it's not recommended that you just watch a YouTube video and give it a try. That's because historic electronics require upkeep and replacement parts or conversions done to them that you need experience to do properly. The last thing you want to do is accidentally shock yourself when you plug in a 1960s amp you thought you'd fixed.
Curiously, social media sites like Instagram are great places to find small business owners who do repairs on vintage audio equipment. Yet, if you're not quite sure where to start, here are a few of the top online places to get your equipment professionally restored or refurbished.
Austin Stereo - Austin Stereo is such an in-demand restoration business that they currently have a 5-month waitlist; yet, if you can wait to have your piece worked on by experts, then you can contact them via their website to get a quote and added to their wait list.
Sounds Classic - Sounds Classic sells, buys, and restores audio equipment of all kinds, from the super coveted to the dusty relics of old video stores. Keep in mind that they do have a $68 estimate fee that they add to their bill.
Crossed Paths Vintage - Averaging about 150 high-quality restorations per year, Crossed Paths Vintage is a go-to for having restoration on 20th century audio equipment complete.
When in Doubt, Buy Vintage Inspired
If you don't feel like you understand the audio process enough to commit to spending hundreds or thousands of dollars on genuine vintage equipment, then there is an option for you. You should look into buying vintage inspired equipment that has modern hookups like bluetooth connectivity or USB-C outputs but still has the design of a historic piece. For instance, you can purchase Shure's 55Sh Series II mic for $200 and get that grilled-mic look with a modern sound.
Makin' Music the Way That Your Parents Did
Take a page out of your parent's or grandparent's playbook and make a little music using their technology. To create the ultimate vintage aesthetic and sound, collect a few pieces of vintage audio equipment and see how they can transform your vibe.