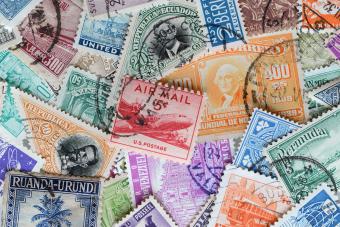 Imagine going through the items in your grandparents' attic when you come across a box of dusty old correspondence. The envelopes are yellowed from age, and the handwriting is beautiful and precise. While the most sentimental value lies in the nostalgic messages on the pages they contain, the most monetary value may actually be glued to the envelope itself - the postage stamp.
It's hard to imagine that a tiny little square glued to an envelope could be worth anything, but the most valuable stamps show just how lucrative collecting them can be. And, there are still plenty of valuable stamps out there for even the most novice stamp collectors; people make exciting new discoveries of long-lost stamps regularly. Just maybe, you'll find one of these valuable treasures sitting inside a box of your grandparents' old things.
American Stamps Worth a Fortune
| | |
| --- | --- |
| Most Valuable American Stamps | Record Sales Price |
| Abraham Lincoln Z Grill (1867) | $1.6 million |
| Benjamin Franklin Z Grill (1868) | $3 million |
| Hawaii Missionary Stamps (1851) | $200,000-$500,000 |
| Inverted Jenny (1918) | $1.74 million |
| Blue Boy (1947) | $1.18 million |
Stamps feel almost novel today because of how few letters we actually mail, but they aren't that old of an invention. The first American stamps weren't issued until 1847, but it wasn't long before people grew fascinated by the different colors and pictures on envelopes from across the country. In a period when a neighboring state felt very far away, stamps connected you to the world, and they became a highly popular collectible. Some American stamps regularly sell for millions of dollars.
Abraham Lincoln Z Grill - 1867
Issued just two years after Lincoln's assassination, this 15-cent stamp bears a portrait of the 16th President of the United States. Created as one of the first new designs for a post-Civil War America, these Abraham Lincoln stamps are important for what they meant to the country as a whole. It's one of the highest valued American stamps, with one selling at auction in 2019 for an impressive $1.6 million.
Benjamin Franklin Z Grill - 1868
Benjamin Franklin is one of America's most famous founding fathers. He's known not only for his contributions to establishing the United States, but also for his whacky inventions and scandalous personal life. Throughout the 19th century, the United States printed stamps with his face on it, but these common stamps aren't worth much today. The real gems of the collection are the 'Z Grills.' Created with a 'z' punch that left indentations meant to help ink seep into the stamp and make it impossible to reuse, these stamps weren't very effective. They were recalled in 1870. Very few survive today - an astounding two, to be exact. One is in a permanent collection at the New York City Public Library, and the other was last seen in 2005 being traded in a private negotiation. It's said to be worth $3 million.
Hawaii Missionary Stamps - 1851
Long before Hawaii became an American state, missionaries found their way to the islands. A collection of stamps was created specifically for them so they could send letters home. Fewer than 20 examples of these stamps are known to exist today. Generally, these oddball stamps can sell for about $200,000-$500,000 at auction.
Inverted Jenny - 1918
An infamous stamp that even many non-stamp collectors know about, the 'Inverted Jenny' stamp was released on May 10, 1918. It's known as the Inverted Jenny because of the immediately recognizable upside-down Curtiss JN-4 biplane printed on the stamp. It's believed that most of these stamps were destroyed, except for a single mythic sheet of 100 stamps sold by a postal clerk in Washington, DC. In 2016, a pristine example of the Inverted Jenny sold for $1.35 million at a Siegel auction, and a block of four sold in 2019 for $1.74 million.
Blue Boy - 1947
Only seven of these Alexandria provisional stamps have surfaced, with only one being a delightful blue color. In 1847, this "Blue Boy" stamp was sent along with a romantic letter that was meant to be destroyed after being opened. This stamp and envelope combination sold in 2019 for $1.18 million.
Most Valuable Stamps From Around the World
| | |
| --- | --- |
| Most Valuable International Stamps | Record Sales Price |
| Two Penny Blue (1840) | $1.7 million |
| Mauritius Post Office (1847) | $1.67 million |
| Baden 9 Kreuzer Error (1851) | $1.5 million |
| Swedish Treskilling Yellow (1855) | $2.3 million |
| British Guiana One-Cent Magenta (1856) | $9.5 million |
| Sicilian Error of Color (1859) | $2.5 million |
| Inverted Pair Dr. Sun Yat Sen (1941) | $707,000 |
| The Whole Country is Red (1968) | $2 million |
If you're American, you may be partial to stamps featuring historical motifs like Ben Franklin and George Washington. But, if you're interested in making the most money, turn your eyes to the rest of the world. When it comes to stamp collecting, the global market is where you'll find some of the most valuable stamps.
Two Penny Blue - 1840
Before the USPS released the forever stamp that allows everyone to send just about anything for the price of a single stamp, stamps came with different face values. Heavier items required either a ton of cheap stamps or a few expensive ones. The UK's Two Penny Blue stamp was intended for heavier items. Because it wasn't needed as often as cheaper stamps, far fewer survive today. The most recent to sell was featured in a 1992 Swiss auction, and it sold for $1.7 million.
Mauritius Post Office - 1847
A tweet with a spelling mistake isn't something anyone's trying to buy for thousands of dollars, but in the stamp collecting world, something as minute as a spelling error can mean the difference between a crisp $1 bill and a briefcase full of cash. The Mauritius Post Office stamp from 1847 is one of these misprints that's worth a fortune today. Originally meant to be printed "post paid", some were printed with "post office" instead. The misprinted stamps came in both blue and orange varieties. Only 26 have been recovered so far. One sold in 2011 for $1.67 million.
Baden 9 Kreuzer Error - 1851
You can't leave Germany off the list of most valuable stamps from around the world, and they certainly bring it with their 1851 Baden 9 Kreuzer Error stamp. Originally meant to be printed in pink, a small batch was misprinted in green. For decades, people believed only four had survived, but a miraculous fifth stamp appeared in 2019. Thus far, the highest amount of money one of these stamps has sold for was $1.5 million in 2008.
Swedish Treskilling Yellow - 1855
One of the first Swedish stamps ever made, the Swedish Treskilling was supposed to be printed in green, but a collection of them ended up yellow instead. Known as the Swedish Treskilling Yellow stamp, it's a pretty rare find for the central European region. One sold in a private auction to Count Gustaf Douglas for an undisclosed amount of money, but the previous sale from 1993 made it worth $2.3 million.
British Guiana One-Cent Magenta - 1856
The British Guiana 1c Magenta stamp is well known among stamp collectors as the rarest stamp in the world. Only one has ever been found, printed with black ink on a striking magenta colored paper. Despite selling for a little over $8 million in 2021, it broke records in a previous 2014 sale when it sold for almost $9.5 million.
Sicilian Error of Color - 1859
Sicilians are proud of many things, and having one of the most famous stamps in the world is one of them. One Sicilian stamp created in 1859 was originally intended to come in a lovely orange shade. But, a few turned up in blue instead. Nowadays, only two of these blue stamps are known to exist, making them incredibly rare. The most recent one to be put to auction was in a Dreyfuss sale in 2011, and it sold for about $2.5 million.
Inverted Pair Dr. Sun Yat Sen - 1941
The People's Republic of China president, Dr. Sun Yat Sen, is the subject of another incredibly valuable stamp. Created in 1941, only one 50-stamp sheet was printed with an upside down presidential portrait. Stamp collectors salivate over the odds of ending up with one of these stamps. Thus far, only two pairs have surfaced. One of these pairs sold in 2018 for $707,000.
The Whole Country Is Red - 1968
The effects of Mao's communist revolution in China are still felt over half a century later. Its effects have even trickled down into collectors' spaces with an original 1968 stamp that makes stamp collectors go weak in the knees. The stamp represents Mao's political revolution. This special stamp features a color misprint, with Taiwan mistakenly colored in white instead of red like everything else in the image. Although the stamps were recalled, a few have survived. One sold for $2 million in 2018.
What to Do When You Find Old Stamps
Your grandmother collected stamps as a child, and now she wants you to help her research her collection's value today, but you're no expert. Knowing where and how to find information about stamps and their value can help you help grandma.
Visit Philatelic Society Sites for Help Figuring out What You've Got
When it comes to stamp collecting, it's better if you don't take a 'I've got the manual in front of me, how hard can it be?' approach. There are far too many resources from seasoned professionals who've made stamp collecting their entire life to spend hours trying to make out the fine foreign print on that antique stamp.
The American Philatelic Society is just one that offers their own stamp identifier for sale on their website. They also recommend looking for a copy of the Scott Postage Stamp Catalogue at a local library to reference, since it's the definitive catalogue that collectors use today.
Sell Your Stamps Through the Right Source
There's almost always a market out there for just about any old stamp, especially one from the 19th century. Whether you can make Rockefeller money off of it is another thing entirely. If you think you've got one of the really rare stamps based on catalog references and perhaps an appraiser's assessment, you can contact some of the best auction houses around the world (Sotheby's and Bonhams, for instance) to see if they'd like to sell your stamp. This is where you can make the big bucks - but there's no guarantee, and the auction house always makes a premium off the sale.
Don't count out private sales or trades, though! A few of the most valuable stamps have sold through private transactions, and those are usually brokered through the collectors' circles. So, if you've got a highly desirable stamp, you can always reach out to local collectors' groups to see who might be interested in buying it.
For most people, you'll find that selling your stamps through less well-known online platforms is much quicker. Places like eBay, Etsy, and RubyLane are just a few of the many websites where you can quickly sell lower-value stamps.
A Whole World of Stamps
While stamp collecting may not be the coolest hobby around, it can certainly be exciting when you come across the right stamps. Many of the most valuable stamps were discovered by random people like you and not those who have devoted their lives to collecting. While stamps brought the world to people of the 18th and 19th centuries, finding the right few could take you to the world; or at least on fantasy vacation anywhere in the world, courtesy of the cash you'll make when you sell them.