You don't have to be an avid antiquarian to shop at rare bookstores. For many, the best place on earth is being surrounded by the musty smelling pages of old books. Thankfully, even the most niche books from distant and recent history that you might be interested in can be found at the countless rare bookstores around the world.
What Rare Book Evaluation Looks Like on Paper
The first step for comfortably shopping at a rare book store is understanding how they evaluate their goods and what the terminology they use is. The IOBA, The Independent Online Booksellers Association, has a comprehensive glossary for you to reference, and for further information, the book ABC for Book Collectors by John Carter is excellent.
Simply, booksellers describe books by their condition. Most antique book sellers will describe the books they're selling in the following ways:
As New means that the book is as it was when first published.
Fine describes a book that is not as crisp as As New but still has no defects. If a dust jacket shows wear, it will be noted.
Very Good allows for some wear but it must be minor and notation should be made.
Good means that there may be some small tears or wear, but all of the pages are intact. The seller must make a note of the exact damage.
Fair is used when a book has all of its pages but is worn and may lack end pages. Damage will be noted in the description.
Poor means that the book is so worn that it is only a reading copy; it has no value as an antique or rare book.
Knowing how books are described by the sellers can help you make the best decisions at the register. If you've got a smaller budget, you typically won't be picking rare books from the 'as new' or 'fine' category.
How to Choose Reputable Sellers
Antique books are a fascinating look at the past, both through the written word and the illustrations they contain. However, as with every sales trade out there, not every antiquarian dealer is as reputable as the next. Therefore, you want to sus out the rare book dealers in your area using a few criteria to verify that they're someone worth doing business with.
Check for trade memberships - If you plan on buying one antique book or hundreds, you should choose reputable sellers that belong to trade associations and have been in business for a while.
Ask for the proper certifications - Autographed copies should come with a certificate of authenticity. This ensures that the autograph is authentic. Booksellers without the proper paperwork aren't worth buying from.
Understand the return policy before purchasing - Always read and understand the return policy before placing your order. Ask questions until you are satisfied with the answers.
Tips for Buying and Selling at Rare Book Stores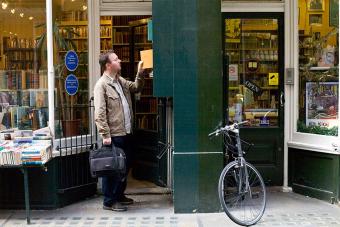 Every rare book dealer started off with their first sale and every rare book collector had their first acquisition, and you should be proud of your first, too. So, here are a few surefire tips that seasoned dealers and collectors might not have had to help you get a great deal on your first rare books.
Do a little research on recent sales beforehand - To ensure that you're not getting over charged or offered too little, you should do a little investigating as to what books like yours (similar titles, authors, editions, and so on) have recently sold for.
Know the return policy ahead of time - It can't be stressed enough that you should know the return policy on rare books before purchasing any, as this should be customary for all valuable collectibles.
Don't be fooled by marketing schemes - The press and the trades will always try to sell the idea that first editions are the most valuable editions; however, this isn't always the case. Make sure you don't overpay for a first edition because of its status rather than its actual rarity.
Learn how to spot signs of moisture right away - Water damage can be the death of a rare book sale as getting the book's pages, binding, and covers professionally cleaned (if it's possible) is an expensive nightmare. Carefully examine every book that you're thinking about buying or selling for signs that moisture's lingering in the book and beware purchasing those with even a hint of tear drops on the pages.
Awesome Rare Book Stores to Visit In-Person and Online
Most towns have at least one used bookstore that has a few antique and vintage books in it. If you can't locate a store near you, then you have the option of a huge variety of online antiquarian dealers with massive collections and international shipping.
Half Price Books
Half Price Books is a chain of book stores that's located in many cities across the United States. Not only do they carry used books at excellent prices, but they usually have a large selection of vintage tomes in a special section of the store. If you don't have a Half Price Books store near you, then you can browse the online store simply by typing in titles or authors into the search engine.
Bauman Rare Books
Bauman Rare Books is an excellent rare book dealer with three separate locations in the United States: New York, Philadelphia, and Las Vegas. Operating since 1973, they're one of the premiere rare book dealers in America, well-known for the quality of their wares. You can contact them via email or phone or visit their locations throughout the year.
Abe Books
Abe Books is an online book dealer that allows you to search for thousands of book sellers in an instant. You can peruse their list of available texts to see which books match your preferences and your budget. Each bookseller has different methods of payment, shipping, and other details so be sure to read the information carefully.
The Strand
While New York's infamous bookstore, The Strand, is best known for its massive collection, it does have a substantial rare book room filled with rare books people can browse through. You can even rent the space for personal events.
Antiquarian Booksellers Association of America
The Antiquarian Booksellers Association of America (ABAA) has a search engine that allows you to search members' sites for the books that you're looking for. You can buy the books through the site or go to the member site to deal directly with the seller. ABAA does accept credit cards as well as Paypal, making it easy to buy any books from them.
Biblio
Biblio is an online resource with hundreds of booksellers in their database. You search for a book by title, author, and other criteria and get a listing of all books available. You can purchase with a check, credit card, or Paypal as well as buy gift certificates for your favorite bibliophile.
Vintage Cookbook
If you're a vintage cookbook collector, you'll love Vintage Cookbooks. While the books that're offered frequently changes due to fluctuations in stock, they usually have books from as early as the late 19th century to modern manuscripts listed. Though the nice, large images of the books and detailed descriptions make the site easy to navigate, the fact that the company only takes checks or money orders makes it more difficult to shop from.
Argosy Books
Argosy is a book store that was founded in New York in 1925 and is still family owned today. They specialize in Americana, first editions, autographed copies, art, antique maps & prints, and more, and they accept all major credit cards, Paypal and personal checks. Be sure you read descriptions carefully; the return policy only allows for returns if their description was not accurate.
Get Lost in the Pages of a Rare Book
A good book doesn't have to be a new book; rare books with their special covers, unique smells, and historic stories can hold their own against the New York Times' bestseller lists. The best places to find these books are the online and brick and mortar rare bookstores around the world. So, challenge yourself to take a break from your usual stomping grounds and visit a new (old) bookseller and see what books catch your eye.