If you're like most of us, a 50-cent piece sure did seem like a treasure when you were a kid. Turns out, that half dollar might actually be worth a lot. Some of the most valuable half dollars sell for thousands or even millions of dollars to collectors who prize them.
Even beyond their face value, many half dollar coins actually contain real silver. This gives them intrinsic value, even if they are worn or have seen heavy circulation. Knowing what to look for can help you spot the most valuable half dollars in your pocket change or coin bank.
List of the Most Valuable Half Dollars
No matter what type of coin you're collecting, there are a few things that can make it valuable. One is rarity. Pieces with minting mistakes or super low mint numbers are more valuable than those with a lot of examples. Another factor is condition. A coin in near mint condition will always be worth more than the same coin in rough shape. The thing is, with silver dollars, there's a third factor at work: metal content. Every half dollar minted before 1971 contained silver, making these older examples almost always worth more than 50 cents.
| Half Dollar | Value |
| --- | --- |
| 1796 16 Stars half dollar | $1,800,000 |
| 1794 Flowing Hair half dollar | $1,800,000 |
| 1797 half dollar | $1,560,000 |
| 1838 half dollar proof | $763,750 |
| 1795 Flowing Hair half dollar | $552,000 |
| 1801 half dollar | $420,000 |
| 1839 half dollar proof | $299,000 |
1796 16 Stars Half Dollar
What is the most valuable half dollar? You probably won't be surprised to learn that it's an old one. Early in the history of the US Mint, the half dollar featured a profile portrait of Lady Liberty. Although there were a lot of half dollars minted in 1795, there were far fewer made in 1796 and 1797. The 16-star version is even rarer, and it's virtually impossible to find in nearly pristine condition (this is a coin that's over 200 years old, after all). One sold at auction in 2023 for $1,800,000.
1794 Flowing Hair Half Dollar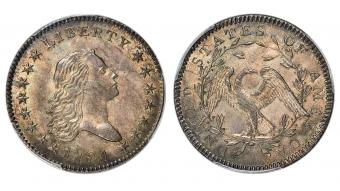 Tied for the most valuable title, the 1794 Flowing Hair half dollar also sold in 2023 for $1,800,000. This coin is just as rare, even though it's impossible to find in perfect condition. Although the US Mint struck about 2,000 half dollars in 1794, 10% of them didn't meet standards and were immediately melted down. This coin started out as rare because of that. Add to that the unpopularity of the Flowing Hair design, which was redone soon after.
1797 Half Dollar
The 1797 half dollar is another incredibly rare example. Fewer than 4,000 were ever minted, and we're talking about a coin from over two centuries ago. These are not easy to find, especially in good condition. Collectors estimate there may be 324 still around. One sold for $1,560,000 in 2023.
1838 Half Dollar Proof
A proof coin is one that never entered circulation, so they are often in incredible condition. The thing is, they're nearly impossible to find in some years. The 1838 half dollar is one of those. In fact, experts believe this half dollar is the first proof coin made, and there were probably fewer than 20 struck. Add almost two centuries of time passing, and you get one of the rarest half dollars out there. One sold in 2014 for $763,750.
1795 Flowing Hair Half Dollar
Like the 1794 version, the 1795 Flowing Hair half dollar is very, very rare. Even less common in pristine condition, examples with crisp details can sell for a premium. One of these coins, featuring Lady Liberty in profile with flowing hair, sold for $552,000 in 2021.
1801 Half Dollar
In 1801 and 1802, the US Mint changed its design for the back of the coin, featuring a heraldic eagle on the back of the half dollar. Like all mint transitions, this resulted in some different combinations of dies. Add in that this coin is over 200 years old, and an example in mint condition can be worth a fortune. One sold in 2023 for $420,000.
1839 Half Dollar Proof
Like the 1838 version, the 1839 half dollar proof is super valuable. Both were struck in the New Orleans Mint, and both are considered some of the most valuable half dollars you can collect. The 1839 half dollar proof is actually even rarer than the 1839 version, since there are only four known examples. One sold for $299,000 in 2012.
Most Valuable Kennedy Half Dollars
The very most valuable half dollars tend to be the oldest, but that doesn't mean that modern examples are only worth 50 cents. The Kennedy half dollar was first issued in 1964, and they saw very heavy circulation during the 1960s. They were 90% silver in 1964, although this was reduced to 40% silver the next year and phased out completely in 1971.
The most valuable Kennedy half dollars are those from 1964. One in pristine condition sold for $108,000 in 2019.
Quick Tip
If you have Kennedy half dollar, check the date. Those made before 1971 are usually worth the most, and examples from 1964 are especially valuable.
Grab Your Magnifying Glass
Whether you get a 50-cent piece in your change or just have one in an old jar of coins, the most valuable half dollars tend to be older. Grab your magnifying glass and look for coins in great condition with dates from years long past. They might just be worth a lot.