Vintage Libbey glass is easily collectible because of its fun, unique patterns and practical uses. The Libbey line-up features a variety of tumblers and cocktail glasses that are perfect for the whole family. Take a look at this historic company's success and see why people are still collecting their vintage glasses to this day.
The Libbey Glass Company Begins
The New England Glass Company began in East Cambridge, Massachusetts in 1818, and the corporate owner's son' Edward Drummond Libbey moved the company to Toledo, Ohio some 70 years later. By the early 20th century, the company had changed its name to the Libbey Glass Company and had begun producing machine blown glassware for public consumption. The company soon partnered with designers and artists to add patterns and texture to their crystal glass tableware, resulting in many of the popular sets produced during the mid-century. Libbey actually survived the tribulations of the 20th century and is still a major manufacturer of glassware today.
Identifying Vintage Libbey Glass
Following the trends set by other glass manufacturers, the Libbey Glass Company stamped their pieces with different trademarks to indicate to buyers that they originated from that company. There are three variations on the signature Libbey trademark that can be found on vintage Libbey glassware. These include:
Double Circle - This trademark was created circa 1924 and includes a cursive capital 'L' sitting inside two circles.
Three-Segmented Circle - This trademark was created circa 1937 and includes a cursive capital 'L' sitting inside a circle that is segmented into three separate parts.
Single Circle - This trademark was created circa 1955 and includes a cursive capital 'L' sitting inside a single circle.
Types of Vintage Libbey Glass
Given that the Libbey Glass Company was just as prolific as some of it's impressive competitors were during the mid-century period, there's a wide variety of glassware that you might encounter which was manufactured by Libbey. While the designs and colors may vary, these are some of the more common pieces that you'll find examples of:
Tumblers
Collins glasses
Stem glasses
Whiskey glasses
Vintage Libbey Glass Decorations
Part of the appeal of Libbey glass is its inexhaustive designs; if you're interested in unusual or niche motifs and hobbies, chances are Libbey's made a glass with a pattern depicting it at some point in the past. Although, this does make it all the more important to verify these glasses based on their company stamps. If you're not interested in finding a Libbey pattern catalog or having it officially appraised, then you should only purchase pieces that can absolutely be identified as a Libbey based on their markings. Of the Libbey glassware you investigate, here are some of the categories that you might encounter:
Various reoccurring motifs printed in gold
Commemorative holiday designs
Frosted glass with unique scenes
Horse and carousel patterns
Animal patterns, like flamingoes
Natural motifs, like wheat stalks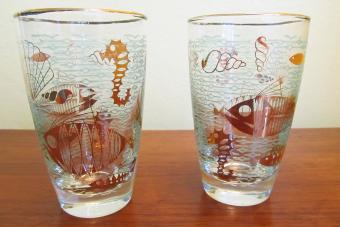 Vintage Libbey Glass Values
Libbey glassware and vintage crystal glassware are rather unique collectible because their value ranges from incredibly affordable to incredibly expensive, with a lot of variation in between. Seemingly, the most expensive pieces include rare designs and larger sets. Individual pieces are less expensive, ranging between $10 to $35 each. For instance, a 6-piece set of vintage Green Giant collins glasses are listed for $600 in one online auction while a 6-piece set of glassware commemorating the 50th anniversary of 20th Century Limited is listed for $1,400.
Collect Vintage Libbey Glass
On the whole, vintage Libbey glassware is affordable for casual collectors to pick up the pieces that catch their eye without worry about breaking the bank. Amateur mixologists in particular will really benefit from looking at vintage Libbey glassware because of the number of unique old-school cocktail glasses available for purchase. However, for how easy it is to collect them, it's not as easy to find specific patterns. This means you'll probably need to search through third-party seller websites like Etsy, ebay, Mercari, and the like for a while before stumbling across a set that really speaks to you. Yet, once you do find that set, it'll be as easy to purchase as 1-2-3.
Become a Vintage Libbey Glass Lover
If you've always been interested in collecting antiques and vintage items but haven't started because you're concerned about both spending money on things you can't use and on things that take up valuable space in your home, Libbey glass is the collectible for you. These mid-century modern glasses are safe to use today, and can bring life into your kitchen by replacing your boring, plastic glassware with fun, new designs of racing horses and swirling leaves. So, stop by your local antique store and see if you can find a tall tumbler with that trademark 'L' on the bottom; you'll be happy that you did.
Next, learn about another item and brand that originated at Libby, Pyrex bowls and their vintage patterns.