For collectors and silver enthusiasts, Wallace sterling silver offers something truly special. This silver company has a fascinating history and an array of beautiful patterns to suit every taste - from the ornate, like its Sir Christoper or Grand Baroque lines, to the simple, such as Cardinale or Palatina. Discover what makes Wallace silverware special and how to tell if a piece is valuable.
Fascinating History of Wallace Silver
Robert Wallace began his career as an apprentice for Meriden Brittania Company in Connecticut, but in 1833, he left Meriden Brittania to start his own firm, specializing just in spoons. The company was then known as R. Wallace and Sons Manufacturing Company.
1834: Earliest Pieces of "German Silver"
Wallace's main early commercial successes weren't sterling silver flatware, but rather, the more affordable alternative for the middle and lower-middle classes: "german silver", a nickel and copper alloy that contains no silver but imitates its look and feel very well. He expanded into complete place settings instead of just spoons and began extensive partnerships and production lines, becoming one of the largest flatware makers in the world.
1875: Introduction of Sterling Silver Flatware Designs
It wasn't until 1875 that Wallace, then 60 years old, introduced the first Wallace sterling silver flatware lines: Hawthorne, The Crown, and St. Leon. When Robert Wallace died in 1892, his sons (as well as his sons-in-law) led the business' continuing expansion in sterling silver, german silver, and silver plated steel.
1930s and 1940s: Iconic Sterling Silver Flatware Designs
The company expanded aggressively into silver design in the 1930s, introducing several new lines. These included Wallace Rose Point, Sir Christopher, and Stradivari. In the 1940s, patterns like the popular Grand Baroque and Romance of the Sea made the Wallace name even more famous.
1959 and After: Wallace Changes Hands
In 1959, Hamilton Watch Company acquired Wallace Silversmiths (as it was then known), and was itself acquired by Katy Industries in 1983. In 1986, Syratech acquired Katy Industries and moved Wallace to East Boston, near the original seat of American silver design and manufacturing. You can still purchase new Wallace sterling silver today, and the company is owned by Lifetime Brands.
Wallace Sterling Silver Marks to Know
If you're considering collecting Wallace silver, there are some important marks to understand. This table of Wallace sterling silver marks can help.
| Wallace Mark | Reference Picture | Description |
| --- | --- | --- |
| Initials and stag's head | | Many pieces of antique Wallace silver feature the mark of a stag's head surrounded by the initials "RW" on the left and "&S" on the right for Robert Wallace and Sons. |
| Stylized W | | Wallace also marked their silver with a letter "W" with the middle of the letter looking like crossed swords. |
| Wallace | | Some Wallace silver pieces are simply marked with the name "Wallace" in block capital letters. |
How Can You Tell If Wallace Sterling Is Real Silver?
Because Wallace made items that were silver-plated or German/nickel silver, it's natural to wonder whether you're looking a piece that's real silver. Fortunately, silver manufacturers like Wallace marked their wares with the metal content. Sterling silver was the highest silver content used by Wallace, and it is 92.5% silver. If a piece is sterling silver, it will display one of the following marks:
Wallace sterling
Sterling
925
925/100
Sterling silver
How Is Wallace Silver Plate Marked?
Silver plate is a thin layer of silver over a less valuable base metal. Wallace also marked many of their silver plate pieces, so this can also help you determine whether an item is real silver. Look for the following statements stamped on the item:
"Wallace silver plate"
"Wallace silver plate on copper"
"EPNS by Wallace"
"Luxor plate - Wallace"
If a piece is unmarked, you should assume it is not sterling silver.
Popular Wallace Sterling Silver Patterns
During its long history, Wallace has made hundreds of sterling silver flatware patterns. However, a few are especially popular with people who collect antique silver. The value of these patterns varies depending on the value of silver metal content, but the values listed below are based on the sales price at Replacements, LTD.
Wallace Rose Point - 1934
1934 saw the first production of Rose Point, an elegant floral style that suggests lace or needlepoint work. The rose design appears to be suspended over a sunken area in the handle, producing a very striking effect. Depending on condition, a five-piece place setting of Rose Point can be worth between $200 and $400.
Sir Christopher - 1936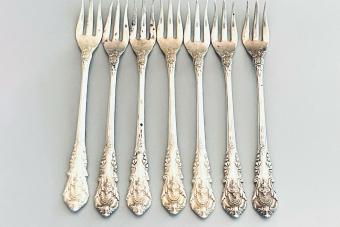 Two years later, in 1936, Wallace released Sir Christopher, inspired by Sir Christopher Wren's architecture. The pattern features elaborate scrollwork and floral motifs meant to invoke the richness of an English country estate. A five-piece place setting can range from $250 to $500, depending on the age and condition.
Stradivari - 1937
Stradivari, following in 1937, is a much simpler design, with subtle, only slightly curving lines on the edges. This simplicity reflects the influence of Art Deco design, which focused on geometric motifs. Stradivari is a less expensive pattern, and a five-piece place setting in good condition can be worth between $200 and $300.
Grand Baroque - 1941
Wallace Grand Baroque is the company's most famous pattern, released in 1941. This design established Wallace not just as a producer but as a designer and is still one of the best-selling sterling silver designs in the United States. It is a very formal three-dimensional acanthus leaf design strongly influenced by the French late Renaissance and early Baroque style, but is not as cumbersome to handle as its rich and heavy design suggests. A five-piece place setting of Wallace Grand Baroque can be worth between $300 and $500.
Romance of the Sea - 1950
The 1950 Romance of the Sea, with a stylized sea shell design, could be either formal or less formal. This reflected the entertaining needs of the era and worked well in mid-century homes. A five-piece place setting is worth between $300 and $500.
Finding the Value of Wallace Sterling Silver
If you have a piece of sterling silver flatware or even an entire service or collection, it's important to understand the value of your silver before you buy or sell your items. It's also good to make sure you know the value for insurance purposes. While the best way to do this is a professional appraisal, you can get a good sense of value using this process:
Identify the pattern - Take a look at the patterns listed on Replacements, LTD or another trustworthy source for antique silver flatware. Compare your pieces to determine which pattern you have.
Check the condition - Carefully examine your Wallace silver. Is it bent, scratched, over-polished, or damaged in another way? Does it have monograms? If it's marked or marred, this can decrease its value.
Compare it to recently sold pieces - Compare your item to similar pieces that have sold recently on auction sites. Don't use items that are currently for sale at auction, since the seller can ask any price for these. You can also check the price at retailers who specialize in flatware.
Buying and Selling Wallace Sterling Silver Flatware
Most Wallace designs, whether still in production or discontinued, are available from silver specialists. However, antique items are best found at the following sources:
Online auctions - Online auction sites, such as eBay, are a good place to look for vintage and antique Wallace sterling silver pieces. However, whether you buy or sell on eBay, beware of shipping charges and check the return policy. You want to be able to return the item if it doesn't meet your expectations.
Antique stores - You can also find Wallace pieces at local antique stores and resale shops. Antique stores have the advantage of letting you inspect before you buy and not having to worry about shipping costs. If you're selling at an antique store, you will usually pay a small commission.
Estate sales - Sometimes, an entire set of Wallace sterling silver can come up for sale at an estate sale or local auction. You may also find individual pieces there.
Preserving the Beauty of Your Wallace Sterling
If you want to preserve the beauty and value of your Wallace sterling silver pieces, it's important that you take good care of them. The patina, or subtle tarnishing in the recessed areas of a pattern, can add to the value of antique silver. When you polish your silver, do it gently to avoid removing the patina or damaging the metal. Then store your silver pieces carefully to avoid scratches. With a little extra care, your Wallace sterling will be just as gorgeous in decades to come as it is today.