Natural stone surfaces are beautiful, but if not maintained properly, they'll lose their luster and appearance. Surfaces can be made of granite, limestone, marble, slate, sandstone, or travertine and are used on the floors and countertops within bathrooms, kitchens, and foyers. Learn how to clean natural stone easily using natural cleaners. Get tips for cleaning specific areas and specific stains, along with maintenance techniques.
Best Natural Stone Cleaners
What is the best cleaner for natural stone? When cleaning natural stones like marble, limestone, and onyx, you can't reach for your regular cleaners like white vinegar, lemon juice, bleach, or abrasive cleansers. These cleaners are too acidic for natural stone and can damage or etch the stone (although some can help remove rust from concrete). Therefore, you need to use a mild cleanser like:
Mild dish soap
Flour
Commercial natural stone cleaner
Microfiber cloth
How to Clean Natural Stone Floors
Are you wondering how to clean the stone floors in the kitchen? Not to worry, you just need to grab a few items.
Dish soap
Microfiber cloth mop
Dust mop
Microfiber cloth
Steps for Cleaning Stone Floors
Now that you've got your cleaning supplies ready, it's time to get to cleaning. You must be gentle with natural stone like marble and limestone.
Grab your dust mop to remove dirt, sand, and grit.
Once any visible dust is gone, grab your soap and water.
Mix a gallon of warm water with a few drops of dish soap.
Dip your mop in the mixture and ring out well.
Mop the floor.
Use a microfiber cloth in water to rinse.
Buff dry with a microfiber cloth
You can also use this method to clean countertops with a microfiber cloth.
Easy Cleaning for Natural Stone Shower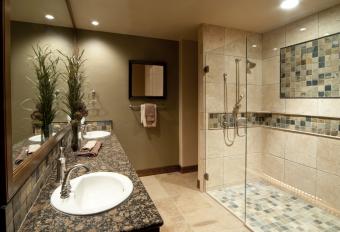 When it comes to cleaning your natural stone shower, you need to grab:
Flour (any type of flour)
Commercial cleaner
Container
Microfiber cloth
Getting a Natural Stone Shower Clean
The steps to cleaning a natural stone shower are simple. You can use a commercial cleaner or a simple flour scrub. If you have a gluten allergy, you can use almond or corn flour for wheat flour. You can also try cornstarch or baking soda.
Create a mixture of flour and water to create a soft scrub or apply a commercial cleaner.
Use a microfiber cloth to scrub the soap scum.
Rinse with water.
Buff dry with a microfiber cloth.
How to Clean Natural Stone Masonry at Home
Beyond your stone countertops, floors, and showers, you might be wondering how to clean a natural stone fireplace. This is simple. You need:
Damp cloth
Dish soap
Soft bristle brush
Microfiber cloth
Bucket
How to Clean a Natural Stone Fireplace
Before you can get to cleaning your natural stone fireplace, you need to vacuum away any loose soot.
Fill a bucket with warm water.
Add a tablespoon or two of dish soap.
Dip your bristle brush and scrub.
Wipe down the area with a damp cloth.
Rinse and wipe down again with a clean damp cloth.
Buff dry.
How to Remove Stains From Natural Stone
Daily and weekly cleaning of your natural stone are vital to keep it looking pristine. However, it might be hard to know what to do when you come across a stain. It's essential to ensure you clean up the stain as quickly as possible.
Remove as much loose debris from the area as possible with a cloth.
Wipe the area with a cloth dipped in soap and water.
Repeat this method multiple times to remove as much stain as you can.
If the stain persists, you can try methods for specific stains.
How to Remove Specific Stains on Natural Stone
If you are dealing with a specific stain, you might need to get a bit more creative. These methods require:
Hydrogen peroxide
Commercial cleaner
Acetone
Organic Stains
If you have organic stains on your natural stone, like coffee, food, tea, or tobacco, try a hydrogen peroxide stone cleaner.
On granite, sandstone, slate, or quartzite, you can use a 1/2 teaspoon of hydrogen peroxide or a few drops of ammonia directly on the stain and remove it with a damp cloth.
Use your normal cleaning solution on marble, limestone, onyx, or travertine.
Ink Stains
Are you dealing with an ink stain, like a magic marker or pen? On lighter stone, white stones use hydrogen peroxide. On darker, black stones use acetone or lacquer thinner.
Use small amounts and remove immediately with a cloth and rinse with a damp cloth, particularly on marble, limestone, onyx, and travertine.
Water Rings
Water rings can be a big problem.
Polish these out with a polishing solution and soft cloth on all stone types.
Simple Tips for Cleaning Your Natural Stone
When it comes to cleaning natural stone, you must be gentle. Explore a few dos and don'ts for getting your natural stone sparkling.
If using store-bought cleaners, be careful not to use too much cleaner or soap because it may cause streaks and leave a film.
Always use a soft, clean cloth versus a mop, wringing out the cloth by hand.
If mopping a floor, consider washing the floor by hand or putting the damp cloth under a rubber broom.
After scrubbing a dirty surface, do not place your washcloth back into the mop bucket or bucket full of cleaning solution; instead, grab a clean cloth and put the used, dirty cloth in the laundry.
Always rinse the surface with a damp cloth removing any soap residue.
Easy Ways to Maintain Your Natural Stone Surfaces
While it's essential to clean your natural stone surfaces correctly, there are many different things you can do daily to maintain them. From countertops to bathroom surfaces, try using these maintenance methods on your natural stone.
To protect your natural stone floors, dust them daily with a clean, untreated dry dust mop to keep them free of abrasive sand, dirt, grit, or debris. In foyers or atriums, always keep a non-slip mat or area rug near the entrance to catch this debris.
Protect your countertop surfaces in kitchens by using coasters under all glasses, particularly under glasses containing alcohol or citrus juices.
Do not place hot pans or dishes on your countertops after removing them from the stove. Always use trivets, heating pads, or mats under hot dishes and pans.
Use placemats under china, ceramics, or silver to avoid scratching.
In wet areas that produce soap scum, use a squeegee after each use of a shower or bathtub to minimize the scum.
How to Clean Stone
When it comes to cleaning natural stone, you want to make sure the method you use is gentle. Many natural cleaners can dull or etch the natural stone. With the right cleaner, you can ensure your stone continues to look amazing for years.