You were changing your sheets and realized your pillow needs a washing. Learn how to clean pillows using the appropriate method for different types of pillow stuffing. Explore how to clean down pillows, how to clean feather pillows, and how to clean memory foam pillows along with other types.
How to Clean Pillows
When it comes to cleaning your pillows, there are three different methods you can use to keep them clean. These include machine washing, hand washing, and not washing at all. Take a look at each different process in more depth.
Materials List
Mild laundry detergent

Tube sock

Tennis ball

Washcloth

Bowl or container

Vacuum with attachment

Baking soda
Machine Washing and Drying Pillows
Many types of pillows are machine washable. To find out if yours is, all you have to do is look at the care tag. However, if you lost yours, most pillows with a filling of cotton, feather, down, and fiberfill can be washed in a washing machine. However, before you just throw your pillow in the washer, follow these steps.
Remove all the different removable parts (pillowcase, pillow cover, etc.).

Make a balanced load.

Choose a delicate washing detergent.

Use the cycle recommended on the pillow's laundry tag or gentle if you don't know.

When drying a pillow, put a tennis ball in a tube sock in with the pillows. This works to break up the clumps and keep your pillows fluffy.
How to Clean Down Pillows and Feather Pillows
When it comes to cleaning your pillows filled with feather materials including down, you can throw them in the washer. However, it's especially important to use a gentle cycle in warm or cold water with down. When drying your down or feather pillow, high heat can burn the feathers. Therefore, you'll want to use a low or no heat setting to dry these pillows. Additionally, make sure to use the tennis ball in a tube sock to get those clumps out.
How to Clean Throw Pillows
Like their down counterparts, throw pillows can go in the washer using a delicate cycle and mild detergent. However, since you might not be aware of their fibers inside, it can be best to forgo the dryer's heat. Instead, hang the pillows on a line or set them near a well ventilated open window in the sunshine until almost completely dry. Then, throw them in the dry with no heat using the tennis ball to fluff them and redistribute the stuffing.
How to Spot Clean a Pillow
Pillows that are a solid piece like latex or memory foam need to be spot cleaned. Since they are a solid piece, they won't fully dry, and moisture can get trapped in them. In these instances, you need to handwash or spot clean the pillows. For this method, do the following.
Remove and machine wash the pillow cover.

Add a bit of detergent to a damp cloth.

Dab any dirt or dark spots in the pillow.

Wring out the area, then move on.

After washing, place the pillow on a line or in a well ventilated and lighted area like near an open window to dry.
How to Clean Memory Foam Pillows
In addition to washing your pillow by hand about every 2 to 4 months, it's also helpful to use a vacuum cleaner with a hose attachment to vacuum your foam pillow once a week. This works to pull the dirt and other particles out of the top of the pillow before they have a chance to embed themselves into the center. For funky smells on foam pillows or general deodorizing, you can use baking soda.
Lay the foam pillow in sunlight.

Sprinkle a generous amount of baking soda over it.

Allow it to sit for a few hours.

Use a vacuum cleaner to suck up all the baking soda.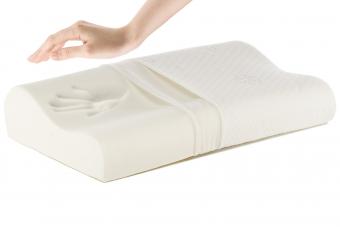 How to Clean No-Wash Pillows
There are particular types of filling in pillows that can't get wet, like buckwheat hulls. Typically found in Sobakawa pillows, these can't be washed or even spot cleaned. Therefore, you'll remove the filling from the pillowcase and wash the case only in this instance. You'll then put the stuffing back into the pillow.
Tips for Caring for Pillows
Pillows are essential for your nighttime comfort; therefore, you need to care for them well. It's necessary to keep them in tip-top shape.
Clean up spills on pillows immediately.

Wash and change your pillowcase often.

Vacuum pillows once a week to remove dirt and grime.

Look for tears and issues.

Replace a pillow that is not working for you.
How Often Should You Wash Your Pillow?
Pillows are something you use every day, so you'd think you'd have to wash them quite often. However, this isn't true. While you'll want to wash or change your pillowcase at least weekly, your actual pillow only needs to be cleaned every 4 to 6 months. If it is getting heavily soiled, then wash it more often. Now that you have the knowledge, get cleaning.