Get a simple cleaning supply list to clean every room in your home. Learn some general natural cleaners you can use for every cleaning job. Explore the list of cleaning supplies needed for your bathroom, kitchen, and bedrooms.
General Tool Cleaning Supplies List
Just like a police officer needs their badge, a cleaner needs their cleaning tools and cleaners to get a house smelling fresh and clean. Whether you are stocking up or setting out for a deep clean, having a quick list of supplies can help you to stay organized in your cleaning adventure. While some rooms take specific cleaners, you will need some average cleaning tools for every room.
Vacuum with attachment
Mop
Bucket
Rags
Broom
Dustpan
Rubber gloves
Cleaning apron (old clothes also work)
Magic eraser
Microfiber cloths
Spray bottle
Trash bags
Must-Have Natural Cleaning Solutions
Typically, commercial cleaners vary by the area of your home they are cleaning. Therefore, breaking them down by room is more manageable than listing them all. However, if you opt-out of the chemical cleaners for a more natural approach, you only need a few things to cover every cleaning situation.
Dish soap (blue Dawn works best)
Baking soda
Lemons
From removing hard water build-up to getting rid of mold, one or a combination of these natural cleaners can cover every room in your home. Print this comprehensive list of cleaning supplies. If you need help, consult the Guide for Adobe Printables.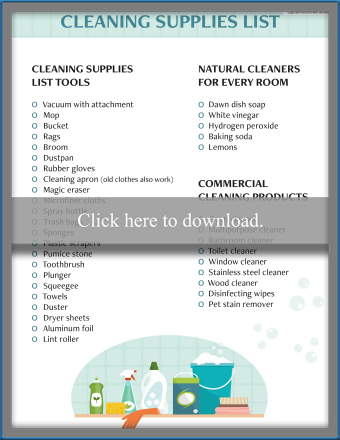 Quick List of Cleaning Supplies for the Kitchen
When it comes to your kitchen, you need products for your specific materials. Therefore, do you have a stainless steel refrigerator or oven? What are your countertops made of? While you can use a general multipurpose cleaner on most areas of your kitchen, granite countertops and glass stovetops take special care. For general kitchen cleaning, grab:
Scrub pads
Sponges
Oven cleaner
Stainless steel cleaner
Plastic scrapers
Glass cleaner
Are you looking for a pro tip? When cleaning your kitchen, don't forget about your garbage disposal and dishwasher. These areas can be easily overlooked but need TLC too.
Necessary House Cleaning Supplies for Bathroom
The bathroom is everyone's favorite place to clean, said no one ever. Bathrooms take a lot of work, from scrubbing the tub to cleaning out the toilet. Not only does it take elbow grease, but it can be hard on your knees. Use these tools to help you clean your bathroom.
Toilet cleaner
Tub, shower, and sink cleaner
Pumice stone for hard water stains in toilet
CLR for hard water stains.
Toilet brush
Toothbrushes and scrub brushes for grout and tub
Plunger
Squeegee
Knee pads
Towels
When cleaning out your bathroom, it's essential to change out the trash. Additionally, use the towels to dry the water out of the tub and on the sink to ensure you don't have water spots.
Bedroom and Living Room Cleaning Supplies
Cleaning the bedrooms and living rooms isn't as intensive as the bathroom and kitchen, but they are just as important. And they are typically much larger than your other areas. So, having the right tools can save your back a lot of hassle.
Duster
Extender for duster
Window cleaner
Wood cleaner
Disinfecting wipes
Fabric refresher
Pet stain remover
Fireplace cleaner
Cleaning Supply Hacks
Beyond just your natural cleaners, a few other items in your house do double duty when it comes to their cleaning game. Having these on hand can make cleaning easier.
Dryer sheets: These little darlings have tons of uses beyond the laundry like using on baseboards.
Lint roller: Works to remove dust from corners and remove pet hair from your couch.
Aluminum foil: An invaluable tool for quickly shining the chrome all over your home.
Swiffer floor cleaner: It's a mop and broom all in one.
The Right Supplies for Every Cleaning Job
Using the right supplies for cleaning your home can make a big difference. Not only does it mean you have to scrub less, but it shaves time off cleaning. Because who has time for all that!