Filling your home with Christmas cheer largely involves the decorations you choose and how they work with your year-round decor. You may be looking for a way to incorporate your traditional family heirlooms into your home's style, or maybe you're hoping to step into something more modern this year. The easiest way to tackle those Christmas decorating wishes is to start with a color palette that best suits your home and style.
Deck Your Halls With a Christmas Color Palette That Wows
Once you understand your style preferences and the options you have for Christmas colors, you're ready to build your ideal Christmas color palette. Keep in mind the shades of colors that work best for your style and existing decor as you select colors for your Christmas color palette. With the right collection of festive colors, your holiday color scheme can keep your home merry all season long.
Warm & Creamy
Make it cozy and elegant by mixing warm metals with a creamy white in your Christmas decor. Use cream decor you reach for all year round like blankets and vases, then add the Christmas cheer by bringing in shiny ornaments and lights.
Winter Wonderland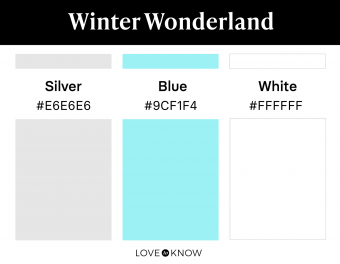 A silver and white palette with pops of blue is a great choice for a red-free Christmas color scheme. Use silver and white in the majority of your decor and let the blue stand out in ornaments, bows, stemware, and other details. This color trio also works well for modern holiday design.
Elegant Sparkle
Modern and minimalist, these cool neutrals are an elegant choice for Christmas decor. Use white as your primary color and let shiny silver and matte black stand out in ornaments and tabletop decorations. This Christmas color palette also works well for whimsical decor themes.
Dark & Moody
This moody, modern color palette is perfect for decking the halls in your favorite dark colors. Keep each shade a bit muted so the modern style really shines through. This color scheme is far from traditional, but that's what makes it so intriguing. Let gold be the color that drives home the Christmas vibes with ornamental details.
Traditional Red
The classic Christmas combo of red and green works for nearly every decor style, depending on the use of each color. For a traditional look, go heavy on red with plenty of green to accompany it. If you're looking for something more modern and minimalist, try a canvas of white with sprinkles of red and green throughout.
Red Mix
A melding of traditional and modern Christmas reds, this color palette is a great way to blend some of the traditional Christmas decor you already have with newer pieces you may have your eyes on. Use true red and burgundy together as accents in ornaments against your bright white garland and candles for a transitional look that you can use for years to come.
Dark Elegance
Perfect for a modern, moody look, this palette gives your Christmas decor a new level of sophistication and elegance. Let charcoal and black act as your grounding neutrals, and use them in everything from ornaments and candles to stemware and ribbons. Choose a slightly brighter green for your garlands and wreaths for festive contrast.
Traditional Twist
If you love the classic Christmas colors but want something updated, try switching traditional green for deep sage and swap your go-to white with a warm cream. This palette is more muted than the usual Christmas color combinations, but it still holds true to the Christmas shades you love. This combination is perfect for farmhouse Christmas decor if you prefer a themed design.
Modern Whimsy
Go ultra modern and a bit whimsical with a pink Christmas color palette. Complement soft blush with white and hot pink to create a sweet, sugarplum Christmas in your home. This look is far from traditional, but it still holds all the whimsy and wonder of the season. If you want to gently approach the pastel and feminine color palette, swap your usual green and red ornaments for shades of pink and white. Otherwise, let these sweet shades spill over into your garlands, wreaths, and gift wrap.
Elegant Whimsy
Still modern and whimsical, but with a touch more elegance, blush and sage are beautiful backdrops to sparkling gold. This pastel Christmas color palette is a very muted version of the traditional holiday colors, but it still works well on your Christmas tree, wreaths, and stemware.
Natural & Neutral
Neutral Christmas color schemes can still be cheerful. Try focusing on textures, natural elements, and a bit of glitz. This black and white color scheme accented with brown works well for modern or themed Christmas decor. Depending on other materials in the decor, it could be contemporary or farmhouse. Accent white and black elements with branches, pinecones, and raw wood edges to create a nature-themed design.
Modern Classic
Bring a modern and feminine twist to the classic Christmas red by adding refinement with navy and a bit of sweet whimsy with blush. Let red and blush dominate this palette if you prefer to focus on the light and bright. If dark and neutral is more your speed, let navy carry this palette as red and blush create accent points.
Neutral & Refined
Neutrals with a hint of color create refined and modern Christmas color palettes. Reach for your trusty gray and create points of interest with navy textiles. Gold metal accents elevate the look. When adding greenery to this modern palette, make sure the shade of green isn't too bright. Reach for shades of olive or sage to keep the palette cohesive.
Sparkling Tradition
Amp up the sparkle in your traditional Christmas decor with plenty of metal and silver accents. Your true red and Christmas green are timeless in wreaths, ornaments, and decor. Let silver stand out in table settings, mantel decor, and glittering details.
Merry & Pink
Brighten up your traditional green and red decorations with an unexpected addition of pink. Use pink sparingly for a subtle complement to red or let it take the spotlight as a main accent for an extra merry update to your Christmas go-to colors.
Blue Christmas
A great choice for whimsical Christmas color palettes, this collection of colors has a bright and light blue to make it fun alongside a deep, muted sage to keep it grounded. Let the sage shine in your greenery and garlands, while baby blue ornaments stand out against stark white ribbon and beads.
Traditional Green
If you prefer a more traditional color scheme, try swapping the blue for a traditional Christmas green. This color palette is another great choice if you're trying to avoid shades of red, but it still has all the cheer of the holidays.
Warm & Modern
Black and green work well in modern and traditional Christmas color schemes. Use them alongside a rich tan or camel color to keep things warm. Try a mixture of cozy plaids, light toned woods, and black metals for a transitional look with staying power.
Traditional & Vibrant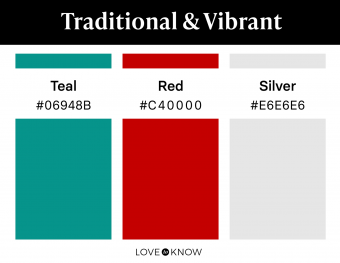 Bring modern vibrancy into your traditional Christmas palette by swapping your typical pine green for a bright teal. Classics like red and silver will keep this palette from feeling too modern, but teal adds a playfulness that is unexpected and perfect for a trendy update to your Christmas decor.
Elegant Neutral
A neutral color palette is a versatile option if your style is more transitional. Use a combination of taupe, soft white, and warm gray to create a Christmas color scheme that works as well for traditional as it does for modern homes. Focus on adding shine and texture for an updated vibe. Fur, feathers, and rich greenery could set this palette up for a fun woodland-themed Christmas.
Playful & Modern
Swap your typical Christmas green for a cool mint and instantly take your traditional decor up a notch with a modern twist. Mint green allows your red to stand out as a bright and bold color in the palette. Use white as an accompanying neutral so your colors pop even more.
Dark Romance
Create a romantic atmosphere with a dark Christmas color palette that is accented with rich gold. Use black and burgundy in ornaments, textiles, and decorations and use gold as a glitzy accent wherever you can.
Select Your Perfect Christmas Style
Before jumping in on a Christmas color palette, consider the style you are most drawn to or the style your home already evokes. Chances are, your home's Christmas style falls somewhere in one of the most popular designs seen every year.
Traditional
Modern
Minimalistic
Themed (whimsy, boho, farmhouse, etc.)
Choose the Best Christmas Red
Red might sound like a straightforward color, especially at Christmas, but there are some factors to consider. Red is a versatile color and can change depending on depth, hue, and saturation. Take some time to determine which red suits your home, or if red is something best left out of your Christmas decorations.
True Red
True red is the most common color used in Christmas decorations, and it suits nearly all styles. True red appears neutral in the sense that there is no presence of yellow (making it orange) or blue (making it purple). True red will also be neutral in terms of saturation - it will not be dark or muted, but it will not be overly bright.
Orange-Red
An orange-tinted red lends itself well to more modern Christmas decor and much of the themed decor you might consider. This shade of red will be brighter than a true red and have just enough orange to make it close to a shade of poppy.
Maroon
Maroon is a muted, darker shade of red that still maintains its hue neutrality (no yellow, no blue). This is seen in modern and minimalist Christmas decor, as it draws less attention to itself and looks elegant alongside neutral colors.
Burgundy
Similar to maroon in its depth, Burgundy has a touch of blue, creating that classic wine color. Burgundy has long been seen in traditional Christmas decor, but it works well for more modern styles as well. Burgundy may also complement more muted Christmas shades of green like sage, olive, and hunter green.
Celebrate Christmas in Style
Red and green don't have to be part of your Christmas decor for your home to feel full of cheer. Celebrating Christmas with colors that make you feel the joy of the season is really the secret of a great Christmas color palette. Choose the colors that fit well in your home and give your family the perfect backdrop to their Christmas memories.