You don't have to overcomplicate your Christmas decor or channel your inner elf to reinvent the wheel. Popular Christmas decorations are mainstays for a reason and using them in your home this holiday season is one way to deck your halls successfully. Once you know what those tried-and-true decorations are, you can start building your classic holiday decor collection and make your home beautiful year after year.
Christmas Trees Make Spirits Bright
There's really no need for all those ornaments if you don't have a tree to hang them on. Most homes have some sort of Christmas tree, whether small or large, real, or fake. Some homes even have more than one Christmas tree to display all those ornaments. But you might get creative with the tree you choose or where you place it.
Arrange your tree in front of a window to show off its beauty.
Use a smaller tree on a table to make set-up easy.
Add an additional tree in your dining room.
Decorate a tree outside. 
Fast Fact
Literal Christmas trees aren't the only way to embrace this popular decoration. Bottlebrush trees and cone trees are trending holiday decorations you can feature in your home.
Garlands Add Volume & Texture
Greenery, whether real or faux, fills in the gaps in your Christmas decorations. Whether indoors or out, garlands create a nature-inspired elegance for your home. You don't need a designer level of creativity to make your Christmas garland look stunning. Simple placement is all it takes to achieve a curated Christmas style.
Outline your front door in a garland to greet guests. 
Weave garland around your staircase railing or on your banister.
Drape it over your fireplace mantel
Use garland as a base for your Christmas centerpiece.
Create swags over doorways with garland.
Use garland to frame a round mirror in your entry or hallway.
Christmas Lights Bring Tidings of Comfort & Joy
You might debate over bright white lights or colorful strands, but lights are most likely part of your interior and exterior Christmas decorations either way. The twinkling of Christmas lights is part of what makes the season so magical, and many of us long to see them on trees, porches, and wreaths as Christmastime approaches. There are endless ways to decorate with Christmas lights to make your home extra festive.
Frame interior doorways with strands of lights.
Use lights to illuminate a centerpiece or fireplace mantel.
Add lights to trees on your property and create a winter wonderland.
Wrap lights around exterior columns for a magical and classic look.
Add Mistletoe to Your Christmas Decor Display
Mistletoe isn't just a good reason to share a smooch, it's also a classic Christmas decoration that adds holiday charm to your home. You can hang it in a doorway to encourage Christmas kisses or even get a bit creative with your placement.
Bunches of mistletoe make a beautiful fireplace mantle display.
Mistletoe helps your Christmas wreath stand out.
Sprigs of mistletoe in your tree add something extra to the ornaments and lights.
Drapes of mistletoe over a staircase banister epitomize Christmas romance. 
Need to Know
Remember, mistletoe is a bright green plant with white berries. Not to be confused with holly, a darker green shrub with a glossy appearance and bright red berries.
Snowmen Are Classic Christmas Icons
Believe it or not, snowmen tend to be more popular than Santa and all the elves when it comes to popular Christmas decorations. From Frosty to general snowmen, these wintery decorations fit right in with all the other Christmas details we love to see this time of year.
Use snowman inflatables on your lawn for a fun display. 
Feature snowmen on your tree ornaments, window stickers, and stockings.
Snowmen figurines look beautiful on a fireplace mantel, in a table centerpiece, and arranged on a table. 
A few snowmen made of lights make your lawn look welcoming for Christmas.
Hang Stockings by the Chimney With Care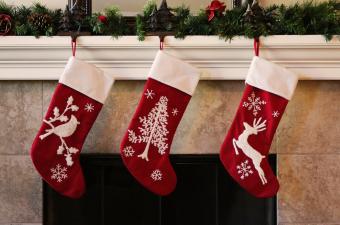 You don't need a fireplace to hang stockings during Christmas. The classic decoration is still a staple in many homes throughout the holiday season. From family heirlooms to on-theme stockings, this decoration brings all the nostalgia to Christmas.
Hang stockings in the traditional way, along your fireplace mantel.
Display your stockings on a staircase.
Use a blanket ladder to hang your stockings by the tree. 
Hang stockings on a wall with hooks.
Tie stockings to the front of a TV stand or dining room buffet.
Wreaths Are Classy & Charming
Wreaths are great Christmas decorations that say, "Welcome" and "Merry Christmas" to guests. This symbol of infinity was originally used to decorate Christmas trees and later moved to grace front doors. Wreaths come in such a wide range of choices that you won't have a problem finding one. Once you've found (or made) a wreath you love, you just have to hang it.
Hang a wreath over or under your fireplace mantel.
Place it on your front door for a classic Christmas look.
Use wreaths along your fence to make your exterior look festive.
Hang mini wreaths on kitchen cabinets to bring the joy of Christmas to the heart of your home. 
A wreath on your mailbox says you're full of holiday cheer.
Nativity Scenes Still Have a Place
Interior or exterior, nativity scenes are still popular for Christmas decor. If you like to reflect on the very first Christmas every year, a nativity scene in your home might help you remember the reason for the season.
A traditional wooden nativity on your lawn is a classic and beautiful choice.
Swap a small Christmas village for a large nativity scene in your dining room or entryway.
A neutral nativity makes a stunning mantel display. 
A nativity beneath your tree helps you focus on the greatest gift of all.
Christmas Angels Add Beauty to Your Christmas Decor
Whether it's the angel atop your tree or the one in your nativity scene, angels are still a popular choice for Christmas decorations. You can add a few to all your other decor or build your Christmas decorating theme around the classic holiday icon.
Angels make a fun theme for your entire Christmas tree.
Dainty glass angel figurines give your home an ethereal feel for the holidays. 
A couple of angels on your lawn feel heavenly. 
Angel wings on the backs of chairs or in place of a wreath is a creative way to embrace the look.
Quick Tip
You don't have to approach an angel theme too literally. Details like feather ornaments, lots of white decor, and glittering details give off all the angel vibes.
Stars Shine Bright During Christmas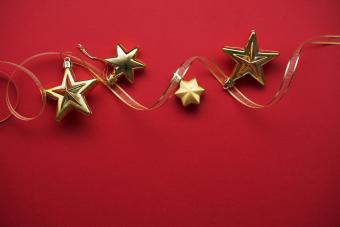 The North Star leading the wise men and the star atop your Christmas tree today are perfect examples of how timeless this Christmas icon is. You can decorate with stars in countless ways, but you'll have a classy and elegant home no matter how you use them.
Paper stars give rustic charm to your traditional Christmas decor.
Silver stars on a white wreath are magical.
Star ornaments or star-shaped lights give your tree a sweet detail.
Small stars work well for vase filler or to add throughout a table centerpiece.
Christmas Tree Ornaments Are a Must
Whether hanging from a tree branch or stacked in a bowl, tree ornaments are one of the most popular Christmas decorations each year. You might have a collection of unique ornaments, or you may have perfectly color-coordinated ornaments for your tree. Either way, if you put up a tree each year, you probably have Christmas tree ornaments. Ornaments are a versatile Christmas decoration, and they can do so much more than fill in your tree. 
Add ornaments to a Christmas wreath.
Use them as vase filler.
Place them throughout your table's centerpiece.
Add them to a clear lamp base.
Hang them as a collection in a window.
Fill a decorative bowl.
Inflatables Are Fun & Cheerful
Inflatable lawn decorations have grown in popularity in the past few years. In fact, many homes have more than one in their front yard. They're a hit with kids and often a fun decoration for adults as well.
Create a lawn display of all your favorite Christmas characters and icons.
Use small inflatables to bring Christmas charm to your porch or garden.
Oversized inflatables make a big statement and show off your Christmas cheer.
Inflatable arches welcome guests to your home with a fun holiday greeting.
Candles Create a Christmas Mood
Folklore credits Christmas candles first being used as symbols of the Star of Bethlehem that guided shepherds, kings, and travelers to the Christ child in his manger. Today, candles amplify the cozy vibes of the holiday and help set the mood for the rest of your Christmas decorations. Candles can do far more than make your home smell amazing. With the right placement, they set the scene for your home's entire Christmas aesthetic.
Electric candles in the window always look classy.
Taper candles for your vintage or modern candlesticks elevate the elegance. 
Flameless candles make decorating your fireplace mantle a breeze.
Novelty candles make a statement among the rest of your Christmas decor.
Festive Ribbons Are for More Than Packages
Ribbons add color, texture, and even sparkle to your home during the holidays. They aren't just for making bows, although that's a worthwhile way to use them. 
Weave ribbons across your table as a runner.
Tuck large ribbons into your Christmas tree for extra volume and glamour.
Tie bows for your wreaths or tree.
Make large bows for the backs of chairs or for hanging on windows.
Use ribbon to hang ornaments, small wreaths, and other decorations.
Santa Icons Make Christmas Jolly
He's Father Christmas for a reason: it just doesn't feel like Christmas without Santa. A few jolly St. Nick details make your home feel just like the North Pole. 
Feature Santa and all his reindeer and elves on your lawn.
Have a red and white Santa-themed Christmas tree.
Use Santa hat covers for the backs of dining room chairs. 
Feature Santa on ornaments, coffee mugs, figurines, and even welcome mats. 
Canvas prints of Santa are a charming touch to your Christmas decor.
Decorate to Create Some Joy
Whether you decorate the weekend after Thanksgiving or wait until December 1st, what matters most is that you choose decorations that bring you joy. Whether popular or totally unique, Christmas decorations should help you have a merry holiday and inspire you to reflect on what Christmas means to you.