For an inspirational look, add some angel Christmas decorations to your home. From the connotation of protection and love to the message of the Christ child, angels are familiar characters during the holiday season. They come in all shapes and sizes, materials, and colors, allowing them fit into any home's color scheme and decor.
Angels for Your Christmas Tree
With the popularity of creating themed Christmas trees, it is no surprise that people are using angels as their focal point. You can pick angels up in a variety of themes such as child-like angels, Christmas angels, angels with musical instruments, animal angels, guardian angels, or angels in flight. Mix them up or stick to a single angel theme.
Angel Ornaments
Angel ornaments are especially popular in glass, resin, and wood. They can be painted on round ball ornaments or be stained glass. Find angel ornaments made of beads, fabric, and wood at craft fairs. To get your tree started, check out these angel ornaments:
Lighted Precious Moments Angel Ornament: If you're one of the millions of people who collect Precious Moments figurines, this lighted ornament is a great choice. The sweet porcelain angel is beautifully dressed with star cutouts for the light to shine through while she plays a gold flute. The ornament costs around $19 with free shipping Prime membership.
African-American Angel Ornaments: Select a beautiful set of three African-American angels with brass wings inspired by Keith Mallet's artwork. Each set costs around $40 plus about $8 for shipping.
Lennox Jeweled Angel Ornament: This silver-plated angel features crystals in blue, green and red. The angel is suspended from a red ribbon and is 2.25" long. The angel costs about $8 with free shipping on $75+ orders.
Guardian Angel Ornament: A cut-out angel in resin spreads her wings while standing inside a circle. She holds a heart between her hands clutched to her chest. A stylized star adorns the circle above her head where the white satin hanging ribbon is tied into a bow. Cost is around $3 plus shipping, calculated at checkout.
Pick up some unique Christmas angel ornaments, such as the personalized ones available from OrnamentShop.com ,or a more classical angel available from the Metropolitan Museum of Art. Make your German Christmas decorations stand out by grabbing a few hand painted German angel ornaments.
Angel Dog Ornaments
Dog lovers will appreciate these angel ornaments featuring man's best friend.
Dog Breed Ornaments: Choose your favorite dog breed as an angel. Each ornament is made of painted stone resin and costs $11.95 plus shipping.
Dog Angel Ornament: Dog Mountain features several angel dog ornaments based off hand carvings by Stephen Huneck. Price is around $30 with free shipping on orders $100+.
Angel Tree Toppers
Of course, no Christmas tree is complete without a topper. Find fiber-optic angels, angels with lights, fabric angels, or even ceramic or porcelain angels that can sit atop your tree. These angels may be just what you are looking for:
Angel With Harp Tree Topper: This spectacular hand-painted resin angel tree topper is dressed in a silver gown with white appliques with white ribbons and holds a silver harp. The topper costs around $40 with free shipping or store pickup.
Kurt Adler Ivory and Gold Tree Topper: This angel stands 16 inches tall and wears a luxurious white dress accented with beads, feathery wings, rhinestones, and gold ribbon. She's also holding two candle lights. This tree topper costs around $49 with free shipping with Prime membership.
After picking out a tree topper, try to find a skirt for the bottom of your tree that matches the style and colors of the topper. It may be hard to find one to coordinate with all of your ornaments, so matching it to the topper can be easier.
Angel Christmas Decorations for Your Home
Go beyond the tree and add some angel elements throughout the rest of your home for the holidays. Every room of your home can have some angel Christmas decorations with a little creativity.
Bathroom Décor
Spruce up your bathroom with angel decorations. Hang up some angel's wings in lieu of your usual garland. Add a few angel-shaped soaps in your basket for guests to use. Place a candle in an angel candle holder on the back of your toilet or on a shelf.
Family Room Décor
Hang up Christmas stockings that have angels sewn on them. Add an Advent calendar to count down the days until Christmas. Finally, choose from a number of table and mantel top angels for display, such as these:
Desert Angel Figurine: This angel is made of resin and features a finished look of desert sand. The angel stands over nine inches tall and costs $11.20 plus shipping.

Musical Angels Christmas Holiday Snow Globe: Two angels gather the folds of gold fabric that cradles a snow globe holding the Christ child. Made of resin, the music box play "O Holy Night". Size: 6 1/4"L x 5 1/2"W x 6"H. Price is around $15 with free shipping on $30 order or more.
Outdoor Angel Decorations
After garnishing the interior of your home with Christmas angels, it is time to get out your outdoor Christmas decorations. Make sure you have angels for your outdoor Nativity scene. Make your yard glow with an angelic-like illumination by using outdoor decor with lights. Pick up the Teak Isle Christmas Outdoor Angels to complete your outdoor Christmas scene. This set of two outdoor angels is made of Marine grade plastic that never needs painting. The angels mirror one another and stand 27.75 inches tall. The set costs around $98 with free shipping for Prime membership.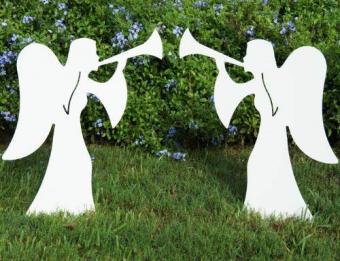 Personalized Angel Ornaments
Many people enjoy giving ornaments as Christmas gifts. These are especially nice when the ornaments is personalized to have greater meaning to the recipient.
Miles Kimball offers personalized angel ornaments by engraving your choice of name up to 15 letters. Choose the appropriate birthstone for this 24 carat gold plated angel ornaments. 1 3/4" wide x 3 1/2" high. Price is around $10 plus shipping, calculated at checkout.

Memorialized Angel in Heaven personalized silver metal ornament is a thoughtful remembrance for anyone who has lost a loved one and will be missing them during the holiday season. You can have a name etched onto the heart (9 characters max) and four lines of 8, 9, 10, and 10 characters respectively with your message as well as memorial years of birthdate and day of death. Size: 2"W x 4"H. Price is around $14 plus shipping, calculated at checkout.
DIY Angel Ornaments
You can learn how to make your own angel ornaments that may become cherish mementos of Christmases shared with family and friends. Simple instructions make each of these projects something the entire family can enjoy.
Origami angels are fun ways to decorate a tree or make as ornament gifts for special people on your Christmas list.
A pinecone angel ornament is simple to make, especially if you can go into your yard and collect the pinecones you want to use.
Use simple instructions to learn how to make an angel out of beads.
Among Christmas ornaments you can crochet, an angel ornament is a cute addition to your ornament collection.
Discover how much fun it is to make angels out of clothespins and country styled angels from blue jeans and jute.
Comforting Angel Holiday Décor
Most people who use angels in their décor do so because each angel brings feelings of comfort and peace to whatever room they're in. As a result, some people do not put their angels away after the holiday season, but keep them on display year round. No matter what your reason for displaying or collecting angels, they're easy to find, relatively inexpensive, and add beauty and wonder to your home.