At some point, the mattress-on-the-floor vibe stops being an ironic choice and starts being a nuisance to your beautiful bedroom space. Bring new life into your bedroom by getting creative with the tools at your disposal. You'd be surprised at just what you can accomplish with a small budget. Need inspiration? Check out these awesome DIY headboard ideas that anyone with a good night's sleep and a dream can do.
Wood Pallet Headboard for a Rustic Vibe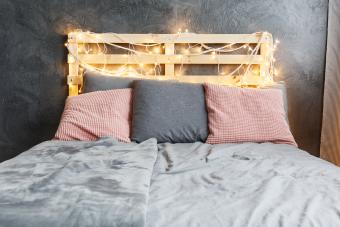 One raw material that's always waiting to be repurposed is wooden pallets. Buy new pallets at a hardware store or ask warehouses in your area if they have any old pallets they'd be willing to spare. Depending on the size of the pallet and your bed, you might need multiple pallets, so make sure you measure the dimensions ahead of time.
Once you've got your pallets, you can sand and stain the wood (or even paint it) to match the aesthetic you're going for. For a secure hold, attach the headboard directly to the wall or screw it into the base of your bedframe.
Quick Tip
The open slats in a wood pallet bedframe offer a great opportunity to twist some fairy lights in to create a sensory-safe environment. Just make sure you don't leave the lights on while you're sleeping or out of the room, as any bulbs sitting directly on wood can be a fire hazard.
Decorate Your Daybed With a Fabric Headboard
Just a few decades ago, daybeds used to be a standard feature of any spare bedroom. Upgrade from the industrial look of a metal frame to this super colorful channel tufted frame instead. To DIY a tufted headboard that stretches around the whole daybed, you'll need:
2 large pieces of plywood and then shorter plywood strips
Screws
Saw
Spray adhesive
Foam
Batting
Fabric
Staple gun with staples
Using a saw, cut out the rounded tops for each channel.
Using screws, add the shorter plywood perpendicular to either edge of the plywood planks.
Screw in larger blocks between the bottom of the large plywood and the longer strips to create legs.
Using adhesive, spray the cut foam, then batting, then the fabric to the headboard for every channel you have. (Make sure you have some leftover fabric on the bottom to cover the edges.)
Wrap it tight and staple it into place. Now it's ready to border your daybed.
Repurpose Antique Window Frames
More Details
A windowpane headboard can be an easy DIY method for people that don't have a lot of crafting experience. The only trouble you'll have is finding similar sized or styled panes to match your aesthetic. Head to a reclaim store to look for cheap matching antique or vintage windowpanes.
After measuring your bedframe, you can pick out a collection of antique wood window frames that fit. Leave them unstained to get the ultimate rustic appeal or sand them down and repaint them for a manicured touch. Affix them with wood glue or a few screws. Then, you can hang them using frame hooks or nails.
Thrift Couch Cushions for a Cozy Craft
More Details
Want to spruce up your old wooden headboard with something new, but don't have the time or money to invest in a brand new set up? Try grabbing some old couch/floor cushions from a thrift store and reupholstering them.
Rip out the seams, replace the foam, batting, and upholstery using the original foundation. Then, for a low-commitment hanging, you can attach each cushion using command strips.
Reclaimed Wood Headboards Only Need a Coat of Paint
A variation on the iconic pallet headboard is this multi-colored option. Measure how wide you'd like your headboard and then collect wood planks in various widths, totaling to your final dimensions. Mark the dimensions on each, cut the planks using a saw, and sand/paint them in your desired color scheme.
Best part about this headboard that stretches all the way to the floor is that you can lean it against the wall and use your bedframe to brace it in place. It's perfect for people living in apartments with 'no-holes-in-the-wall' rules.
A 3D Headboard for the Ultimate Snooze
More Details
A really unique way to create a headboard with comfort in mind is to string up two decorative pillows above each side of the bed. You can buy strips of fabric, cording, or belts at any hardware store and pick up beautiful throw pillows while you're out.
This headboard is all about precision, so make sure you measure your lines twice. Screw the strips of fabric into the wall to create a hammock for the pillows to fit into. Thus, you should have strips set wide enough apart to hold the pillow up and not too long to hit your head in the middle of the night.
Create Something New by Upcycling a Thrifted Door
Make the most of the old architecture by upcycling an old door for your new headboard. This one is a great idea for people with large queen or king-sized beds who want a style that takes as little effort as possible. The hardest part is hunting down a door that's the right shape and length you're looking for.
Once you've got your door in hand, you can remove any hardware, wipe it down, and paint or stain it to match your bedroom's theme. Then, you can attach it to the wall using hanging hardware, or screw it to your bedframe by adding two 2x4s to the bottom to line up with your frame.
Make the Most out of Macramé
More Details
What better way to spend a Saturday than learning a new craft and getting a new headboard out of it? Not every headboard has to be rugged and sharp; you can create a softer environment by making a macramé headboard. Macramé is a fiber art that weaves specific string into incredible geometric patterns. Take a few classes to learn the techniques yourself or buy a custom-made one online.
Either way, all you'll need to put up your hanging macramé headboard is a curtain rod and rod brackets. Make sure you've got enough room for the dangling string to not swipe you in the middle of the night, and screw in your brackets. Slip your macramé onto the rod, and set her up.
Peel-and-Stick Wallpaper
More Details
Freshen up an old headboard you don't like anymore with the easiest DIY trick in the book. No, we're not talking about paint, but peel-and-stick wallpaper. Wallpaper has come a long way, and it's not quite the intense installing task that it once was. Today, you can order wallpaper in all kinds of unique and kooky prints or patterns.
Order a few panels or rolls of the peel-and-stick paper (check to make sure it's wood safe). Peel off the adhesive layer and press it onto your old headboard. Use a flat ruler or paint scraper to roll out any bubbles in the transfer. Cut any excess off with a craft knife, and voila! A brand new headboard for a fraction of the cost.
Give the Illusion of Having a Headboard
More Details
Last, but not least, is the everyman's DIY tool - paint. Most properties permit their tenants to paint the walls, so if you're low on cash but high on creativity, try painting your own headboard on the wall. You can get really creative with the colors, patterns, or shapes you try. A semi-circle is pretty easy to achieve so long as you measure it out right.
Once you've drawn out your shape, carve it out in painter's tape and prime the space inside. Once it's dry, paint on a few coats of your new color. After a few hours, you'll have a bright and cheery addition to your standard bedroom.
Make Your Bedroom Your Own With a DIY Headboard
Not everyone's lucky enough to have a huge renovation budget every time the urge to switch up your interior design strikes. But, just like changing your hair after a breakup, changing your headboard is one way to feel fresh and new in an old space. Give yourself the gift of a new bedroom on a budget with these DIY headboard ideas.