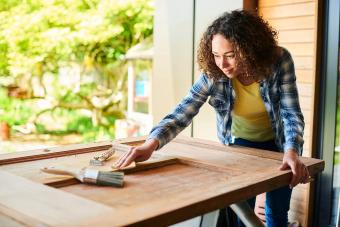 Everyone needs to scratch the DIY itch now and again, but there's no reason to start tearing down the living room walls just yet. Take a page out of the crafty DIYers' book and repurpose an old door instead. Taking something old and turning it into something completely new should be a perfect balm for that creative urge.
Repurpose Old Doors to Beautify Your Yard
Whether you live on a few sprawling acres or you're limited to the small parcel in your apartment patio, there are a few easy ways to incorporate an old door into your outdoor décor.
Create a Place for Hanging Planters
If you don't have a lot of time on your hands, you can keep the door's main shape and style and just add a few hanging hooks to the front or back. Propped up against your porch or the side of your house, you can hang a few of your favorite planters from it. If you don't want your door to become too weathered, make sure to coat it in a protectant spray before putting your hanging planters up.
Transform It Into a Garden Trellis
In the interests of sustainability and at-home gardening/farming, an upcycled old door can actually serve as a great framework for a trellis. Vining plants like wisteria and tomatoes require a trellis to climb upwards, and cutting out the centerpieces of a door and leaving the framework can give you something to attach them to.
Make a Picnic Bench Table
If you love to host outdoor parties and get-togethers, then putting together a picnic bench using an old door is a crafty way to make your party space stand out among the cookie cutter Ikea benches lining the neighborhood lawns. All it takes is using the door as the table top instead of wooden planks.
Create a Decorative Gateway
If you run a cute bed-and-breakfast or are thinking of putting together photo shoots in your backyard, a decorative gateway using a pair of old doors is a one-of-a-kind way to do it. Really create an inspired Anne of Green Gables aesthetic with this Edwardian fairytale lawn art.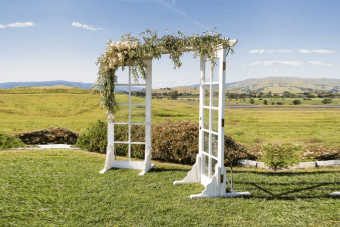 Put Together a Bird Feeder
Turn your backyard into a bird and/or squirrel paradise by setting up in-box bird feeding stations against a repurposed door. For the easiest way to do this, nail a few loose bird houses into the board, and glue a few small wooden dowels in various spots across the door so that the birds have somewhere to rest when they're not eating.
Upcycle Old Doors for Interior Decor
Perfect for people living in smaller spaces or places they aren't allowed to modify, these non-invasive decorative ideas for how you can repurpose an old door will keep your landlords happy and the serotonin flowin'.
Put Together a Small Ladder
This is a craft that takes a little more time and experience to put together, but it can look awesome when it's finished. Essentially, you can take an old door and strip it for materials like many reclaimed artists do. Using twine, traditional furniture joinery techniques, or even wood glue, you can tie your slats to the frame and create a cute little step ladder.
Note - This is meant to be for an aesthetic and decorative use, not for a practical purpose, so you shouldn't hop onto your homemade ladder without properly testing it to hold more than a few pounds.
Make a Chair
If you're skilled in woodworking, then an old door probably looks like dollar signs to you, particularly because of how expensive wood is nowadays. The raw materials in an old door, especially one from 100+ years ago, can be used to make new furniture. You can put together a chair with the reclaimed wood of an old door with ease.
No Pane, No Gain
You'll reflect on this piece of décor with fondness when it's finished; after all, no pane, no gain when you're turning an old door into a mirror. Using proper protection, you can saw out the center panes on an old door with windows and replace it with panes of mirrored glass. Turn your living room into a rustic palace of Versailles with a huge, mirrored door centerpiece.
Create a Coffee Table
Where do you put your expensive Taschen art books and old magazine subscriptions if you don't have a coffee table? Thankfully, there's an old door stored somewhere on your grandparents' property that you can covert into a brand-new coffee table. Since coffee tables aren't usually the size of an entire door, you'll want to cut your door in half before affixing legs (and you can use the leftover scrap to create those legs).
Put Together a Bookshelf
Bibliophiles are constantly buying new books and running out of places to put them, but using an old door to create your own bookshelf is one way to put a little piece of yourself into the books you love so much. There're a ton of different ways that you can actually put this together, and one of these is to attach floating shelves cascading down the door and use invisible bookends to keep your books in place.
Restructure Your Space With a Room Divider
Whether you can find a handful of old doors from the same property or you've got a funky selection of mismatched ones, all it takes are a few metal hinges that you can buy at your local hardware store and a ruler to make sure you're placing them all an even distance apart. Screw the hinges in place on at least two or three doors, and you've made yourself an old-school room divider. Granted, doors are much heavier than silk screens, so you'll probably only want to build this fixture if you're planning on leaving it in a specific spot, at least on a semi-permanent basis.
Get Your Hands Dirty With Old Door DIY
If you've got your creative juices flowing and you want to get your hands a little dirty, you can put together a DIY upcycled door piece using your imagination and a little inspiration.
Illustrate a Wall Hanging
You don't have to be a world-class artist to be able to create a colorful and expressive piece of artwork that you'd be proud to hang up in your living room. If you don't know where to start with creating a beautiful centerpiece using an old door as a canvas, look for colors that're complementary to those already in the room you're putting it in. For instance, a warm taupe colored wall would look good with similar warm-toned colors like reds, oranges, and greens.
Create an Interactive Chalkboard
This DIY only takes a few hours, and most of it's waiting for the aerosol to dry. If you want a DIY chalkboard to come out with perfectly even lines, then you'll need to tape off the parts you don't want getting sprayed. Once you're ready, you can take a can of spray on chalkboard or chalkboard paint and cover the areas you want to.
Make a Shoe Rack
If you've got a massive shoe collection and nowhere to put it, use an old door to create a shoe rack with character rather than contributing to big corporations and getting products that aren't meant to last. Attach a series of shoe hooks or custom fit cubbies into the door to fit your favorite pairs.
Create a Picture Frame
If you've got a ripped up screen door lying around, then you're halfway to creating a rustic picture frame. Who needs a scrapbook that you're going to put away and only look at occasionally when you can put your entire life on display for you and your guests to enjoy? Using some dowel rods, you can cordon off sections of the screen door to create thematic areas, or leave it blank for a mishmash of your favorite pics. If you've really got a lot of time, you can rip out the screen and replace it with chicken wire instead, for the ultimate farm-to-table vibe.
When One Door Closes, Another Door Opens
Don't let a blank canvas like an old farm door, French door, sliding glass door, or screen door get you down. There are so many ways to put a personal stamp on a used piece of furniture that your only limited by your imagination.
Have some old windows lying around? You can repurpose vintage and antique windows, too.