You need a free declutter checklist to get your house organized. Don't let the task overwhelm you. It's easy once you get started.
Free Declutter House Checklist
The list below is a tool you can use to get started today. You can check off each item and before you know it, your home will be a clutter-free zone. Use an Adobe printable guide for help, if needed, to download and print the list. Once you make the initial run through, maintaining your clean home will be easy.
Declutter the Outside of Your House
Start outside your home. This will set the mood for what to expect inside. When you go home at night and find a neatly trimmed yard and welcoming front entrance, it won't matter how rough your day was. You'll be able to rest and relax in a clean and organized.
Change burned out lightbulbs
Deadhead any blooming flowers and discard spent blossoms
Make sure door knobs, door handles and locks work
Lubricate squeaky door hinges
Start Inside the Front Door
Once you have the outside decluttered, start at the entrance and work your way through the house room by room.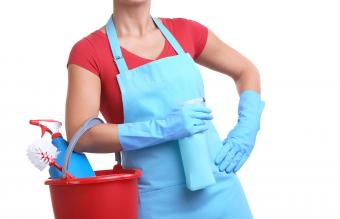 Declutter Foyer
You want the foyer to be spotless and greeting area for all who enter. This area should be inviting and energized. This is where the chi energy pools and then disperses into your home.
Avoid tossing mail and keys on a foyer chair or console table.
Make sure that the walls are in good shape, such as a fresh coat of paint.
The front door should be free of scuff marks and dings.
Declutter for a Cozy Den
The den is a respite and gathering place for your family. This area should have a relaxed ambiance.
Provide several types of lighting, such as table lamps, floor lamps, torchiere lamps, recessed lighting and wall schones.
Dust regularly and don't forget house plants.
Avoid open shelving that creates poison arrows and other inauspicious forms of clutter.
Kitchen Tips for Decluttering
The kitchen is vital to family health. How you cook the meals is just as important as the ingredients. Clutter will create negative energy that can transfer to the food preparation.
Organize your refrigerator to reduce clutter
Replace paper towel dispenser and throw away empty roll
Organize cleaning products to avoid under cabinet clutter
Keep oven and range clean
Laundry Room Decluttering
The laundry room can impact the family's wealth. Just as a bathroom is filled with inauspicious waste water, so is the laundry room.
Empty trash can regularly
Provide good lighting, especially task lighting
Keep storage cabinets clean
Clean around washer and dryer regularly
More Declutterng Tips for Bathrooms
The bathroom takes in clean water but generates waste water. It's vital to health and wealth that you keep this room clean. Follow the Declutter Checklist to ensure you do everything necessary for a feng shui bathroom.
Remove mildew and mold buildup in tile grout
Keep shower curtain liners clean and replace as necessary
Immediately replace empty toilet paper rolls
Additional Declutter Tips for Bedrooms
You can improve your sleep when you declutter your bedroom. Clutter creates chaotic energy that is counter productive, especially in a bedroom.
Regularly launder bed linens
Dust window valances
Keep draperies clean
More Ways to Declutter Home Office
If you're attempting to work in a cluttered office, you will find your efforts meet resistance and obstacles. The moment you declutter your office you'll see an improvement in your work process.
Vacuum and dust regularly
Keep bookcase doors closed
Arrange furniture to unblock chi energy
General Declutter Tips
The art of decluttering is just as important as any other feng shui rule if not the most vital to your overall feng shui efforts. Some very basic decluttering tips include:
Avoid creating blockages to natural chi energy flow
Repair and replace anything broken or no longer functional
Clean and keep your home tidy
Stop clutter accumulation by returning items to proper storage place after use
Stay on top of dish washing, laundry and daily chores
Why All These Things Work
Using this free declutter checklist, you can achieve immediate results. Chi energy is in all living things and needs to be free to move through your home without being bogged down by clutter and dirt. Stagnant chi can make you and your family ill. It can stop the flow of money and opportunities. Not only does it make good feng shui sense to keep a clutter free home and vehicle, it also will make you feel better and help you to be more efficient. You'll benefit by being more productive and having more free time to spend with your family.