Some people's garages are their workshops where they can tinker with tools and make messes. Some garages are immaculate and more like an extension of the inside of their home. But most people use their garages to store their things. If you feel like your garage is lacking storage or disorganized, we've got some great ideas to help you fit all your things and still be able to park your car.
DIY Garage Shelving
For a garage that's used as the main storage area, you might need lots of room for storage totes (I have about 10 that are full of holiday decorations). You can buy plastic or metal shelving units, which are easy enough to buy and put together. Or, you can build your own wooden shelves to line your garage walls. That way, you can choose a custom size that works for your needs.
Use Your Crawlspace
Some people's garages actually align with their home's crawlspace. If yours does, take advantage of that extra space! Install a door to your crawlspace so you can stow away those items you won't need very often.
Simple Overhead Rafter Shelf
If you have rafters, put a piece of plywood up in the ceiling over top of them and screw it down to create an affordable DIY shelf to hold seasonal or rarely used items. If you don't have rafters, add a ceiling-mounted shelf, instead.
Overhead Hooks
Instead of installing full overhead shelves in your rafters or ceiling, opt for a few sturdy hooks to hold items like bikes in the winter to keep them out of the way.
Stay Organized With Clear Totes
One trick I now live by is buying clear storage totes so I can see what's in them. It's perfect for whatever you're storing on those higher shelves in your garage. You can still label them if you want to, but now you won't have to.
Add a Storage Bench
Create a little garage mudroom space with a bench that includes storage. Now you'll have a place to sit and take off muddy boots before going inside, set groceries down as you're unloading your car, AND store things like sports items or extra shoes.
Install a Ceiling-Mounted Rack for Storage Totes
Install an overhead storage rack to hold storage totes. It's not quite a shelf - it mounts directly to the ceiling and holds storage totes for an out-of-the-way storage solution. Just make sure you have enough clearance above the garage door when it's open, and we recommend labeling your totes on the bottom so you know what's in each.
Tall Cabinets
Tall storage cabinets work miracles to hide clutter in your garage. Get a few and secure them to your wall with screws so you can officially have a place for your paints, tools, sports equipment, or whatever else you're tired of looking at.
Use Metal Drawers
Add sturdy & convenient storage to your garage with metal drawers. These will camouflage the clutter but still make it easy to find what you're looking for.
Hang or Magnetize Your Favorite Tools
Use hooks or a magnetic strip (like the kind you use for knives) to hang up your most commonly used tools above your workbench. This will make your life so much easier when you're working on projects!
Put Seasonal Items Up & Out of the Way
Keep the things you use the most nearby - and store what you don't use that often out of reach. You don't want to climb a ladder every time your kids want to play sports in the backyard, but you probably don't need your winter sleds in reach year-round.
Hang Yard Tools on the Wall
There are plenty of options to mount your yard and garden tools to the wall so they're out of the way but stay together. You can simply add hooks to the wall, or install a mounted organizer specific for this purpose.
Label Everything!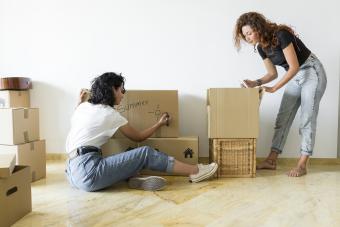 Can't stress enough the importance of labeling your storage boxes. Even the ones that are easy to get to. You're going to be so thankful you did, so you aren't constantly going through all of your stored items.
Turn Your Garage Into Your Storage Haven
Your garage is the perfect place to keep your extra belongings and outdoor equipment. With a little effort to get organized and find (or create) a place for everything, you're going to feel so good about how you've maximized your storage situation.