Keep your kitchen counters free of clutter by creatively storing your kitchen appliances. Use appliance organizers and hidden storage features to keep your gadgets within reach while maintaining a tidy countertop. Kitchen appliance storage ideas will help you create a kitchen that's orderly and clutter free.
Create Stations in Your Kitchen
Whether you have a large kitchen with plenty of storage space or a smaller kitchen requiring a bit more creativity, the first step to getting your appliances organized is to designate stations. Consider all the ways you use your small and large appliances throughout the day and create stations that make your life easier and your clean up faster. You might try a breakfast station for your toaster or blender. A coffee station will hold all of your coffee making equipment. Your kitchen might benefit from a food prep station that houses your food processor, mixer, or slow cooker.
Use Cabinet Space for Daily Items
If you need certain appliances once or twice a day, use easy-to-reach cabinet space to store your coffee maker or toaster. You can bring everything out first thing in the morning for you and your family to use and then neatly tuck it away before you go about your day. Try choosing an upper or lower cabinet that is near to the corresponding station, so everything you need for food preparation or breakfast is easily accessible.
Take Advantage of Deep Drawers
Those deep drawers in your kitchen aren't just for snacks or pots and pans. If you have kitchen appliances you reach for a few times a week, try storing them in deep lower drawers so you can grab them easily. Instant pots, slow cookers, and food processors could fit in a deep drawer so you can reach for them throughout the week just as you would reach for your favorite frying pan.
Make Space in Your Pantry
Pantry space is precious to every kitchen and careful thought will help you use this space well. Consider rearranging as needed and adding a few appliances to your pantry space. For kitchen appliances used only once or twice a week, store them on pantry shelves or in large bins on the pantry floor so you can still access them quickly without compromising on counter space.
Use High Shelves for Rarely Used Appliances
For the appliances you reach for seasonally or on special occasions, use those upper shelving spaces you may otherwise not know what to do with. Store your ice cream maker, extra large slow cooker, or fondue pots on the upper shelves of your pantry or cabinets so they are still nearby when you need to bring them down for entertaining or fun dinners with your family.
Move Appliances to Your Buffet
Food gadget storage isn't just for the kitchen. If your dining room has a buffet, take advantage of the extra storage space and tuck a few appliances in the cabinets of your sideboard. You might choose appliances that are used a few times a month like a blender, rice cooker, or air fryer.
Place Heavy Appliances in Lower Cabinets
For large kitchen appliances you use regularly, place them in a lower cabinet that is easily accessible. Stand mixers, instant pots, and blenders fit nicely into lower cabinets. Set these in the cabinets near or under the kitchen station designated for food preparation or an area near an outlet so you don't have to carry the heavy appliances too far.
Use Upper Cabinets for Small Appliances
For smaller appliances like vegetable choppers, single-cup coffee makers, or toasters, tuck them into upper cabinets near the spot in your kitchen you are most likely to use them. For any extra parts that attach to your gadgets, toss them into a bin that fits neatly in the same cabinet, so you always have everything you need within reach.
Create an Appliance Garage
Install an appliance garage in nearly any kitchen for hidden equipment storage. This is a designated section of counter space that is enclosed by extending the length of existing cabinets and attaching a door. Store appliances on the counter, and the door closes or slides to conceal them when they aren't in use. You can design this feature during a build or remodel or add it to your existing kitchen design with an appliance garage DIY.
Make Use of Island Storage Space
If your kitchen's island has any sort of open shelving, you have a perfect spot for storing many kitchen appliances. Small shelves on the ends of your island can hold small to medium tools like mini blenders, electric kettles, and panini presses. For large shelves on the inner side of the island, you can store instant pots and slow cookers. You can even arrange for your microwave to function on the shelf of your island, so you always have safe access without taking up precious counter space.
Add Slide-Out Drawers to a Cabinet
If you're looking to maximize your existing kitchen storage space, add slide out drawers to lower cabinets. These slide out drawers can add extra space to your cabinets so you can fit all your favorite and most used appliances into one area of your kitchen. The slide or swing-out feature makes accessing your tools simple, so you're not removing other items just to get to the one appliance you need.
Add Storage to Your Garage or Mudroom
For appliances that you use less often, you might move them to a storage space in a separate part of your home. If you have a mudroom just off the kitchen, you might try using a cabinet or other storage furniture to keep your appliances out of sight. You can also add a free-standing shelf unit to your garage so you can quickly pop out to snag appliances you use every few weeks or months.
Use Cabinets Above Your Refrigerator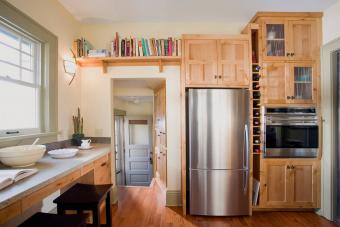 The cabinets over your refrigerator are intended for items you don't use very often. Use this space to store small to medium-sized appliances you only reach for occasionally. Your waffle maker or griddle might fit nicely into these cabinets. You can even use bins to store small items like immersion blenders or hand mixers and their accessories. This spot in your kitchen will no longer feel like a wasted space.
Make a Butler's Pantry Work for You
If your kitchen extends into a butler's pantry, this is the perfect place to keep your most used appliances. You can store them on available counter space near outlets for easy access to daily items like your coffee maker, or you can tuck items like your slow cooker into available cabinet space. This is the perfect space to showcase your stand mixer or espresso machine elegantly.
Try a Freestanding Cabinet
If you have extra space in your kitchen or dining room, a freestanding cabinet might be a functional and beautiful addition to your space. With plenty of storage and doors to keep everything concealed, a freestanding cabinet unit will provide plenty of space for storing all your appliances, from your smallest food chopper to your biggest griddle.
Add Shelving & Doors to an Alcove
Convert a small recess by your existing cabinets or a large alcove in your dining area to an appliance storage space. Add shelves and even cabinet doors to these niches for a home update that will keep your counters free of clutter and your appliances easily accessible.
Install a Cubby Unit
Cubby units are simple and affordable ways to add a little extra storage space to your home. Use this idea in your kitchen or dining room to gain some extra space for your appliances. Most of your appliances should fit into one of the cubby sections, and smaller items will go into baskets to keep everything looking neat and even add a decorative element. Doors or curtains added to the cabinet conceal the appliances for an uncluttered look.
Convert a Spare Closet
Closet space is certainly useful for clothes, cleaning supplies, and linens. But it can also provide ample storage for your kitchen appliances. Convert the linen or coat closet that is closest to your kitchen into a practical appliance closet. Install shelves with plenty of space between, so all of your appliances fit nicely. Add bins for appliance accessories or try an over-the-door organizer for odds and ends.
Use a Storage Bench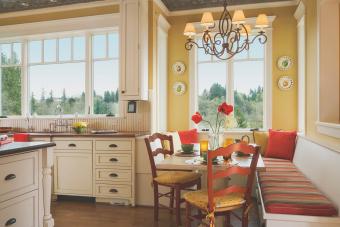 If you have a breakfast nook, window seat, or a bench at your dining table, you might have the perfect opportunity to try hidden storage for your appliances. Store small appliances in a hinge-top bench at your table or inside the seat of your breakfast nook. If your window seat has a functioning top or even some open shelving below, you can slide in a few of those appliances you use occasionally.
Grab a Lazy Susan
For small to medium-sized appliances, a lazy Susan in your cabinet, pantry, or on your shelving unit will maximize the space. The spinning function will make it easy to grab whichever appliance you're needing without moving items around or fighting clutter. Try a clear lazy Susan or one without tall outer edges so you can easily spot the appliance you need.
Declutter as Much as Possible
When assessing your kitchen appliances, be sure to consider decluttering a few to keep things simple. If you only use an appliance once a year or you find it to be clunky or difficult to use, consider passing it on or selling it. You will instantly save on space, and your countertops will thank you.
Make Appliances Appealing
For appliances that are inevitably seen on a shelf or on your counter, make sure you're selecting tools that fit with your decor and match one another. Try to stick to a finish that matches your larger appliances like the oven or refrigerator. You can even find small kitchen appliances in fun colors to really add to your decor rather than distract from it.
Set a Routine in Place
The secret to keeping your counters decluttered once all of your appliances have a home is to set a routine in place that will help you maintain the tidiness. Spend five to ten minutes each day getting your kitchen in order so your countertops always look clutter free. Start by putting away any appliances that you're finished using, being sure to give them a quick wipe down before. Put away food packages, papers, and leftovers every evening. Make sure your sink is free from dirty dishes and wipe everything down. Finally, give a quick look around for anything that seems out of place and promptly take it to the room it belongs in. If you commit to doing this every day, you will always wake up to a tidy kitchen with plenty of clear counter space.
Use Smart Storage to Keep Your Kitchen Tidy
Appliances take up a lot of space, but many of them are necessary for your daily life. Implement smart storage solutions to keep those appliances out of sight when they aren't in use, and make sure they are easily accessible when needed. A little creativity and planning can go a long way in ensuring that your kitchen counters are clutter free.