As you're admiring your gorgeous spring garden, start planning the bulbs you will plant for the following seasons. Bulbs planted in the spring usually have a summer or fall bloom time and will help your garden stay lively all year long. Try these beautiful bulbs for your spring planting plans and enjoy the flowering fruits of your labor for the rest of the year.
Begonias
Planting begonia bulbs in spring will yield a summer bloom that lingers until the first frost. You can find begonias in countless colors, but shades of red and pink are the most commonly seen. You'll want to start your begonia bulbs indoors in pots until the final frost of winter. Once spring sprouts, you can plant them two inches deep in the ground and at least five inches apart.
Dahlias
Dahlias come in 15 color variations, ranging from common shades of pink and red to a striking shade of black with plenty of colors and blends in between. These gorgeous spring bulbs bloom as early as July and linger in your garden until October. When planting dahlias, aim for a dedicated plot within your landscape so there is no competition for these sensitive bulbs. Once the bulbs sprout, help them along with additional soil, not mulch, and water that reaches as far as the roots.
Daylily
Daylily is a low-maintenance spring bulb, most often seen in shades of yellow and orange, though there are other colors in the species. Most daylilies bloom in the later months of spring, though some sprout as early as May. You can plant some species of daylily in the late spring for blooms that last well into fall. Plant your bulbs 12 inches deep and 12-18 inches apart and water them at least once a week.
Orchids
Orchids, available in almost any color, are elegant and whimsical. You'll want to plant your orchids where they can receive at least 12 hours of sunlight per day and water them a minimum of once a week. You can start your planting process as early as March or even into the late spring, depending on your climate. You can expect your orchids to bloom in fall, but many orchids bloom multiple times a year, and you could easily spot them in late summer or early winter.
Crocosmia
Shooting up in shades of red, orange, yellow, and purple, crocosmia has long and thin blooms in large clusters. You can plant these bulbs as soon as the risk of frost has passed and expect a blooming period to stretch from summer to fall. Place your bulbs 6-8 inches apart and dig holes three inches deep for best results, soaking the soil slightly.
Gladiolus
Gladiolus captures your attention with their striking sword shape, various vibrant colors, and towering presence. These fanciful flowers start blooming from midsummer until the first frost of the season. You'll want to practice patience and plant your bulbs once spring is well under way and warmer temperatures are the norm. Make sure your bulbs are 4-6 inches deep in the ground with six inches of space between.
Calla Lily
Calla lilies, most often seen in white, are also available in shades of pink, yellow, orange, and red. Hold off on planting your bulbs until the ground has warmed and the threat of frost passes. Plant your bulbs four inches deep and 12 inches apart for best results and expect to see blooms in the late summer.
Blazing Star
Adding soft and sweet color to your garden, the blazing star graces your landscape with white, pink, and purple hues. Blazing stars require full sun, and you'll want to plant them after the final frost of the year. Place your bulbs three inches deep, and water the soil generously. Expect blooms around July or August and look for an increase in your buzzing garden visitors as these flowers attract pollinators.
Caladium
Sporting vibrant and colorful leaves, caladium are tropical foliage that perfectly complement the flowering plants in your garden. Plant your bulbs in a mostly shaded area, though you'll want to avoid full shade spaces. A two-inch planting depth is plenty for these bulbs, and you can start looking for foliage about eight weeks after planting.
Plant Spring Bulbs for a Show-Stopping Summer Garden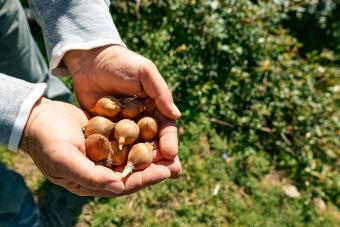 With the right preperation and the best mixture of spring bulbs, your garden will flourish in summer and fall. Enjoy colorful blooms until the autumn leaves fall and sit back while all your hard work in the spring finally pays off.