If you can't escape to the tropics, bring the tropics to you! These tropical outdoor plants thrive in various climates and make your yard feel like a mini trip to paradise. Add a few tropical flowers to your home's garden and get a taste of vacation every time you step outside.
Orchids
From pretty pinks and purples to rich red and vibrant yellow, orchids are a tropical plant that require relatively low maintenance. Orchids thrive in zones 8 and above - just make sure you select a hardy variety like the Bletilla Striata.
Caladium
Caladium, or elephant ear, does well in hardiness zones 3-10. This leafy plant is a great filler for your garden and offers more color than other strictly green varieties of leafy foliage. The red color and the signature heart shape of the leaves help these tropical plants stand out in your landscape.
New Zealand Flax
Black Bamboo
A must for a truly tropical garden, black bamboo helps fill out your landscape and adds height to your space. The strong plant can withstand temperatures as low as 0°F (-18°C), and it thrives in hardiness zones 7-10. Black bamboo grows rapidly, so consider using pots and other containers to prevent the tropical plant from invading your garden completely.
Hibiscus
Hibiscus can be as finnicky as it is striking. This truly tropical flower can survive in zones 9-11 and cannot withstand harsh, cold temperatures. Containers may help you navigate a climate with warm summers and cold winters. Bring your hibiscus out during higher temps to add tropical flair to your garden and keep it inside near a window once temperatures drop.
Flamingo Flowers
Flamingo flowers are bright, striking, and definitely inspire daydreams of the tropics. Besides being a beautiful addition to your plant collection, flamingo flowers also help purify the air. If you're considering adding this beneficial and gorgeous tropical flower to your garden, keep in mind that they prefer temperatures of 70°F (21°C) or higher.
Tree Fern
Every tropical garden needs a few a full, tropical ferns. Tree ferns will add height and fullness to your garden and work well in the ground or in containers. Tree ferns love humidity and prefer indirect sunlight, so consider thier placement carefully. Hardiness zones 9-11 are best for this tropical tree.
Canna Lily
Vibrant, exotic, and definitely tropical, canna lilies bring color and height to any garden. Canna lilies need soil of at least 65°F (18°C) degrees during their initial growing phase and regular moisture. A warm climate and hardiness zones 8-11 are perfect thriving conditions for the vivid canna lily.
Jasmine
Jasmine is the perfect tropical climbing plant to bring texture and whimsy to your home's garden. The easy-to-grow vine can survive in temperatures as low as 0°F (-18°C) as long as the winters aren't too harsh or too long. Not only does jasmine bring a tropical essence to your garden space, it also repels mosquitoes and offers a calming scent to your atmosphere.
Morning Glories
Tropical morning glories add small, soft blooms to your garden that bring the calm of a restful tropical vacation. Morning glories love sunshine and are considered perennials in zones 9-11 and annuals in zones 2-8.
Cosmos
Sweet and animated, cosmos flowers feel whimsical and just plain fun in your garden. Plus, they add some subtle tropical vibes. Add them to a sunny spot in your garden if you want the largest and most vibrant blooms possible. Hardiness zones 2-11 are where these tropical little blooms thrive best, and you'll see colors from soft white and pink to vibrant orange and magenta.
Bird of Paradise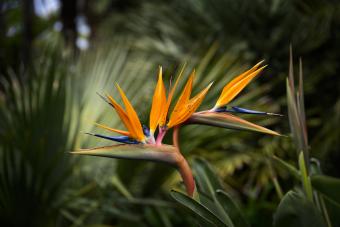 Paradise is in the name! This stunning, truly unique bloom is unmatched in appearance and will definitely give your garden a tropical vibe. Bird of paradise comes in orange, yellow, and white, and will have your garden feeling more like a short trip to a tropical resort. Zones 10-12 are best for the striking bird of paradise and unless you live in an extremely hot climate, full sun is best for the blooms.
Go on Vacay With One Step Into Your Garden
With a couple of tropical plants in your garden, or even in pots within your home, you can step into a short trip to paradise anytime you want. Bright blooms, tall plants, and tropical trees will have your garden breathing fresh life into your entire landscape.